Strife-torn Fletcher Building says it will lose another $486 mln from its Building and Interiors Division; Chairman Norris will go; Company is still in negotiation with private lenders over lending covenant breaches; no dividend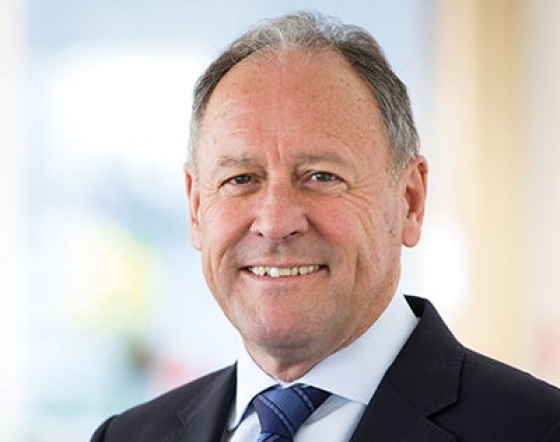 By David Hargreaves
Ailing construction giant Fletcher Building has made provision for yet more losses in its accident prone Building and Interiors Division - this time of nearly half a billion dollars - and has confirmed that much criticised chairman Ralph Norris will step down this year. The company will not pay a dividend in the current half year.
The share price fell heavily on Wednesday.
Additionally, Fletcher says that while it has reached agreement with its bankers over a lending covenant breach because of the latest losses - it's still in discussions with a number of private lenders (collectively owed over $1 billion) and isn't expecting to have that resolved till the end of next month.
The losses in the B&I Division, on top of earlier forecast losses, will bring the total deficit from the embattled division to $660 million for the 2018 financial year. On top of the $292 million lost by this division in 2017, it means that across the two years the division will have lost nearly $1 billion.
The losses are around several large projects - some of them for the Government. Notable in the latest update is that the company has now more than doubled the expected losses on the SkyCity International Convention Centre project in Auckland.
The total cost of this project is given as $887 million, with an expected loss now of an eye-watering $410 million. 
The Fletcher Building shares had been in a trading halt since last Thursday (8th), having last changed hands at $7.77. In early trading after coming out of the halt on Wednesday, the share price tumbled by over $1 to $6.70 before recovering somewhat in very active trading to above $6.90.
The statement released from Fletcher on Wednesday makes no mention of a capital raising for the company - though this would presumably be one option, if shareholders can be convinced it's a good idea. Selling assets may be another - but there was no mention of that either as yet.
In terms of the ongoing discussions with lenders, Fletcher said it had agreed to negotiate changes to its agreements with lenders by March 31.
"If we do not agree new terms by 31 March, we would then be in breach of the terms of our waiver. This would be an event of default with our commercial banking syndicate. However, the banks have moved quickly to grant us the waiver and we expect discussions to continue to be constructive."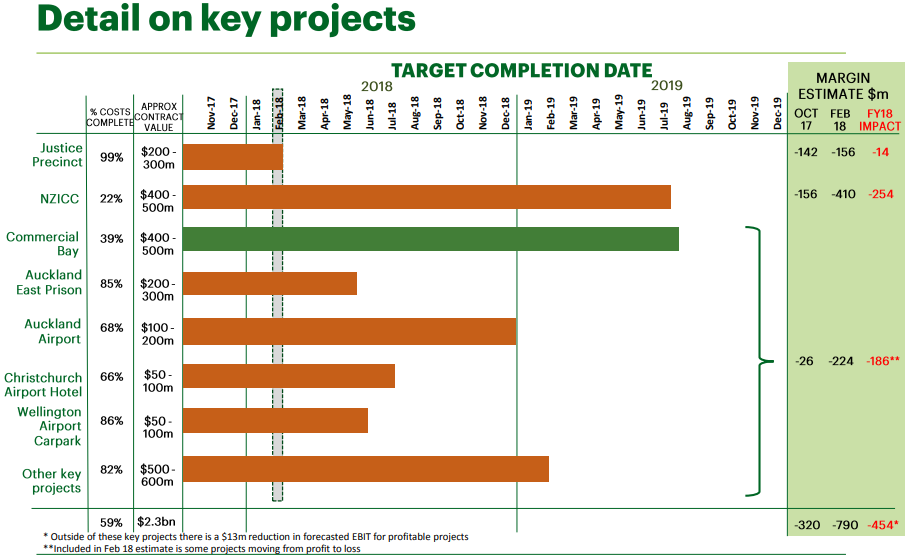 'I'm taking accountability'
At a media conference in Auckland on Wednesday, Sir Ralph (Norris) was asked to explain what had caused this situation and who was to blame. 
"The fact of the matter is, I'm taking accountability as chair of Fletcher Building. The situation here is a complex one and it is not a situation where there is a single point of failure. There are a number of issues that have conspired to lead us into this situation.
"I think one of the significant issues is that the information flows through to the board were not as fulsome as they possibly could have been.
"I think it is also fair to say that the changing environment around contracting, particularly in the B&I business in the way that risk was transferred from clients to B&I was obviously a significant factor in this.
'A boom is worse than a bust'
"We've also had a situation that we've had a significant building boom. And often a boom is worse than a bust in many respects because it does put a lot of stress on supply of services, sub-trades, product and the like and as we know cost increases come when demand exceeds supply.
"I think that in calculating these contracts there was a significant underestimation of what the flow-on effect would be in regard to the demands on sub-trades in particular.
"So, we've seen significant differences between professional QS firms, calculations of what it would cost to complete these projects, based on their estimation of the cost of sub-trades – and some of those numbers have moved by more than 100%.
"And so that has obviously led to a situation where the cost to complete these projects has been significantly greater than we would have anticipated."
Sir Ralph indicated that Fletcher would "pursue all of our rights" in respect to the convention centre project to minimise losses. SkyCity has already indicated it expects legal action from Fletcher.
Standing down
Asked about when he decided to stand down as chairman, Sir Ralph said:
"I had been thinking this for a little bit of time. I had decided before Christmas that I would step down in 2019.
"I think given what has transpired over the last week I came to a conclusion over the weekend that I should step down. I think it is only fair for the shareholders to have somebody prepared to take accountability.
"I have to say that I have the full support of my board and management who are of a different view as to whether I should stand down or not and I've really appreciated the support from them. But in the final analysis, given the context of where we are today, I think that it is appropriate, regardless of what I think, from the point of view of how I have handled the situation, that from the shareholders' perspective, the board does need to be seen as accountable."
Management is 'better now'
He then went on to say he thought Fletcher now had a very good management team in place.
"The strength of the management team that is in place now is significantly better than what it was – so that gives me great confidence – I am also of the view that it is the right thing to get out of the B&I business given the very low margins and the degree of risk that is involved in that and have been very much of the view that that's what we should be doing."
This was the statement the company released through the NZX on Wednesday:
Fletcher Building announces further losses in Building + Interiors while maintaining earnings guidance for the remaining Fletcher Building Group

-Fletcher Building announces further provisions for expected losses in its Buildings + Interiors business of $486 million, leading to a total projected B+I EBIT loss of $660 million in FY18 
-Expected FY18 EBIT for the Fletcher Building Group excluding B+I remains $680 million to $720 million 
-B+I business refocused solely on delivery of remaining projects – bidding for all vertical construction in New Zealand to cease 
-Waiver received from commercial banking syndicate following breach of covenants 
-No interim dividend payment for HY18 
-Fletcher Building Chairman announces he will step down no later than the 2018 Annual Shareholders Meeting

Auckland, February 14 2018: Following a review of projects in the Building + Interiors (B+I) business of the Construction Division, Fletcher Building today announced a further provision of $486 million for project losses.

Combined with provisions previously announced in October, as well as overheads and other costs, this leads to a projected $660 million EBIT loss for B+I in FY18.

Earnings guidance for the Fletcher Building group excluding B+I remains $680 million to $720 million as announced in October.

Fletcher Building CEO Ross Taylor said the new provisioning was informed by a review of 16 B+I projects, accounting for approximately 90% of the construction backlog, and incorporating external input from independent construction experts and KPMG.

"The provisions we have announced today are informed by a considerable amount of further project analysis, and while we continue to target agreed completion dates across the portfolio, we have factored in significant cost and timeline contingencies.

"Our absolute focus is finishing our remaining B+I projects within these provisions and to a high quality for our customers. To achieve this, we are refocussing the entire B+I business on project delivery only, and ceasing all bidding on vertical construction projects in New Zealand. This will allow us to direct all resources in B+I to the completion of the current book.

"While our broader construction businesses continue to benefit from favourable market conditions and strong growth, the B+I market sector remains characterised by high contract risk and low margins. Unless these dynamics change we will no longer work in this sector."

The projected B+I EBIT loss has resulted in a breach of Fletcher Building's financial covenants given to its commercial banking syndicate and US Private Placement (USPP) noteholders. However, the strength of the broader business and the phasing of the cash impact of the B+I provisions means the Company remains well capitalised and solvent.

"We have strong and predictable cash flows across the Fletcher Building group. While the B+I provisions are large, they are phased over a number of years and do not impact our ability to trade with our customers or suppliers or pay our bills."

In line with the Company's Dividend Policy the Board has determined that it will not be declaring an HY18 dividend.

"Our discussions with the banks have been constructive. We have received a waiver from our commercial banking syndicate for the breach of covenants and they have confirmed the availability of continued funding while we renegotiate terms. We have also commenced discussions with our USPP noteholders to obtain a similar waiver for the covenant breach. We are targeting to successfully complete renegotiations with all lenders by the end of March."

Commenting on the reasons for the additional provisions, Taylor said there are many nuances by project, but three core drivers. "Following further project reviews we have taken a more pragmatic view on program delivery and resulting cost contingencies. While we will pursue our contract entitlements vigorously, we have also taken a less optimistic view on client claims and variations. And lastly, since October we have seen further material price escalation across trade finishing costs, which have now been incorporated into cost forecasts."

In a separate statement made today Fletcher Building Chairman Sir Ralph Norris confirmed he will step down as Chairman no later than the 2018 Annual Shareholders Meeting, allowing an orderly transition to a new Chairman and the completion of the Board refresh process already commenced.
The company also provided, as additional background, this question and answer paper:
Q. Which 16 projects were reviewed? 
A. The Justice and Emergency Services Precinct and the New Zealand International Convention Centre (NZICC) projects continue to be the main contributors to the losses. In addition to these two projects the Company reviewed Commercial Bay, Auckland East Prison, Auckland Airport, Christchurch Airport Hotel, Wellington Airport Carpark, and a remaining group of smaller projects.

Q. Which projects did KPMG review? 
A. In the latest review KPMG focused solely on B+I projects, including the two previously reviewed – NZICC and Commercial Bay – as well as the Christchurch Airport Hotel, Auckland East Prison and Auckland Airport projects.

Q. Does this mean Commercial Bay is now loss making? 
A. We continue to target a profitable completion of this project, however given it has a long way to go we have provisioned for contingencies.

Q. Are the timelines for NZICC or Commercial Bay impacted by this announcement? 
A. We continue to target the completion dates we have agreed with our customers, but we have provisioned for significant cost and timeline contingencies.

Q. When will the Justice Precinct complete? 
A. The project is 99% complete and the client is occupying the building. We expect practical completion to be awarded at the end of February.

Q. Does the end of bidding on vertical construction projects mean the Fletcher Construction Company will close? 
A. No. The Fletcher Construction Company includes four businesses – B+I, Infrastructure, Higgins and South Pacific. The only business impacted by this announcement is B+I.

Q. Will Fletcher Building ever consider bidding on a vertical construction project in the future? 
A. We have made the decision to refocus B+I solely on project completion, to ensure our resources are completely focused on this task. While the B+I market sector remains characterised by high contract risk and low margins we will no longer participate. If these market dynamics change in the future we would reconsider our position.

Q. Does this change impact residential construction or infrastructure? 
A. No. Our Residential Division will continue to operate as it does today. Likewise, our Infrastructure business will continue to complete existing projects and bid for new ones. The infrastructure sector benefits from more appropriate margins, better contract conditions, and alliance models that reduce risk. As our B+I projects complete we will redeploy key talent to these growth opportunities.

Q. How is Fletcher Building's debt structured? 
A. Funding facilities are: capital notes ($622m), US Private Placement ($1.13b) a commercial banking syndicate ($1.27b) and other loans ($103m).

Q. Which of these debt structures has FB breached covenants on? 
A. USPP and the commercial banking syndicate.

Q. Which specific metrics have been breached? 
A. Senior Net Debt to EBITDA, EBIT to Senior Interest, EBIT to Total Interest and Guaranteeing Group EBITDA.

Q. What happens if you do not agree new terms with your lenders by March 31 2018? 
A. In consideration of the waiver, we have agreed to negotiate changes to our agreements with our lenders by 31 March. If we do not agree new terms by 31 March, we would then be in breach of the terms of our waiver. This would be an event of default with our commercial banking syndicate. However, the banks have moved quickly to grant us the waiver and we expect discussions to continue to be constructive.

Q. Which banks are included in the commercial banking syndicate? 
A. ANZ Bank New Zealand Limited, The Bank of Tokyo-Mitsubishi UFJ Ltd, Bank of New Zealand, Commonwealth Bank of Australia, Citibank N.A., The Hong Kong and Shanghai Banking Corporation Limited, Westpac New Zealand Limited, Bank of China and China Construction Bank.
Late on Wednesday, after the NZX market had closed for the day, Fletcher put out a further series of questions and answers, as follows:
Q. Will a final dividend be paid in respect of FY18? 
A. No decision has been made by the Company in relation to payment of a final dividend in respect of FY18.

Q. What is the position in relation to your capital notes? 
No covenant breach has occurred in relation to the capital notes. Fletcher Building Industries Limited (FBI) is currently undertaking a rollover of its FBI110 Series. FBI will allow those FBI110 noteholders who have already made an election, and wish to change that election, to provide a new notice to the Company prior to the end of the election period. An announcement to this effect has been made by FBI earlier today.

Q. What are the next steps in relation to the US Private Placement (USPP) noteholders? 
A. We have commenced a review process with our USPP holders to obtain a waiver from the covenant breaches (similar to the waiver that we have obtained from our commercial banking syndicate) and to negotiate the on-going terms of our lending agreements with them. Any negotiated position would need the support of a 50% majority of the noteholders in each series of notes.

Q. What rights do the USPP noteholders have prior to granting the waiver? 
A. As was the case with our commercial banking syndicate, the breach of the financial covenants under the lending agreements with the USPP noteholders is an event of default giving rise to certain rights for those noteholders. These rights include the right for a 60% majority of the noteholders in each series of notes to demand repayment. No demand for repayment has been made by any USPP noteholder.

Q. What do you expect to occur in relation to the USPP notes? 
A. Based on initial discussions with noteholders and our US legal and financial advisers, the Company believes it should be able to successfully conclude discussions with the noteholders by the end of March.

Q. What access do you have to your current funding facilities with the commercial banking syndicate? 
A. We have agreed a level of available funding from our commercial banking syndicate which, together with our available cash, the Company believes should be sufficient during the upcoming negotiation period with our syndicate.

Q. Is Acciona currently conducting due diligence on the Construction Division? 
A. No. As recently reported, an Acciona spokeperson has said "We are not currently looking for acquisitions in the New Zealand market, instead preferring organic growth. We already have a strong working relationship with Fletcher, but any potential collaboration between our companies on future opportunities remains confidential for commercial reasons."