Rodney Dickens says higher construction demand will soon attract building capacity, so KiwiBuild's demands will be responded to by industry without starving other sectors for long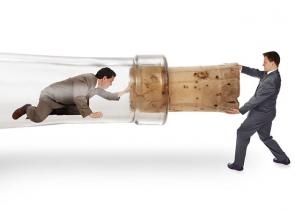 A somewhat heated debate is unfolding regarding the government's plan to boost residential building via especially the KiwiBuild plan.
The conventional wisdom appears to be that capacity constraints will limit how much KiwiBuild and other government plans to boost residential building will translate into a higher level of building.
As is too often the case, the conventional view is based on lazy analysis or lack of analysis of how the industry responds to major upturns in activity.
Construction is a highly dynamic industry that has experienced major upturns and downturns in the past. Analysis of how construction employment responds to changes in activity suggests capacity constraints shouldn't be a major impediment to KiwiBuild etc. boosting total building activity.
The stalling of upside in total building and construction activity last year was the result of factors other than capacity constraint as discussed in our monthly building report that provides many other useful insights. However, there are other reasons to be somewhat sceptical of how much KiwiBuild will boost building.
If you say it enough times it must be right!? Yeah … Nah!!!
A somewhat heated debate is unfolding about how much the government's plan to boost building will translate into a higher level of building. See the link below for info on KiwiBuild that is Labour's major policy initiative but in addition the government plans for Housing NZ and others to increase the building of social housing.
There are a number of considerations:
• How many first home buyers will be able to afford the "affordable" KiwiBuild houses?
• How well will the plan for private builders to build the KiwiBuild properties work?
• How much will the affordability challenge be sidestepped by the government and/or banks introducing shared equity schemes?
• Will the government extend the scheme beyond first home buyers to help solve the affordability challenge?
• How much of a role can prefabrication of new housing play in KiwiBuild?
• How much will capacity constraints mean government-sponsored building largely just displaces other building?
Having just read an article on interest.co.nz presenting the Westpac economists' take on the issue - link below - I decided it was time to put in my tuppence. But only in the respect of the last consideration (i.e. how much the government's plans to boost building will be undermined by capacity constraints?). The other issues are discussed in our monthly building reports.
To make sure I didn't take any comments by the Westpac economists out of context I read the report that can be accessed here. The following are two quotes from that report relevant to the capacity constraint issue.
"… the Treasury has continued to stress that capacity constraints mean that KiwiBuild spending and private demand could crowd each other out."

"Capacity constraints are really what is at the heart of the outlook for construction. After large increases in recent years, the sector is encountering some strong headwinds, including rising costs and shortages of skilled labour. That means the KiwiBuild program will be one more buyer in an already constrained market. Even allowing for an increase in the size of the labour force over the coming years and a shift to smaller, higher density homes, the building sector is going to be wrestling with constrained capacity for some time yet. This means that, even if KiwiBuild related construction does pick up (and we have our doubts), this would likely result in private sector construction being crowded out."
Based on a range of media articles and reports I have read in the last couple of years it has become conventional wisdom that further upside in residential building activity is limited by capacity constraints particularly regarding workers.
It reminds me of an anecdote provided by a CEO in the building industry some years ago. He told me about an interview in which he had been asked to quantify a factor and he'd responded with a figure he had made up on the spot. He was amused to see this figure subsequently reported in articles and reports on the issue in question. It had become conventional wisdom without anyone checking to see if it was right. It was a classic case of "if you say it enough, it must be true".
Over the years I have found that a number of rules of thumb used in a range of industries are poorly founded. Rather than regurgitate the conventional wisdom I like checking how things work in the real world as I've done with the chart below.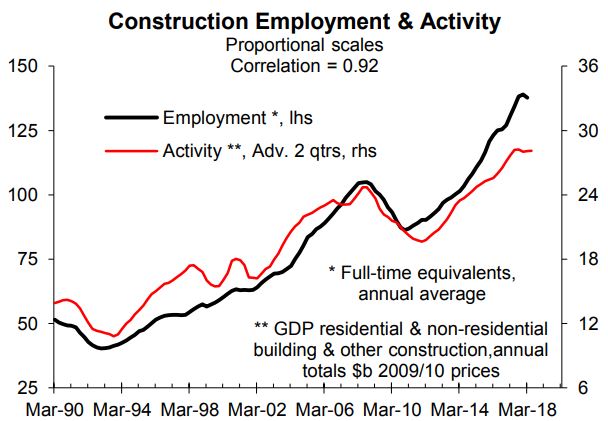 One critical issue is how quickly employment in the construction industry responds to upturns in activity. The conventional view is it that will take quite some time for employment to catch up with the latest upturn. The chart makes a lie of this view.
Construction employment responds to changes in activity reasonably quickly. The best fit, with a very high correlation of 0.92 (like a 92% mark in an exam), is with employment lagging activity by only two quarters. The evidence is that employment in the construction industry responds quite quickly to changes in activity levels meaning that there is much more dynamic behaviour going on than suggested by conventional wisdom.
Interestingly, total construction activity, including residential building, non-residential building and other construction, didn't increase at all last year. Consistent with this and the traditional lagged response, construction employment is showing signs of topping out. The data suggest that the level of employment in the construction industry has already caught up with the level of activity. Evidence from the market place portrayed in the chart suggests that there is no or little basis for suggesting capacity constraints in terms of worker availability is a constraint on the level of building activity currently and by implication in the future.
This isn't to say that some building and construction firms aren't having problems attracting qualified workers. But several factors should help largely fix this problem in the context of the several years it will take for KiwiBuild to be scaled up:
• The government promoting apprenticeships.
• Building-construction firms training people.
• Pay increases in building and construction helping attracting works including some with building experience currently working outside of the industry and Kiwi builders working in Australia.
• The government making it easier for building firms to attract skilled immigrant workers.
Lots can be done to address labour/skill shortages over the three years the government plans to scale up KiwiBuild; especially because building is likely to take more than three years to reach peak levels.
As covered in our pay-to-view reports, factors other than capacity constraints are behind the recent lack of upside in construction activity. It is only lazy analysis or lack of analysis that justifies the conclusion that capacity constraints have stalled the upturn in construction activity. Equally, it is lazy analysis or a lack thereof behind the view that the government-sponsored boost to residential building won't result in much upside in total activity because there will be major crowding out due to capacity constraints, particularly in the labour market.
It should be a similar story with other factors impacting on building/construction capacity (e.g. truss and frame factories, cement, etc.). Following the large increase in activity in recent years, firms have and are responding by increasing capacity. This reflects normal behaviour in a highly dynamic industry.
This doesn't mean I'm not somewhat sceptical about the ambitious KiwiBuild targets because there are larger challenges ahead than capacity constraints. But equally, there are also some ways of getting around the other challenges that may stand in the way of KiwiBuild and plans to boost building of social housing.
Postscript
If you read the interest.co.nz article or the report by the Westpac economists you will see why I included "Yeah … Nah" in the title of this Raving. The Westpac economists should be complimented for trying to add some insights into the debate about KiwiBuild; related to the different views of MBIE and the Treasury over residential building prospects.
However, they highlight one of my concerns with the economic forecasters. Too often their views aren't supported by even basic analysis of how things work in the real world, like the insights provided by the chart above.