Auckland Council points to surging housing consent numbers particularly on 'brownfield sites' as evidence the Unitary Plan is working and 'helping deliver a more compact city'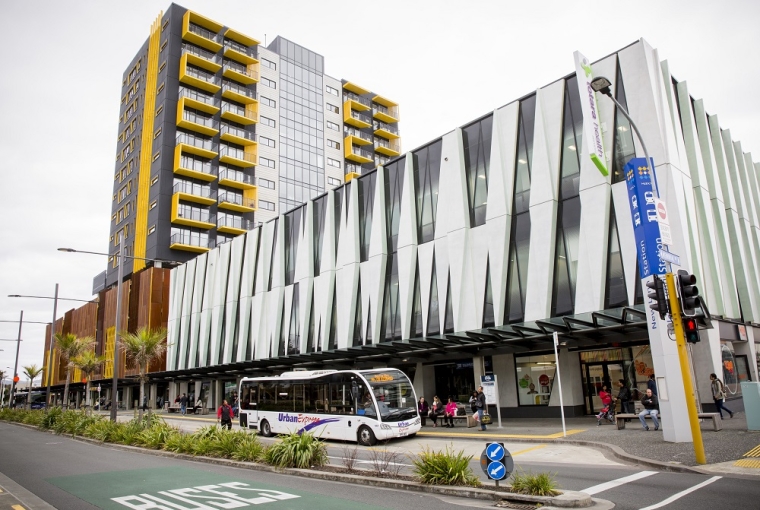 The Auckland Council is giving its Unitary Plan the credit for surging housing consent numbers particularly on 'brownfield sites' in Auckland.
A report prepared for the council's Planning Committee by council Chief Economist David Norman says "there is significant evidence" to suggest the sudden resurgence in consenting activity in Auckland is the result of the Unitary Plan beginning to work.
"These findings provide evidence that counter the view that relaxing development restrictions on the fringes of the region, where few amenities exist, is the best way to reduce the housing shortfall," Norman says.
"People by and large prefer to live closer to jobs, infrastructure that works, public transport, schools, shops and other amenities.
"As a result, developers are showing a preference for delivering development in brownfield areas," Norman says.
Mayor Phil Goff says it's clear that the Auckland Unitary Plan is a success and is delivering major change for Auckland's future development.
"I welcome the 27% increase in new dwellings consented in Auckland. It is helping to bridge the shortfall of houses needed to cater for our rapid population growth.
"The Unitary Plan is to helping deliver a more compact city ensuring Aucklanders are living closer to transport links, employment centres and public amenities," he said.
Planning Committee Chair, Councillor Chris Darby said that in less than two years since adoption of the Unitary Plan, the market was responding to the need for more housing in existing urban areas. This is reversing the trend of the last seven years for building predominately in greenfield areas.
"People want to live in connected communities and are choosing to live closer to rapid transit with better access to jobs, schools and amenities such as parks and shops that brownfield areas provide."
After a protracted development process, the Unitary Plan became operative in part on 15 November 2016. It up-zoned thousands of brownfield (existing urban) properties across the city, allowing for intensification as well as growth in greenfield areas. Altogether, the Plan provided capacity for up to one million new dwellings although at the time, only an estimated 422,000 were deemed to be commercially feasible for development. This feasible growth was anticipated to be spread across brown and greenfield areas in a roughly 2:1 ratio.
Norman's report showed that amidst the recent surge in consents, brownfield areas dominate the growth with 90% of all growth in new dwellings consented in the 10 months to May 2018 (since the upturn began in August 2017) is in brownfield areas where the Plan delivered the bulk of potential for greater development.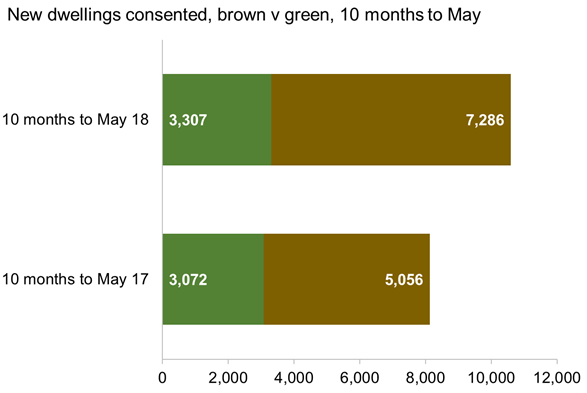 "The trend towards green and away from brownfield growth has been reversed," Norman's report says. 
"The share of total new dwellings consented in brownfield areas in the 10 months since August 2017 has grown from 62% to 69%. This has reversed a trend of declining brownfield development as a share of building consents over the previous seven years."
iii) More intensive building typologies enabled by the Plan are being adopted: Terraced houses and apartments were 54% of new dwellings consented in the 10 months to May 2018. In the 10 months to May 2016 (i.e. the comparator 10-month period before the Plan was passed), it was just 37%.
Norman said in the urban areas, "the desired compact city is emerging", with around 66% of new dwellings multi-units, "precisely what the Plan aimed to deliver".
He said in addition, a "disproportionately large number" of dwellings are being consented in rapid transit network catchment areas– defined as living within 1500 metres of a train station or northern busway bus stop.
"This highlights that people value rapid transit access, and that development enabled by the Plan is responding."