A $100 million marine development in Auckland's Wynyard Quarter is awaiting OIO approval before work can start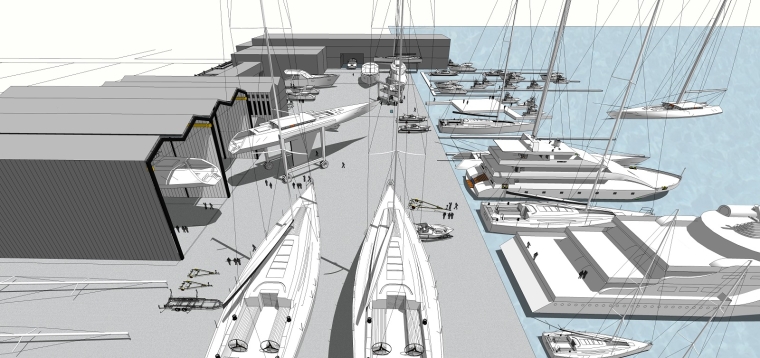 A new $100 million dollar marine facility to refit boats and ships on Wynyard Quarter is one step closer with the Auckland Council's redevelopment agency Panuku Development Auckland and marine services company Orams announcing the planned development on Monday.
But before it can proceed it will need the approval of the New Zealand Overseas Investment Office, which is expected to release its findings in the next couple of months.
Orams Marine Village was bought by Australian owned Ariadne Australia Limited in 2007 for $43 million and the company will have a stake in the development.
The new facility will be built on the corner of Beaumont and Jellicoe streets adjoining Orams Marine Village. It will be able to cater for vessels of up to 800 tonnes.
The land is currently owned by Panuku which will sell the developer a 125 year lease for the site.
Orams Marine CEO Neven Barbour says he's confident the OIO application will get the green light.
"The OIO is just the process they have to go through," he says.
Barbour says it could be a couple of months before the Overseas Investment Office releases its decision. But he says things are looking good.
"It's very positive for the marine industry and Auckland. It's the type of vital infrastructure the industry needs."
Thoughts shared by Orams Marine Services managing director Craig Park who says the marine sector is an important economic contributor to New Zealand and Auckland.
"The establishment of the Orams Site 18 facility will ensure the opportunity for wider industry and economic benefits will not be lost to offshore competitors."
Auckland Mayor Phil Goff says the development will lead to job growth in the marine industry.
"The new marine facility in the Wynyard Quarter is expected to generate more than 500 jobs including as many as 200 apprenticeships.
"Built in time for the America's Cup 36 races, the precinct will benefit hugely from the refit work which will be generated during the challenge from visiting superyachts and vessels. There can be no better time to launch this facility."
Orams Marine has a long history in the New Zealand yachting world and already works in the refitting and maintenance of superyachts. According to NZ Marine the company now has the largest superyacht refit and service facility in the Pacific.
The new facility will feature a marine haul-out and refit facility, commercial buildings and a residential tower on the northern end.