Local government grappling with construction sector challenges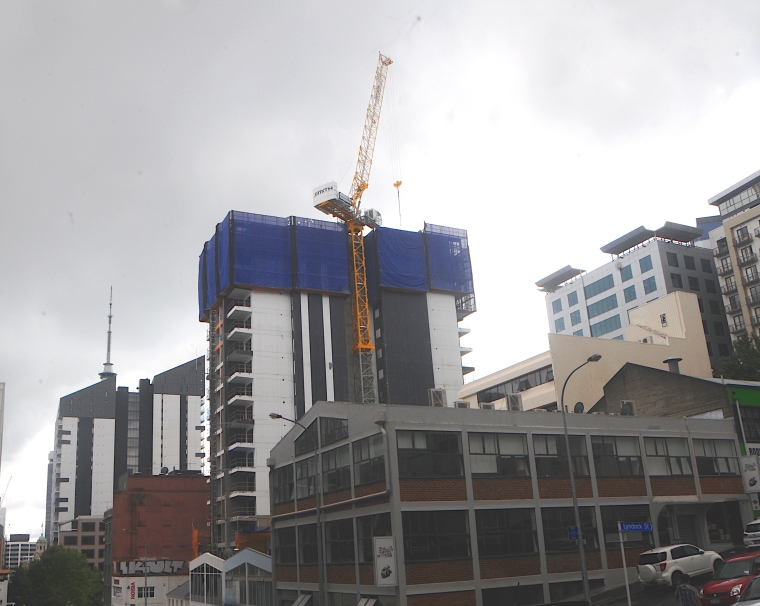 New Zealand's volatile construction industry is causing headaches for councils and government departments around the country with the recent failures of the likes of Arrow International and Ebert Construction, and Fletcher Building's well publicised woes, making headlines.
And Auckland Council chief economist David Norman says recent reports of similar problems in the Wellington construction industry are merely a reflection of demand side pressures in the industry.
"It's the same in Auckland," Norman says. "People look at the construction sector and see that it has been booming and say 'how could a company go bust?'. But in any form of vertical construction where you see these huge increases in demand it becomes hard for businesses to accurately price their contracts."
Norman says in the construction industry contracts can sometimes be agreed on years in advance, but they may not take into account inflationary pressures in the industry.
"We're also seeing a lot of cash flow issues as well, so it has been a big challenge."
Capital's construction problems 
Last month the Wellington City Council had to sign off extra funding for the seismic strengthening and upgrade of the Wellington Town Hall in the face of rising costs.
A council report on the project claims New Zealand's volatile construction industry is partly to blame. It says tight margins and rapidly rising costs have led to a number of well publicised construction industry failures in recent times. It states:
"The receivership of Mainzeal, Eberts, Orange H and withdrawal from the vertical market by Fletcher Construction has resulted in remaining main contractors and subcontractors not being prepared to accept risk that they cannot quantify.
"As a result of the volume of work across New Zealand, main contractors and subtrades are experiencing labour shortages. Sub-trades are selective and a lack of competitive pricing tension drives up cost."
Norman says the Wellington City Council report's findings are a good summary of the problems the industry is facing, even if it has traditionally been the Auckland and Canterbury regions that have had to deal with such issues.
More sector problems on the horizon
After the recent voluntary administration of Arrow International, economist Cameron Bagrie stated that more building and construction firms were destined to fail. 
"You are going to see more failures within that sector, we haven't seen the last of it. What you have at the moment is a nasty combination where the sector is basically maxed out capacity wise, access to credit is becoming an issue because the banks are looking at everything closer, and costs keep moving up," Bagrie said.
Auckland Council director of infrastructure and environmental services Barry Potter says while the council still uses fixed priced contracts, there are other options. He refers to the contracting model being used to build the infrastructure for the America's Cup in 2021.
Potter says the Auckland Council and its development arm Panuku have contracted Downer, McConnell Dowell, Beca and Tonkin and Taylor to do the work needed, from the initial design and architecture through to the construction.
"Under that arrangement we're working collaboratively and the risks are shared by the whole group and all the players are working on a pain share, gain share basis. And there are incentives to meet the KPIs (Key Performance Indicators)," he says. "We went into it with this sort of arrangement because the timeframes are very tight to deliver it on time."
He says the Auckland Council and CRL Limited are looking at using a similar type of contracting model for the next stage of the City Rail Link (CRL) project.
But the project hasn't been without controversy. Rumours in the last couple of months suggest the revised estimates for the project had increased by $500 million and that there were now concerns the cost overrun could top $1 billion. Auckland Council, CRL Limited and Transport Minister Phil Twyford have all refused to confirm or deny the reports. 
While in November it was announced that RCR Infrastructure (NZ), which was in a joint venture with WSP Opus, was still completing the $7.5 million contract to design the railway when it went into voluntary administration. The company is the New Zealand subsidiary of Australian company RCR Tomlinson which went into liquidation in 2018.
Need for overseas input
But Potter says major public infrastructure projects often require overseas expertise.
He says when the council needs to carry out civil construction work there is a number of local companies that are capable of doing the work.
"But when you get very large projects you are playing on an international market and you want international players to be part of your team. So you have to make sure your project is attractive to them."
He says they often bring expertise and experience needed.
"What you might think is a big project in New Zealand terms, in an Australasian context isn't. But it's important that these big projects are attractive to big players."
But whether it's fixed price contracting, or different types of agreements, things are changing in the construction world and if Bagrie's comments are anything to go by Arrow International certainly won't be the last big player in the market to go bust.
Last month Arrow International announced it had gone into voluntary administration after a court decision over a leaky building left it insolvent.
The company was involved in a number of major construction projects in Auckland, including a $28 million, 18-level apartment project in Airedale Street which was due to be completed next month. It was also working on a $40 million, 21-level student accommodation block on a site in Beach Road bordering Anzac Avenue. The project was due to be completed in mid-2019. In a statement released last month to announce the company was going into voluntary administration Arrow International referred to the turmoil in the industry.
"In recent times the construction industry has become challenging and there is a disproportionate level of risk carried by contractors. We have managed through tough trading conditions which have stressed the entire sector but this unexpected result has affected solvency to the point that we could not sustain trading as we have been."