Public Policy
/
analysis
National's caucus reshuffle: Collins demoted, Muller back in, Bishop and Stanford winners, Bayly, Woodhouse and McClay losers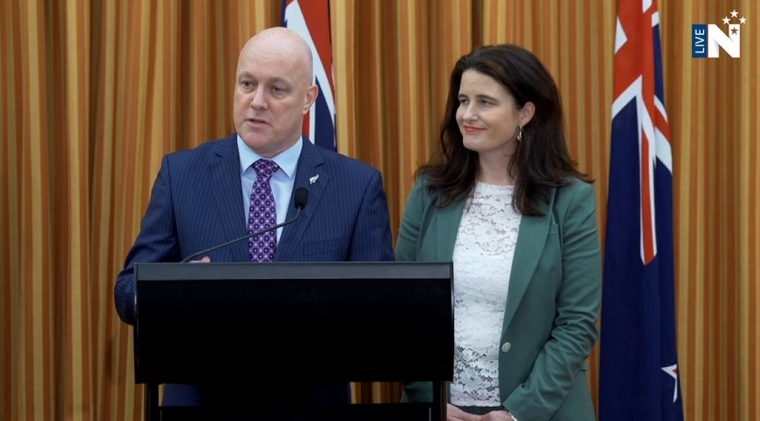 National's new leader Christopher Luxon has refreshed the party's caucus, with only four of the Members of Parliament who had top 10 spots staying at this level.
The party's former leader Judith Collins has been demoted to number 19, and been given only one portfolio - Research, Science, Innovation and Technology. While the portfolio is low-profile, Collins just makes the cut into the 20-person shadow cabinet.
National's former numbers three and four, who effectively shared the Finance portfolio, Andrew Bayly and Michael Woodhouse, have been pushed down to 15 and 18 respectively. However, they've each been given a number of economic portfolios.  
The hope is Luxon's leadership rival, Simon Bridges, will have a bit more bulldog in him up against Grant Robertson in the Finance and Infrastructure roles.
Deputy leader Nicola Willis retains Housing and has been given Social Investment - a portfolio with a nod to Bill English's approach of targeting social support. Willis has shot up the ranks from 16.
Fellow liberal and backer of Todd Muller for leader in 2020, Chris Bishop, is up four spots to number four. He retains his Covid-19 Response portfolio and has been reappointed Shadow Leader of the House.
Muller is back in the caucus with two new portfolios (Oceans and Fisheries and Internal Affairs), and is up the rankings to number 25. He will reportedly no longer retire at the 2023 election, as he said he would in June.
Former deputy leader Shane Reti comes in at number five. He retains Health and gets Māori-Crown Relations and Pacific Peoples.
Louise Upston moves down just one ranking to six, and maintains Social Development and Employment.
Following Upston are Erica Stanford, Matt Doocey, Simeon Brown and Barbara Kuriger, who are among the winners in the reshuffle.
Rising 18 spots, Stanford gets Education and retains Immigration - an area she made a name for herself in, advocating for families separated due to Covid-19 restrictions.
Doocey is up 12 places and retains his main portfolios of Mental Health and Youth.
Brown, who took a "tough on crime" position as Police spokesperson under Collins' leadership, has jumped 10 spots and gets two portfolios - Transport and Public Service.
At number 10, Kuriger's focus remains in the agricultural space.
Behind her is the Climate Change and Environment spokesperson, Scott Simpson. Luxon taking the Climate Change portfolio off Stuart Smith and giving it to Simpson, indicates a possible softening of National's stance when it comes to climate change.
The liberal/conservative divide among the 10 highest ranked MPs is evenly split, however the group has more urban than it does rural representation at this level.  
The top 10 is also fairly fresh-faced, with only Bridges and Upston having been government ministers before.
Former ministers, Paul Goldsmith, Mark Mitchell, Gerry Brownlee, Michael Woodhouse, Jacqui Dean and Todd McClay sit at numbers 12, 14, 16, 18, 21 and 22 respectively.
McClay is one of the biggest losers in the reshuffle, falling from six to 22. He does however retain Tourism and gets Trade and Export Growth.
The party continues to lack ethnic diversity. The only two individuals in the shadow cabinet of 20 to openly identify as non-Pakeha in their politics are Reti, who's Māori, and Melissa Lee, who was born in Korea and grew up in Malaysia.
Luxon said he wasn't fussed with rankings. Rather his line-up "is based on merit and matches people to their strengths and skill sets".
The party's whips will be appointed on Tuesday, when Luxon will face off against Prime Minister Jacinda Ardern for the first time in the House.
See National's caucus line-up in full here.