Public Policy
/
opinion
Grey Lynn Ardern declared airily, 'Let's do this!' If, 18 months from now, Morrinsville Ardern can snarl, 'I've bloody done it!', then she'll lead her Labour Government to a third term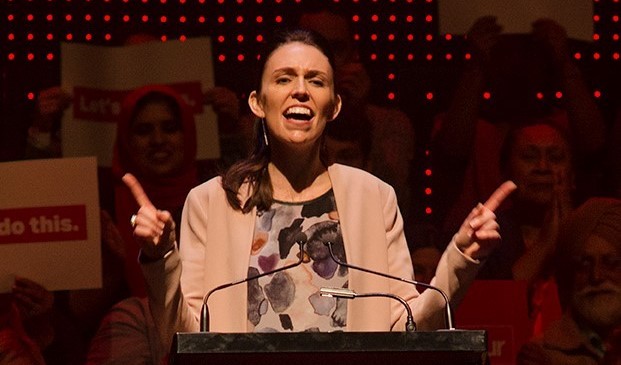 By Chris Trotter*
Political provacateur, Matthew Hooton, predicts that we should expect to see "less Grey Lynn and more Morrinsville" from Jacinda Ardern. He may have been referring to the Prime Minister's earthy vocabulary, with its "bloody" this and "bloody" that, but his characterisation also offers an apt description of the political territory traversed by Ardern since the heady days of her "Let's do this!" campaign of 2017.
With the benefit of hindsight, it is easy to recognise the almost reckless quality of Labour's 2017 election campaign as the product of a party that did not expect to win. The gap to make up after David Cunliffe's 2014 debacle, when Labour's Party Vote declined to a woeful 25%, was generally assumed to be too wide. With a Party Vote of 37%, Labour seemed happy enough to have lifted its vote by 12 percentage points. Ardern had done well, but her demeanour on election night gave no hint that she believed herself to have done any more than avert yet another electoral catastrophe.
Certainly, the pundits' verdict on the night was that, with 44% of the Party Vote, Bill English would remain New Zealand's prime minister. Much as he might squirm at the prospect, Winston Peters' final decision as to which of the two main parties NZ First backed would be dictated, as it always had been before, by which of them received the most Party Votes.
But it wasn't. This time Peters chose to sit down and dine on a dish of cold vengeance, and Ardern found herself, at the age of thirty-seven, the stunned steward of New Zealand's fortunes. That she was woefully unprepared for that role was hidden from the electorate by the new prime minister's superb communication skills. Ardern accomplished the transition from the person who could always be relied upon to charm Labour's rank-and-file, to the prime minister who could charm not only her own people, but the rest of the world to boot, with astonishing aplomb.
That words – no matter how well chosen – were not, in the end, enough to produce concrete policy victories became clear to all in the grotesque failure of KiwiBuild. It would not be the last instance of massive over-promising, followed by equally massive under-delivery. Indeed, all those years working alongside Helen Clark and Heather Simpson had not driven home to Ardern the deep political wisdom of Clark's "under-promise and over-deliver" formula for electoral success.
The explanation for this failure is almost certainly generational. As a Baby-Boomer, Clark belonged to a generation that not only understood how much a properly equipped state could accomplish, but who also knew, as someone who had lived through the angst and anguish of Rogernomics, exactly how much equipment the state had lost. Yes, there were still many levers left to pull, but hardly any of them were attached to anything that actually worked. If it was work you wanted, the place to get it done – after 1984 – was the market.
Ardern's other generational problem was the extent to which "communication" and "performance" had melded together. Government announcements about government action had become so important that the very fact an announcement was about to be made itself became the excuse for an announcement. It was as though Ardern and her colleagues believed that the announcement of a set of measures, and their accomplishment, were one and the same. To say it was to do it. Which was fine, providing "it" was something the market wanted to "do".
The "Grey Lynn" Ardern understood the genuine desire of her generation to do something about climate change, poverty, racism, sexism and cycle-lanes. But, she also understood how good they felt "liking" a Facebook post or "hearting" a tweet, and how effortlessly signing an online petition had come to replace trudging down the main street with a placard. Politics had become performative – a play. It existed to deliver a message – but not much of anything else. Surely, everybody understood that what they were looking at wasn't real?
When it comes to delivering messages, however, the Grey Lynn Ardern had few equals. Her "They are Us" on the day of the Christchurch Mosque Massacre, followed by her hug in a hijab, brought the whole world to tears – and cheers. Covid-19 provided an opportunity for more of the same. In the face of a global pandemic, the delivery of calm and inspiring leadership proved to be a vaccine every bit as effective as Pfizer's – maybe more so!
Ardern's signature message of kindness, and her powerfully solidaristic "Team of Five Million", combined with her intuitive decision to "go hard, go early" with the "science" (rather than the business community) carried her forward to an historic electoral victory.
But, if 2017-20 was the Lord Mayor's Coach, then 2020-23 shows every sign of being the shit-cart. In spite of announcements, and announcements about announcements, the relentless machinery of free-market capitalism grinds on. Every crisis has its cost, and the cost of New Zealand's Covid-19 pandemic has been, and will continue to be, huge. Political dramas cannot go on forever, and all too often the audience steps out of the theatre into driving wind, freezing rain – and Omicron. When you're wet, cold, ill-housed and infected, and the cost-of-living keeps spiralling upwards out of control, then messages – no matter how inspiring – tend to be forgotten.
The Morrinsville Ardern is emerging because our Prime Minister has realised just how bloody naïve the Grey Lynn Ardern always was. Like Helen Clark, who grew up in the same part of the country, the Morrinsville Ardern has learned the hard way just how little the contemporary New Zealand state is capable of delivering. She knows what it's like to pull on a lever and feel it rattle loose in her hand. She knows, too, that a Labour prime minister can only say "No" to the business community for so long. She has learned that carrots are all very well, but every now and then it's necessary to put a bit of stick about. And if the stick's victims turn up on your front lawn? Well then, you give them a little bit more!
Morrinsville Ardern is what you get when reality drives an iron spike into the gentle soul of Grey Lynn's "Jacinda". Will Kiwi voters take to Morrinsville Ardern? Hard to say. As a people we're notorious for letting ourselves fall in love with performers – generally on the sports field. We are even willing to allow them a few mistakes – providing the culprits demonstrate they've got what it takes to pull themselves together and lift their performance. Even the disappearance of the grace and flair that first attracted us to them is forgivable, just so long as the ruthless and ugly efficiency with which it's been replaced continues to deliver the wins.
Grey Lynn Ardern declared airily, "Let's do this!" If, eighteen months from now, Morrinsville Ardern can snarl, "I've bloody done it!", then she'll lead her Labour Government to a third term.
---
*Chris Trotter has been writing and commenting professionally about New Zealand politics for more than 30 years. He writes a weekly column for interest.co.nz. His work may also be found at http://bowalleyroad.blogspot.com.