The Clean Power Payment would help homeowners fund solar panels, better insulation, and to replace gas powered appliances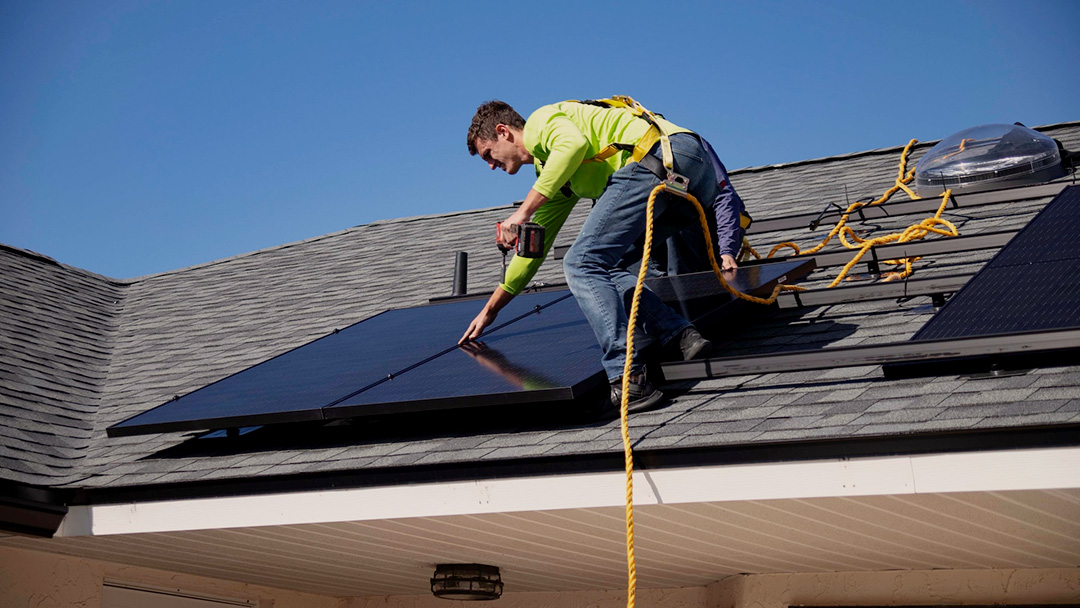 The Green Party would offer homeowners a $6,000 grant and a $30,000 loan to contribute to the costs of installing solar power and making other energy efficient upgrades.
These upgrades would be tax deductible for landlords, so that people living in rental homes also get a chance to benefit from the policy.
A wider suite of policies also proposes installing solar power on 30,000 Kainga Ora homes over the next three years and funding Māori community energy providers.
James Shaw, a co-leader of the Green Party, said the proposed Clean Power Payment would save households up to $1,200 on their energy bills each year.
"People are struggling and the planet is heating at frightening speed. We can and must deal with both challenges at the same time," he said in a press release.
"There is a clear answer staring us in the face: warm homes powered by clean, cheap, low-carbon energy, supplied straight from our roofs".
A solar panel on every roof
Marama Davidson, also a co-leader of the party, said the policy would work in tandem with its income guarantee and rent control proposal to ensure everyone could afford a warm home.  
"Everything we need to upgrade our homes exists. However, most of us do not have thousands of dollars spare to pay for things like solar panels, heat pumps, or double-glazing".
The $6,000 grants will be offered to cover 25% of the cost of clean energy upgrades, such as installing solar power, a heat pump, better insulation, or replacing fossil fuel appliances.
The interest-free $30,000 loans could help cover the other 75% of the costs or make larger investments such as a smart-charger for electric vehicles.
Across three years, this policy would cost $3.1 billion in capital spending and $1.7 billion in operating spending (between $415m and $682m each year).
A higher carbon price flowing into the climate emergency response fund would cover these costs. The clean power payment grants would be funded from Emissions Trading Scheme revenue and administered by the Energy Efficiency and Conservation Authority (EECA).
The interest-free loans would be administered by regional councils, and paid back through targeted rates.
A central fund would be created by the EECA to support the loans. Regional councils would be able to access the funds and offer interest-free loans to local ratepayers.
These would be repaid through a higher rate over a 10-year term. If the home was sold before the loan had been repaid, the new owner would continue paying the voluntary targeted rates.
However, the seller could choose to settle the remaining balance as part of the transaction.
Cooking with gas
The Green Party said almost 300,000 homes use piped fossil gas for heating, cooking or hot water, and only 2% of homes have solar panels. Switching out gas for electricity in these homes would be equivalent to taking 200,000 cars off the road.
Households on the lowest incomes are currently eligible for a grant which covers 80% of the costs of insulation and heat pumps. They would remain eligible under the Green scheme.
A report written by the Ministry of Business, Innovation and Employment said there were 110,000 households that couldn't afford to keep their home warm enough in 2022.
However, that number has been falling steadily. The proportion of households who said heating was a major problem has dropped from 9.1% in 2013 to just 5.7% in 2022.
This trend can be seen across energy hardship survey measures—such as putting up with being cold a lot or being late with a bill at least once—which have all dropped from the high single digits to the low single digits.
But pockets of hardship still exist. Around a third of low-income households couldn't afford to stay warm all year around and 25% had been overdue on an energy bill at least once.
The analysis also found renters were five times more likely than owner-occupiers to say they could not afford to keep their home adequately warm, and put up with feeling cold a lot to keep costs down.
Māori and Pacific households often reported double (or higher) rates of energy hardship than the total population did in the survey.
Households on the lowest incomes are currently eligible for a grant which covers 80% of the costs of insulation and heat pumps. They would remain eligible under the Green scheme.
The clean power payment would be scaled up over three years, with an initial focus on lower-income households.;
Over half of all owner occupied households would have access to grants within the next three years and the programme would be expanded until it was available to all.
The Green Party would also provide $15 million in funding over the next three years to increase the number of energy advisors and help Māori communities find energy efficiencies.
You can compare the policy positions of all parties here. This is a resource that is updated as each new policy is released.