Spreading the weight of the GHG reduction load into transport will please some land owners but it doesn't come without fish hooks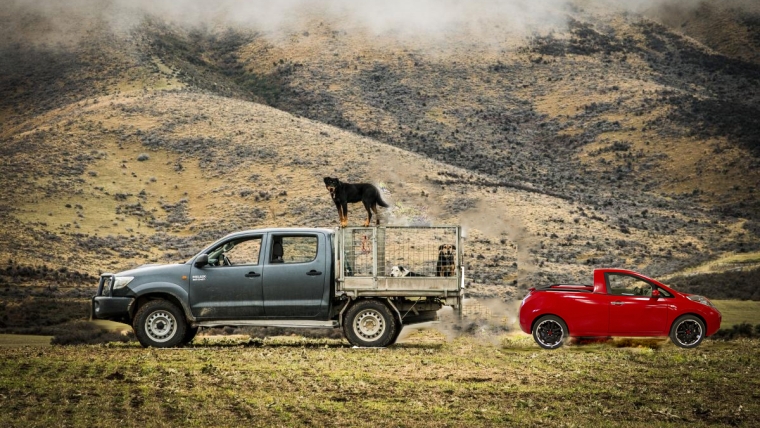 Land owners will be pleased to see the transport sector is coming under some additional pressure to reduce its emissions profile.
The policy, announced on Monday and currently going through the consultation process, is likely to be enacted although a couple years away. The plan is to 'tax' combustion engine vehicles with new registrations in 2021 up to $3,000 and subsidise low emission vehicles at a scaled rate with zero emission vehicles getting the full $8,000.
While New Zealand has been lagging well behind other countries' policies regarding vehicle incentives or discouragements, this step will catch us up to some degree.
Unfortunately for the rural and small commercial sectors there are not any options of 4x4 and light trucks suitable to replace what is currently available.
The lack of infrastructure is currently a major disincentive for those living away from main centres.
Elon Musk of Tesla has predicted they will have a car sometime next year with a 650 km range. The catch will be the cost, with most EV about 50% more than combustion powdered vehicles. Given the policy is meant to be a zero sum policy, i.e. paying for itself, government must be planning on a lot of combustion engine vehicles coming in for a while yet. Given the $3000 vs $8000 difference it will require about two and half "gas guzzlers' to subsidise one EV.
The proposed policy is an acknowledgement that the ETS in its current form is not providing enough incentives to encourage the sizeable shift in our vehicle habits.
At the moment there are 3.2 million combustion engine cars versus 15,000 electric, less than ½%. With the $25 cap on the price of carbon forecasted to stay in place "no later than to the end of 2022" the ETS is not going to be a major driver of change until some lift occurs. Currently the ETS price is a tadge under $23, so, not even hitting the cap at present.
The Productivity Commission's forecast that a price of $72 - $150 is required to reach a low emission economy, or up to $250 per tonne for zero net emissions by 2050 does appear to be getting some buy-in from the dairy companies. Both Synlait and Fonterra have revealed their thinking in planning for the future. Synlait apparently are basing their short-term plans on a $40 price by 2023 while Fonterra are looking beyond that to 2030 with a $75 - $150 range. Similar to their milk pricing, Fonterra seem to provide themselves with plenty of room in their forecasting.
Even at the lower pricing levels, livestock farmers will have some serious thinking to do in how they may meet those levels. Some hope is being indicated by Agresearch who in collaboration with some international scientists believe they have isolated the microbes and enzymes which create the hydrogen in ruminants' guts, which other micro-organisms (methanogens) convert to methane. The aim is to reduce the supply of hydrogen, thereby reducing methane. The government believed there would be some technical advancements to 'help' livestock farmers, and if this research proves successful this will be one such advancement.
Back to the farm, is fine wool going to be the viable second tier to meat in sheep farming again? John Brakenridge the CEO for the New Zealand Merino Company believes so.
Unfortunately for most farmers this does not include the coarse end of the spectrum, which makes up the bulk of New Zealand's wool clip. John says that fine wool is on the "crest of a wave", with contracts for 22micron (just below, i.e. finer than, the mid-micron range) achieving contracts for $20 plus per kg clean. Mid-micron is not too far behind with the 25-28 microns achieving between $10 - $15 per kg. Coarse wool, however, (32-40 microns) are struggling along around $3 clean and as long as uses such as insulation are seen as viable uses it is going to remain in the by-product bracket.
Carpets have been the traditional home for the coarser wools. But having looked at some carpets lately, assuming wool would be our default go to product, I came away thinking that some of the newer plant based products (Rhino) competed very well on all attributes, not just price. This wasn't what I expected or indeed wanted to hear. The message is not only are the food proteins being threatened by the plant-based substitutes but our floor coverings and no doubt apparel wear also are under threat.
On a different note, congratulations to James Robertson on winning this years' Young Farmer of the Year. Based in Auckland, working as a trade strategist for Fonterra and the youngest contestant to win the prestigious competition, he goes away with prizes to the value of $75,000. The YFY has been going for 51 years now and while not getting the television coverage it did in its hey-day, it still is very popular and over 700 people attended the grand final, which was held in Napier this year.