Guy Trafford stresses over Fonterra's extended run of woes, wishes environmental critics weren't so opaque and superficial, and continues his spring-cleanout with a wish for more taxes on waste (really)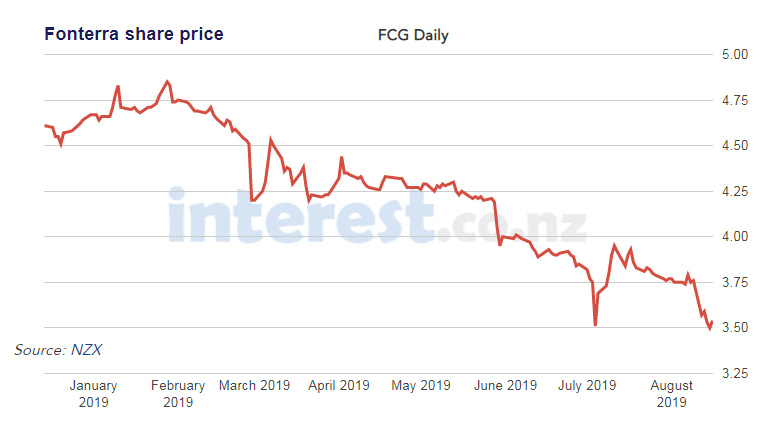 There is not a lot left to say over the Fonterra situation except sympathy must be extended to farmers who for most would have invested in shares likely at the $6-$7 range and now not only see them reduce down $3.53 (as of close 14-8-19) and barely showing a pulse.
The lack of any dividends (again) is adding more insult to injury effectively forcing farmers to start to pay for their shares all over again. The next action will be for Fonterra to start to reduce milk payouts to try and build up their capital reserves or reduce more debt.
How deep these cuts go will be dependent upon how the fire sales go and given that most of what is on the market have been making some serious losses it would be a brave investor who would want to fork out into these ventures.
Rubbing salt into current shareholder wounds is the news that Theo Spiering's is still receiving bonus payments taking his total package from the time spent at Fonterra to around the $40 mln. Given most of those in the positions that led to the current debacle are now gone not much is left for those behind to do apart from licking wounds and get on with the new paradigm. But hopefully some serious lessons have been learnt.
Ironically recent news was that Fonterra has gone from being the fifth largest dairy company to now being fourth. Surely that must be worth a bonus to some-one? Perhaps the other major companies are having their share of problems. Fonterra has gone from sixth (2017) to fifth (2018) and now fourth (2019) overtaking Dairy Farmers of America and behind Nestle, Lactalis and Danone. However the big movers have come from Asia with Yili and Mengniu both joining the top 10 in the last year and moving up the ranks. Given the current events, it is difficult to see how Fonterra will be able to sustain the fourth position as the other companies appear to be growing via mergers which is a pathway no longer open to Fonterra.
Southland winter grazing disaster
The 'winter grazing' discussion doesn't appear to have anyone defending the practice as the shots going on to major news channels are pretty damning. Actually, even the environment of some of those who were criticising the practice, and thereby implying they were doing OK, looked marginal at best, with a total lack of shelter for livestock and no provision for riparian runoffs etc. However, it does look as though in future years the view from the road onto many farms will improve.
Hot under the collar ...
One of the things that pushes my buttons is people highlighting practices of others without their own practices being put up for scrutiny. Some practices as above can't be defended and are open for criticism no matter what especially when animal welfare is at stake. But another recent target by Greenpeace was an international oil drilling company OMV (Austrian). I'm certainly not going to defend OMV but surely Greenpeace, if they are sincere, are focussing on the wrong target. OMV just extract the oil, it is us motorists that use it. Shouldn't we be the target? Putting banners across the motorway or on routes to the ski-fields targeting drivers would be a more sincere approach in my view (even though I would be among the offenders targeted). Perhaps this is a bit close to their own collective lifestyles? Most pressure groups seem to have this annoying habit of focussing on convenient targets which often deflect attention away from the general population which is where their pressure should be targeted. Until it is, I don't see meaningful conversations happening. Everybody just makes it somebody else's problem and don't seem to be prepared to make sacrifices themselves.
Let's tax ourselves ...
Having just completed my end of winter spring clean around the place I was amazed at the amount of 'rubbish' that has accumulated since the last one, which wasn't that long ago. Some of the 'rubbish' was able to go to the recyclers but the majority gets sent to the dump or burnt. Neither option is satisfactory. Wouldn't it be great of some of the Shane Jones fund was spent in providing a meaningful destination for a lot of this material? Much of it is packaging from around all sorts of items, much of it polystyrene and soft plastics not much good for anything at the moment. We have a greenish government, supposedly; wouldn't it be useful to get some legislation about putting tariffs on imports that come in covered in packaging. This fund could then be used to help support collection places to supply some of these clean burning incinerators or such like we are hearing about. The same with tyre collection points. Most New Zealanders I feel would support paying a little more if they knew the had a reasonably simple way of getting rid of the waste we get with purchases. The tariff would also send a clear signal back to those companies that send it and get them to use other options, there are plenty around. Not many people like leaving rubbish around the place we just don't like having to pay twice to get rid of it. Make it easy and I'm sure people would be happy to support a scheme.