Guy Trafford's review of both the MPI's rural outlook and NIWA's climate predictions finds a rosy future in production and markets as we head into summer - so long as China keeps buying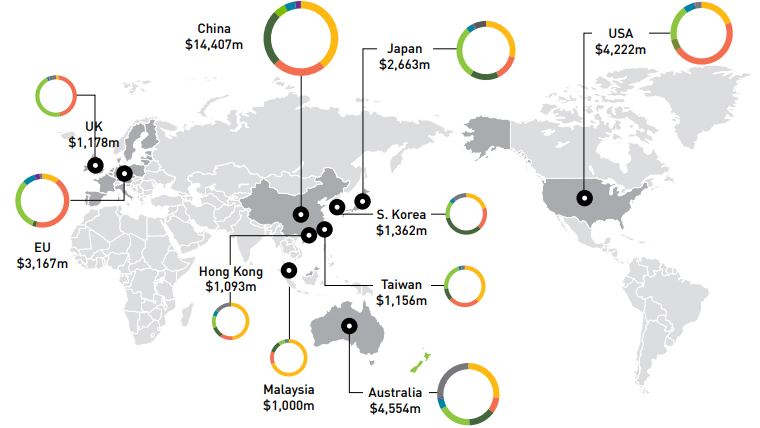 The Ministry for Primary Industries latest Situation and Outlook Report has just been released and the importance of agriculture to the national economy cannot be overstated.
All sectors, with the exception of the arable sector, have seen sizable increases on previous years with an 8.7% increase on last year which in turn was up 11.7% on the previous year.
Even with the mooted prices dairy has been receiving they are still leading the charge and have made a small leap ahead of international tourism which with dairying have often vied for the 'top' position.
International tourism has contributed:
| | | | | | |
| --- | --- | --- | --- | --- | --- |
| NZ$ mln | 2014 | 2015 | 2016 | 2017 | 2018P |
| International tourism | 10,444 | 12,409 | 14,848 | 14,769 | 16,180 |
Source: Stats NZ
In the last few years the two have tracked each other reasonably closely. To those critics who wish to make the pastoral sector a 'sunset industry', the combined numbers of Dairy and Meat and Wool should be a reminder of just how important they are to the New Zealand economy and how difficult the would be to replace if maintaining our current standard of living is to be maintained or bettered.
Another interesting aspect to the graph is the static growth of the arable sector. While much of arable products are utilised by the livestock sector, based upon the above numbers the plant-based products are not making inroads into animal proteins at this stage. However, Horticulture is showing the way in regard to relative percentages of year on year increases. With forestry suffering from the over supply into China and slow down of their economy.
Another set of graphs which is telling is the importance of China to our economy and while we may question our dependence upon China the numbers for most of our exports are telling.
Only the plant based exports (Hort and Arable) are not reliant on China as their main destination.
Given the disconnect between wool markets and meat markets it is probably time that these two were separated out from each other to show their relative strengths and weaknesses. Wool has had a steady decline every year of the five shown and only in 20121 projections is there a small lift but still well below every other year but the previous.
| | | | | | | | |
| --- | --- | --- | --- | --- | --- | --- | --- |
| NZ$mln | 2015 | 2016 | 2017 | 2018 | 2019 | 2020 | 2021 |
| Wool | 805 | 760 | 522 | 543 | 535 | 490 | 500 |
So, while farming may feel under pressure and you'd think from some commentary they are responsible for all the woes of the country. Without it the country would be a lot worse off and we could forget about a lot of the benefits we so take for granted.
The weather forecast
NIWA have also come out with their climate projections for the next three months and given September through to and including November is one of the key periods on the calendar for pastoral farming it is worth highlighting.
One interesting aspect is, considering the number of heat records that have been broken year on year, a prediction that at least for part of this period we can expect cooler than average temperatures partially as a result of the Stratosphere Temperature Anomaly (STA) sending up unsettled conditions.
The good news is that the seems to be no sign of an El Nino at this stage and rainfall for most parts of the country is average or slightly above (not so great for the West Coast of the SI which looks like they will be getting more than their fair share).
So with MPI predicting a sound future and NIWA also sounding like there are no major issues in the short term, things could be a lot worse.