Nature has shown it definitely has the upper hand. Soil carbon science may challenge some current practices. The Government's freshwater proposals have some councils worried about how they are going to pay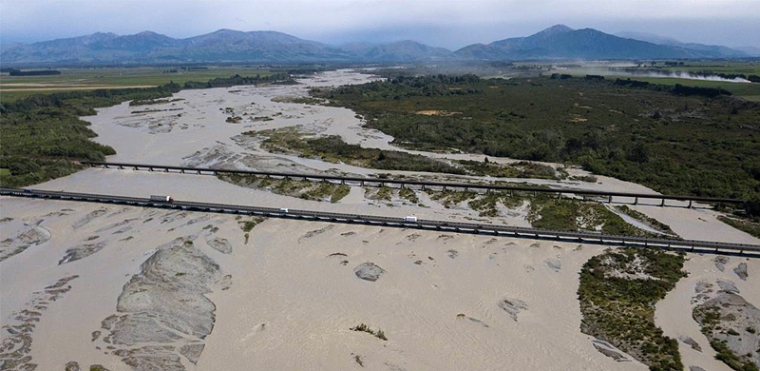 Over the last week or so, nature has really shown what it can throw at us.
The flooding effectively cut the South Island in half. And there was real irony of it disrupting irrigation schemes at a time when little or no rain fell on the Canterbury Plains at a time when strong winds were sucking up moisture at 5-8 mls per day.
The Central Plains scheme which provides water to over 60,000 ha in the Selwyn district has been shut down for the best part of a week due to the Rakaia River water flows damaging the canal intake and compounded by the river stream shifting course.
Dairy farmers are expecting to have to feed out baleage up to and through Christmas to try and maintain cow production and regain pasture covers. It was not long ago that irrigators were on restrictions due to a lack of storage in lake Coleridge.
The West Coast seems to have found a way to increase tourist takings by locking them in for long periods (!) If the last week is an indication of what is to come under climate change then you can keep it. Unfortunately, it is what scientists have been warning us is the likely outcome of climate change for the future. Up until recently many (self-included) have been feeling somewhat smug as New Zealand seemed to be missing many of the extremes and able to capitalise on others misfortunes. Our situation is relatively minor on the scale of what is afflicting many other countries, however, the costs on repairing infrastructure is rapidly mounting and that is without trying to make our transport infrastructure more robust, something which is becoming obvious as needing to happen, particularly to maintain access for the more isolated communities.
If the weather was not enough nature showed her harsh side with the tragedy at Whakaari-White Island, and on Tuesday, Gisborne had a moderate earthquake. All in all it makes our place here look pretty precarious.
Soils as a carbon sink
Related to the climate change issues is news coming out of the New Zealand Agricultural Greenhouse Research Centre (NZAGRC) that a start is being made to ascertain what is actually happening with the carbon content in New Zealand pastoral soils.
Starting with benchmark sampling from representative soils throughout the country the study then intends to see how soils are changing over time. Lead scientist Dr Harry Clarke says for flat land the current evidence is that the soil carbon content has not changed over the last 30 or so years.
Given the number of farmers who have changed from full cultivation to direct drilling with preserving soil carbon as one of the main incentives for doing this, I hope he is wrong otherwise many farmers have been led down the wrong path.
Also given the increase in irrigation in the last 30 years it is hard to imagine that the carbon levels have not improved given that pasture production on the same piece of land has doubled in many cases. Oddly enough he says it is perhaps on hill country where increases may have been occurring.
Despite questioning some of the starting premises, it is an important study to get under way especially as the drive to put a price on carbon increases. Farmers need to look under every rock to ascertain what their true impact is, and it may be that the soils can provide some real benefits to the debate. Let's hope getting answers does not take too long.
Early starts undermined
The freshwater requirements the Government released back in September is creating some tensions within Regional and District Councils. Horizons in the Manawatu/Whanganui regions is in the process of releasing their "One Plan"  which has been "years in the making" only to have to dump it as it does not fit with the proposed government requirements.
At the local level the Gore District Council are looking at a $60 million bill to meet their obligations, and that is just for the township. As time progresses it is likely many more councils will have some serious considerations to debate with ratepayers and ultimately with the government. Apparently and despite the short and untimely timeframe for the consultation process over 1,700 submissions have been received regarding the proposals. Whether it results in changes remains to be seen.
The rural sector will be overjoyed (sarc) that our major centres now (via Vodafone) have access to the 5G network for cell phone coverage. Many outside those centres would still settle for just getting a slightly improved access to 3G. (The current 1 bar of signal galls especially with no sign of any real improvement.)