Allan Barber sees the UK moving into a period of uncertainty as it tries to set up new trade deals with a range of partners and 'friends' who try to take advantage of their weakened negotiating position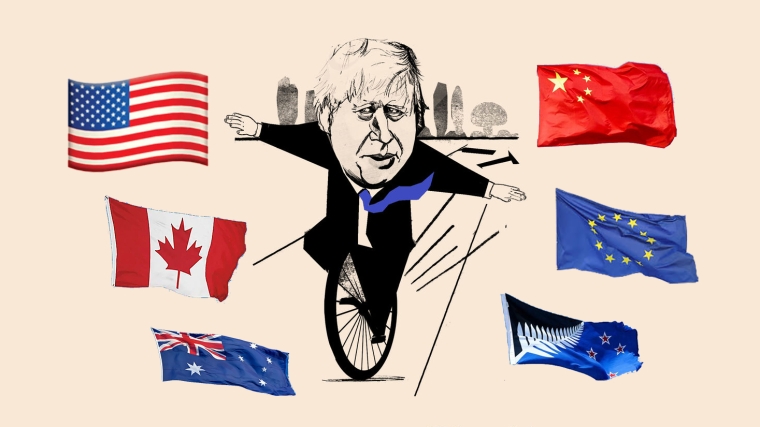 At long last, three and a half years after the surprise referendum result, the UK has formally left the EU, with expressions of sorrow in the EU parliament, dignified satisfaction from the UK government, anger and sadness on the part of Remainers, and noisy displays of joy by chief Brexiteer Nigel Farage and his UK colleagues in the European parliament. Amid all the excitement the British MEPs still remembered to submit their claims for payment for their last day of work.
In spite of both sides' stated intention of negotiating constructively and in good faith to attempt to reach agreement on the terms which will govern the future relationship between Britain and the EU, there appears to be very little on which they will find common ground. This makes it highly unlikely terms will be agreed by the 31 December deadline, in which case the UK government would either have to ask for a one or two year extension or crash out without an agreement, otherwise known as a Hard Brexit.
This second option would see a reversion to WTO tariffs instead of the desired free trade agreement, meaning trade between the UK and the 27 EU members would incur huge tariffs, some as high as 60%. One such item would be lambs which are exported live from Britain to France in large numbers to meet French demand, while Britain is the main destination for Irish beef. This would be a major distortion for British agriculture and food consumption patterns. Obviously the disruption of the lamb trade would also have a large impact on exports of New Zealand lamb to its traditional markets.
Before the emergence of coronavirus in China during the last month, this would have been viewed as more of an inconvenience than a serious problem, and the former may yet prove to be a short-lived issue. But it doesn't take much imagination to see the potential impact on trade of a global pandemic as well as a hard Brexit. Nobody has any idea when coronavirus will be brought under control or its effect on the consumption habits of the Chinese population or world trading patterns, so speculation is pointless.
Brexit is equally difficult to pick, but there are several clear pointers to how the two sides will approach the next 11 months. UK Prime Minister, Boris Johnson, has already ramped up Britain's negotiating stance announcing the intention of conducting border checks on EU imports from January 2021. This has horrified businesses, especially logistics companies and supermarket chains, and will also cause concern for countries exporting to the UK, especially exporters of perishable produce.
Since Theresa May's resignation Johnson has stated his preference for a Canada type free trade deal covering most goods which took seven years to conclude, but the EU has said this would entail alignment with EU regulations which Britain is adamant it won't accept, notably on immigration, labour laws and fishing. Johnson is apparently furious at what he sees as the EU reneging on the deal he agreed before Christmas and is no longer wedded to pursuing the Canada style FTA. The latest British position is it would be happy to negotiate a looser agreement where both sides can cherry pick their tariff free preferences (presumably by mutual agreement), while applying a points-based immigration system and reverting to WTO terms on everything else.
Since Brexit day the UK has announced its intention to start the process of negotiating a series of FTAs, although technically it is not supposed to do so until after December, and to take Britain's seat at the Geneva offices of the WTO in its first formal step as an independent trading nation. The EU has told the WTO it still speaks for Britain until 31 December, but this is clearly not what Britain thinks. New Zealander Crawford Falconer, the UK's lead negotiator, has a team of 700 lawyers and experts who are all set to implement more than 100 billion pounds of trade deals that will roll over in January 2021.
The main trade deals in the UK's sights, apart from with the EU, are FTAs with the United States, Japan, Australia and New Zealand. Although Donald Trump has signalled a wish to conclude a really good FTA with the UK, there will be fishhooks which may be difficult to resolve, including the 2% digital tax to be applied to multinational corporations from April this year. The USA has already made it clear to the EU a similar proposal will invoke retaliation. Britain aims to conclude the FTA with Japan as soon as the implementation period ends in December and finalise negotiations with Australia and New Zealand by the middle of next year.
Britain's next objective is to use its trade negotiations with the three CPTPP signatories as a steppingstone to full membership of CPTPP which represents 13% of global trade, third only as a trading bloc behind NAFTA and the EU. New Zealand's role as the cabinet secretariat of the CPTPP is an added advantage of concluding an early deal with this country. This is also seen as putting pressure on the EU to agree terms of an agreement by the end of this year. 
This all sounds very logical and achievable when said quickly, but my suspicion is it will take all Falconer's trade diplomacy skills as well as Boris's flamboyant determination, if the UK is to have any hope of getting it all done and dusted by the end of this year.
---
Current schedule and saleyard prices are available in the right-hand menu of the Rural section of this website. This article was first pubilshed in Farmers Weekly. It is here with permission.