Angus Kebbell explores a farm diversification plan that delivers in a lock-down, drawing local urban customers on to working farms in a way that connects both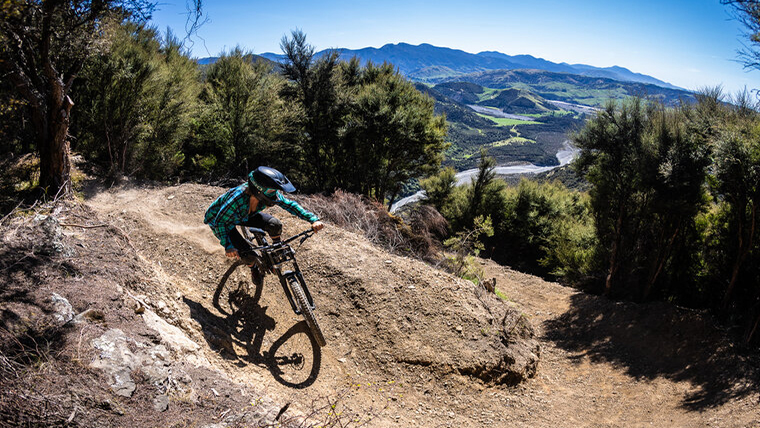 I am looking at what farmers are doing to improve their businesses, their biodiversity, their land use and their well being.
This is the second installment of our look at agri-tourism, and today we look at the benefits tourism can have on farmers, particularly in the Canterbury High Country and Kaikoura Coasts.
Agri-Tourism provides diversity and another income stream for farmers who have traditionally struggled to make marginal country profitable. Agri-tourism also has the ability to reduce stocking rates and improve the environmental footprint.
This week I am talking with Genevieve King from the Clarence Valley, north of Kaikoura. Genevieve and her partner have constructed a mountain bike business on the family farm, this provides diversification of land use and will allow the farm to remain in the family due to these new revenue streams.
The King family in the Clarence Valley North of Kaikoura were heavily impacted by the Kaikoura Earthquake and suffered infrastructure and livestock loss. The King's property "has the highest vertical uplift ever recorded in an earthquake in the world, we got pretty shaken around, the land lifted up to 12 metres".
Three years on they have rebuilt houses, critical farm sheds and infrastructure. Genevieve King has moved home to the farm with her partner and together they have developed a mountain bike business.
The mountain biking business has become busier since the border closure and after New Zealand returned to Level 1. While they have had to cancel some international business, lockdown provided time to reflect on the direction of the business, and allowed them to focus on local customers.
The Kings are also working their way through succession planning, and developing an agri-tourism business makes this process easier as it will support more family members.
I am also talking today with mountaineer and tourism consultant Mark Inglis.
Inglis is a well-known mountaineer who famously lost both his legs on Mt Cook after being trapped for days. He is also the only double amputee on earth to summit Mt Everest.
Mark is a motivational speaker and is involved with tourism in New Zealand, developing both mountain bike and walking trails in North Canterbury, and consulting around New Zealand.
Inglis has seen the busiest and most diverse groups of people utilising the trails in his base at Hanmer Springs than he has seen in the 17 years he has lived there. "People have discovered what's outside, and they have discovered the true value of not being enclosed," he says. It is becoming a major boost for local Agri-Tourism.
Inglis also has some interesting insights on the diverging attitudes between urban and rural communities.
Listen to the podcast to catch the full episode.
---
Angus Kebbell is the Producer at Tailwind Media. You can contact him here.