Angus Kebbell finds hope in an industry battling for survival in the second part of his exploration into the future for wool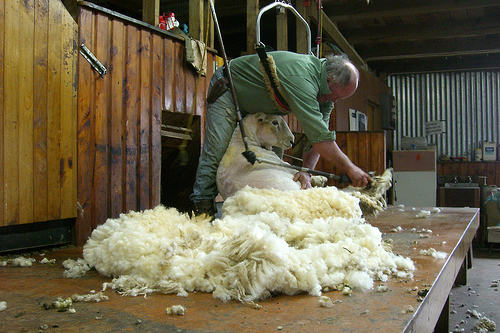 The chain has been dragged on strong wool. The industry has failed to keep pace and compete with synthetic products and the great work done by the fine wool industry needs to be replicated for strong wool. After all, the product itself is one of quality and it is sustainable. 
Last week we found that the inability to link producers to consumers has the product in deep trouble. Farmers are shearing solely for animal health. For many it now costs more to shear than they get for the product. The industry is weak, fragmented and dysfunctional, the market currently has little but tradition supporting what is left, and there are deep supply chain problems.
This week, we explore if there is light at the end of the tunnel. I talk to one farmer who is supplying a leading fine wool company and the results are there. And I talk to another who is seeing a pulse in the strong wool market.
Phil and Lynda Dickson farm 520 ha west of Cheviot, with 2,500 breeding ewes and a flock of stud ewes and a small herd of cattle. They finish all their own lambs and calves. They supply their wool to Smartwool through New Zealand Merino and have done that for the past 15 years and were one of their first suppliers.
The benefits of the partnership Phil and Lynda's have with Smartwool are "enormous" and it the relationship that works both ways. Their contract with Smartwool allows them to be in control of their wool income rather than relying on volatile auction system. Equally Smartwool know exactly what they need to pay for the Dickson's product in advance which provides certainty in their cost structure.
The challenge for strong wools is to find its unique story and markets that can be built in scale.
Ken Algie from Agmatch is seeing success with strong wools, and he stresses the importance of needing quality strong wool in the market place. Farmers supplying to his business Agmatch in the first run received excellent farmgate returns – in excess of $40 per kg for 28-32 micron lambs wool. Ken is proving that there is potential, and the industry needs disrupters to lead the industry.
To hear the full story listen to the podcast.
---
Angus Kebbell is the Producer at Tailwind Media. You can contact him here.