North Canterbury farmers cope well with drought but challenges remain for the new season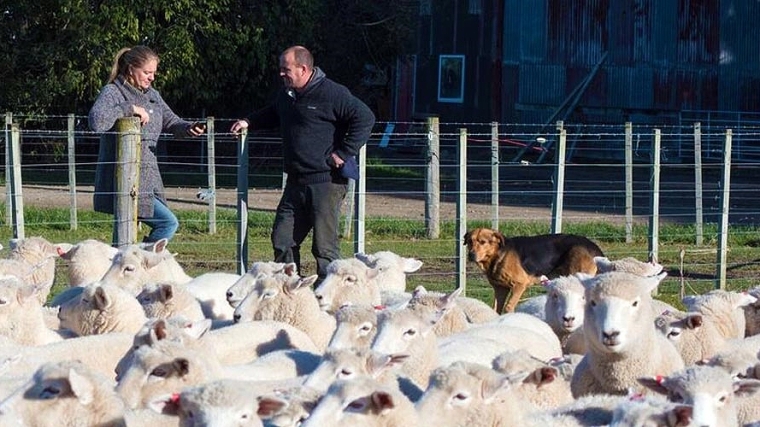 In a recent telephone survey, the North Canterbury Rural Support Trust (NCRST) found that most farmers in the Hurunui area had coped surprisingly well in the recent drought.
Over 500 people were contacted in the worst affected areas, to gauge how the rural communities were coping, and improve awareness of the industry and government assistance packages set up for this adverse event.
The blistering heat and windy conditions of January and February created the dry situation, March was settled but no moisture, and although it did rain in May and June to recharge some forage crops, pasture just turned green without recharging groundwater. The biggest concern of all respondents was nervousness about a harsh winter, especially snow, and the resultant affect with scarce feed supplies. The mild conditions over the autumn period was very helpful and utilisation of supplements fed, was high. July rains were significant, but only now are some ponds filling, and more is needed to ensure a full recharge of the soil profile, and a growthy spring.
This is an area well used to droughts, and it seems lessons learned from the past have paid dividends for many. Experienced operators rated this dry period as bad or worse than previous droughts, but with improved management skills, or a changed farming system more aligned to the areas climate, they seem to be coping well.
Many had used the good feed supplies on hand, including bunkers of silage, harvested and stored many years ago, and now opened and fed for just such a severe drought. Early decisions to destock, sell store, buy in extra feed, or arrange off farm grazing, were all management choices no one regretted. From the survey, it seemed even from the well organised feed planners, many would be tight for feed and reserves, come the spring.
Forage crop yields on dryland properties were well back, and although late rains did boost cereal greenfeeds and Italian ryegrasses, often they were grazed earlier than optimum. The costs of bought in supplements rose rapidly, especially when demand came from the North Island.
Many were aware of the free Feed Budgeting Service supplied by Dairy NZ and Beef and Lamb NZ, but it was seldom used, most backing their own systems to evaluate feed shortages. The late-created, Feed Co-ordination Service was largely unknown, but well received, and for future droughts a national feed platform would be very useful.  
Others had changed their farming systems after previous droughts, and those that have irrigation, were almost apologetic about reporting feed levels well in excess of their dryland counterparts. This area has just been through an irrigation feasibility study, and some will wonder whether opportunities were lost to enhance this region with extra water, after this initiative failed. One district is running a seminar about regenerative farming, and many in the area will be reviewing how their operation has coped, and planning future management tweaks to reduce risk in dry periods, certain to reoccur in the future.
There seemed quite a variation in how farmers rated their stock condition from below average to above average, although reports suggest early ewe scanning results are well back on the norm. Some cows grazing hard hill country have suffered, as surplus roughage has been utilised early, leaving little for animals to winter on. Trading cattle operators delayed purchases, until feed supplies improved.
Complicating stock management decisions, were the slow works capacities and saleyard closures during the COVID-19 lockdown. Major delays were evident in getting cattle space, and without the option to sell store at auction, some used online sales. Most weaned calf sales seemed to move quite quickly, but older cattle values dropped sharply, and some opted to used precious feed to maintain animals for improved spring prices.
The Government initiated Rural Assistance Payments and Covid-19 Wage Subsidies were barely used by this group of resilient farmers. Many had strong philosophical beliefs against accepting government handouts, and there was a low understanding that the wage subsidy could apply to self employed farmers.
Health and Wellbeing is a core responsibility of Rural Support Trusts throughout New Zealand, and the Hurunui area appeared to be coping well with the stress of these very dry times. Previous droughts and earthquakes have exposed this area to well being issues before, and an awareness to keep an eye out for family, friends, and neighbours under stress was evident. The brand of The North Canterbury Rural Support Trust is strong, shown by the fact that all phone calls were well received, and "the farmers helping farmers" model, works.
The rural community coped well during the lockdown, with many enjoying the extra family time this brought, and others found the relationships with staff improved during this period. The comment was often made by respondents, that they were pleased to see a growing appreciation of food producers by urbanites, replacing the environmental criticism unfairly burdened on their sector, as the COVID-19 economic crisis exposes some reality, of who earns the export dollars.
For as well as this areas group of farmers have coped, there is undoubtably a big cost to this drought. Reduced stock numbers, lower production from stock carried, extra feed and replacement stock costs, and the replenishing of emergency feed supplies are the more obvious ones. And this must all be done in a difficult economic climate, and also one where some banks are readjusting their agricultural portfolios downward when farm debt is too high. Just like urban businesses, not every farm will survive this severe adverse event, but one thing is certain, the Rural Support Trust will be there to help when needed.
A challenging year ahead for North Canterbury dryland farmers.