The recent hailstorm in the Nelson region will have a huge impact on the local economy, raising stress and anxiety for horticulturalists and their workers alike. Other rural sectors are enjoying much better conditions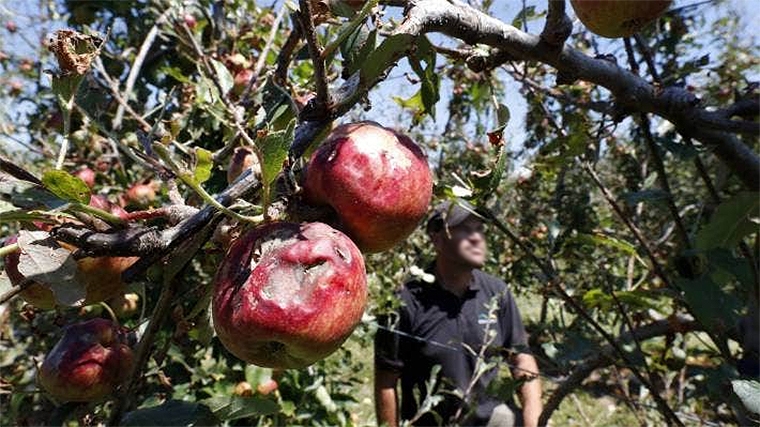 By Angus Kebbell
Farmers have to deal with a lot of things and of course weather is a big part of that. Recently hail devastated many crops in the Nelson region; especialy hard hit was Motueka.
Richard Kempthorne heads the Rural Support Trust for the top of the South Island region and he has an expert view of the impact. Estimates are that this weather event could cost growers $100 mln, or almost a quarter of what horticulture gerenates in a year for the local economy of around $450 mln. Any way you look at it, it is significant in a region with an annual local GDP of $5.2 bln.
Horticulture is an industry where all the annual income arrives in a short burst of a few weeks. That income supports a very wide range of workers and businesses for a full year. For many growers around Motueka they are facing zero or painfully sharp income reductions and that will have a wide comminity impact.
Some growers will be insured, but most would not have been able to afford full insurance cover.
The Rural Support Trust urges growers to take their time to assess how they move forward. Get advice. Knowing what to do is a key part of dealing with surviving the rest of the year until the next season. Some may not survive and some will be forced to increase debt levels, either way this has real implications for farming families in the Nelson region.
If you know someone that has been impacted by this event in the Nelson region, please reach out to them, check in and help anyway that you can. The Rural Support Trust can be contacted at 0800 787 254.
In other rural sectors, typically this time of year we see beef prices start to trend down but we are seeing a slight stabilisation in prices as we head into the last week of January. North Island processors are reportedly on track with their summer kill which is making it easier to get cattle booked in, and as backlogs are cleared prices should remain stable. One thing to consider is that exporters are facing headwinds due to ongoing pandemic related supply-chain issues, and that may increase product available to the domestic market.
Pasture covers across most parts of the country are good following rainfall over recent weeks. Canterbury is reporting good feed and moisture levels. Hawkes Bay has held on well also. Some pressure is starting to build in the Wairarapa and Northland, and both of these regions could do with rain.
In both the North and South islands, bull and prime are fetching about the same amount at processing, $4.90/kg in the North Island, and $4.60/kg in the South Island respectively.
From a store price perspective, and with plenty of grass in some places, there has been strong competition over a limited supply of cattle. South Island traditional yearling steers and bull prices increased last week, and further upside is expected this week.
In the paddock, a 380kg yearling bull is trading at around $2.60 per kg live weight in the north and $2.30 per kg in the south. A 2 year old 500kg traditional steer is trading at $2.70 per kg in the north and $2.35 per kg in the south.
For lamb, in the last couple of weeks, slaughter prices have dropped by -10c/kg in both islands. In the North Island, this resulted in lambs earning $6.50/kg at processors last week, and $6.40/kg in the South Island. There are good pasture levels in many areas and this coupled with softer farmgate lamb returns, means many farmers are choosing to hold on to lambs in an attempt to swing pricing in their favour.
Lambs trading as stores are reaching around $3 per kg live weight, with limited stock available due to good feed covers in general prices are holding up relatively firm.
Listen to the podcast for the full interview with Richard Kempthorne.
---
Angus Kebbell is the Producer at Tailwind Media. You can contact him here.