The relentless encroachment of the 'big city' into a once-rural area is changing the way the A&P Show draws its entrants and attracts its visitors. But it still holds old-time magic for those who attend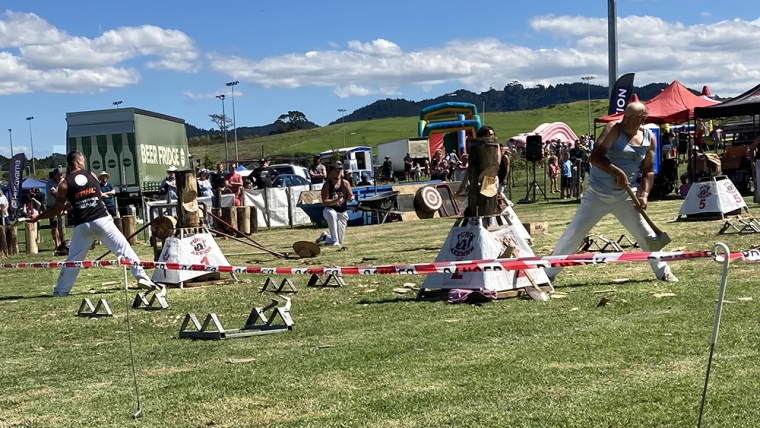 By Allan Barber
The 154th Warkworth A&P Show was held on the third Saturday in March, much to the relief of the committee who had been planning it for several months with no certainty, especially as it got closer to the day, it would be allowed to go ahead. Last year the wait was like knowing the grapes wouldn't be picked before the first frosts arrived – lockdown was inevitable, but planning had to continue just in case it didn't come as soon as it did. Whereas this year the odds were on Auckland coming out of level 2 in time, but without any guarantee.
Of course the rest of Auckland and the country as a whole were far more interested in the America's Cup being allowed to be held with crowds than our small show which was quite possibly also a big part of the reason the government decided to take the risk. But for our A&P Show, being able to hold it after having to abandon it on the Monday of show week last year, meant the continuation of a tradition which might quite possibly have come to an end if it had been cancelled two years in a row.
Unlike the Canterbury Show which decided to make the call to cancel several months in advance, the Warkworth Show, despite its longevity, is no longer the focal point for what used to be a flourishing rural area. The Rodney district has been absorbed into the Auckland region with implications for weekend traffic volumes, social structures, land use and consequently the sort of attractions and activities on offer at an A&P Show. In contrast to Canterbury, we incur relatively small expenses right up to the show and these are covered by Auckland Council under the original agreement with Rodney council when the showgrounds were acquired from the A&P Society.
The area's changing demographics, competing attractions and increasing traffic flows meant a date change from January to March three years ago was essential. M. bovis has made cattle competitions problematical and the retirement of key cattle and equestrian organisers, combined with Covid induced challenges, has brought about a big change in the focus of the show. It is no longer principally about livestock, but more about family entertainment.
Sponsors' generosity allows free children's entertainment, an essential component of a family fun day out without parents having to fork out every time their children want to try a fun activity. We found good music and sound system for the main stage, while a professional MC kept the crowd abreast of what was happening all the time.
Since I joined the committee in 2007, the show and the showgrounds have changed almost beyond recognition. After several years of ground development when we didn't know from one show to the next where we could hold the different activities, we have a settled layout. The main field is now a sand based rugby pitch with underground watering system, on the other fields there is an artificial hockey pitch and children's playground and, in March, Mahurangi rugby club holds pre-season trials and matches which threaten to clash with show preparations.
The remaining core events are the indoor produce competition, sheep shearing and wood chopping which continue to attract large crowds and, because of other show cancellations, in the case of shearing, good numbers and high quality competition. In the open shearing final, won by Toa Henderson, the first three had all previously finished in the top six at the Golden Shears, while well known shearing gear expert John Hand from Dannevirke came fifth, as well as filling in during the senior competition while one of the rouseys had her finger bandaged.
After eight years 2021 was my last show as Chairman. When I took on the role, I was far from convinced the show would carry on – sponsorship was hard to obtain and it was almost impossible to make a profit from core parts of a typical A&P show, while new and younger committee members did not offer to come on board very often. Now it is certainly still a challenge to make ends meet, but it has been satisfying to be able to continue a longstanding tradition. Ironically profitability has proved easier to achieve by restricting the competitions on offer. The show jumping and cattle competitions which used to break even and lose money respectively have been replaced by miniature horses and goats, smaller competitions which turn a small profit.
A&P Shows have been part of the fabric of New Zealand society for more than 150 years, but inevitably they must evolve to meet the wishes of their target market or they won't survive. It also is becoming harder to attract volunteers with the time and willingness to get involved. I am not convinced the Royal Agricultural Society and its strictly regulated competitions have much relevance to the future direction of the Warkworth Show which is no longer an agricultural show so much as a family show with animals.
The new committee which will take over in July will need to make commercial decisions about what constitutes a successful event to be held on the rural fringes of an increasingly urban region.
---
Current schedule and saleyard prices are available in the right-hand menu of the Rural section of this website.