Angus Kebbell talks with Fraser McGougan, a Taneatua dairy farmer who has taken a very pro-active approach to the changing goal posts of 'sustainability', helping lead a substantial regional attitude shift on farms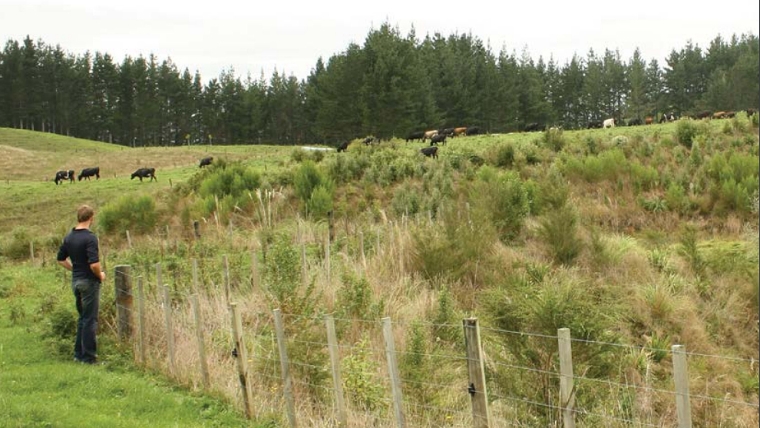 Today we are talking to Fraser McGougan, a well connected dairy farmer in Taneatua, in the Eastern Bay of Plenty.
He has adopted a definition of 'sustainability' attuned more to managing the issues coming at farmers, and trying to get ahead of them. With the goal posts changing constantly, he apporaches these issues on a proactive basis, learning about what is expected and continuously evolving his farming practices so that the surprises are minimised.
Actively working to stay ahead of the 'game' has worked for him and his farm, bringing national recognition including a Ballance Agri-Nutrients Soil Management Award, and DairyNZ's Sustainability and Stewardship Award, just to name a couple.
This proactive approach has him now leading work to ensure other farmers 'know their numbers' and are engaged in on-farm changes, an effort that has shown substantial progress over the past five years, where 'anger' has been replaced by enthusiastic adoption of sustainability practices.
'Inspiring' is certainly the right word to describe the McGougans efforts - their environmental initiatives on-farm are significant.
"We've fenced off all waterways and are now fencing off small areas of native bush, featuring stands of large Kahikatea. We're also rejuvenating these bush areas with our three young children helping to do additional planting. A Land Manager Officer from the Bay of Plenty Regional Council has helped with planting as well as weed and pest advice."
Fraser has enjoyed some success using Cinnabar moth to control ragwort. "We're also thinking about introducing biological control to manage Californian thistles in the future."
Efficient use of fertiliser is managed using a GPS mapping system attached to the spreader, and soil testing is undertaken biannually on every paddock with a block test in alternate years. "Timeliness and accuracy of fertiliser application are really important to us, and our approach means we're getting the right type and rate of fertiliser applied to where it's needed."
Fraser is currently a Climate Change Ambassador for DairyNZ. This role involves keeping up-to-date with the latest science and feeding this back to other farmers, and helps farmers to negotiate change that keeps coming out of Wellington. "We recently had the Government Climate Change Authority visit, and they are asking farmers where they should be heading with climate change legislation. It's really good to see that they're trying to find a fair solution for both the environment and farmers."
On their property, matching the stocking rate to what the land can carry is important and helps to ensure the cows are well fed. "If you look after your pasture and soils, you look after your cows."
Minimising waste and recycling are everyday activities. Bailage wrap and scrap metal are recycled. A heat recovery system is used on the refrigeration unit providing free hot water to 52 degrees. Fresh water is reused up to three times in the cow shed before entering the effluent pond.
Fraser and Katherine are planning an eco-tourism operation and are currently renovating an old cottage that will be located in a patch of the bush so that visitors can help out with replanting. "We see this as a great way to open the farm-gate so people can experience first-hand the positive things that are happening on dairy farms."
In the future, the pair will look to act on extensive plans they have been mapping out. "For the future, we have mapped out some big changes for our farm system such as getting the best effluent disposal system and sharper nutrient management."
These farmers are the benchmark for all to aspire to, farming is not easy and it is becoming harder and harder each and every year, the skill set and technological knowledge farmers need to know today are significant and that's why it is so important that farmers get on board with the He Weka Eke Noa program – firstly to know your numbers and get ahead of the game, go to their website or reach out to your Dairy NZ or Beef+Lamb rep to get involved.
Listen to the podcast to get the full story because it has considerable helpful detail and perspectives.
---
Angus Kebbell is the Producer at Tailwind Media. You can contact him here.