Productivity, the way to reduce emissions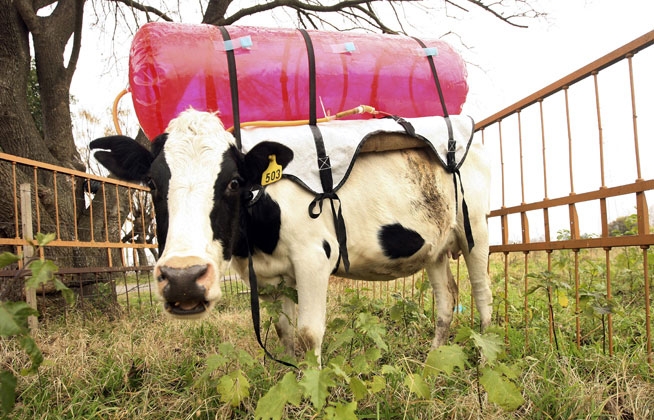 Improved productivity could reduce on-farm greenhouse gas emissions from sheep by up to 12%, according to the author of a study which calculated the carbon footprint of sheep.
 Stewart Ledgard, a principal AgResearch scientist, said a higher lambing percentage and faster lamb growth rates offered the best options for reducing greenhouse gas emissions from sheep, as opposed to reducing fossil fuel use, which was low on sheep farms compared with other intensive agricultural systems.Dr Ledgard said the 1.9kg of CO2-equivalent produced for each 100g portion of lamb exported to Europe, was "broadly consistent with other international studies of products derived from farmed, ruminant livestock reports The ODT. His study found 57% of the sheep carbon footprint was generated by the natural process of animals utilising pasture and producing methane during digestion, but it was a figure that has been decreasing.
Our analyses showed that this component of the carbon footprint has decreased by over 20% during the past 15 years, as farmers have made large gains in efficiency of converting pasture to meat." Dr Ledgard said in an interview the survey allocated emissions from a typical mixed sheep and beef farm and also took into account wool production. The study would help meat companies satisfy carbon footprint questions from customers, and provide a starting point for sheep farmers about to face an emissions trading scheme.
A recent report on the dairy industry concluded that total emissions from NZ dairy farms were substantially lower than those in Europe, and a Fonterra-commissioned report found the life-cycle carbon footprint of New Zealand ingredient and consumer dairy products was 940g for each litre of milk. Dr Ledgard was part of a team which compared the energy and greenhouse gas efficiency of NZ farming systems with those in Europe.
The team concluded that NZ was more efficient, even taking into account shipping products to Europe, which only contributed 10% of the total energy use.The study warned that intensification of dairy farming risked diminishing NZ's comparative advantage. Dr Ledgard's study showed that most gains from reducing emissions would come from the most complex task, that of changing the natural biology and behaviour of animals.