Farm input prices decrease for sheep and beef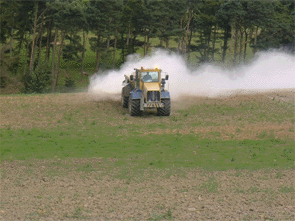 One of the biggest costs in running a sustainable pastoral system in sheep and beef, is fertiliser.
Tough economic times and rising costs have seen many operations cut back on this essential input. But many will know this is only a short term measure before lower grass production will affect stock performance.
Top operators are now doing nutrient budgets and only using this important input where they get the best return.
Rising local government costs have long been a bone of contention with farmers and a strong focus of Federated Farmers. Increasing feed and grazing prices reflect the drought conditions many areas suffered from last year.
After two years of significantly increasing costs, NZ sheep and beef farmers experienced a 3.5 per cent decrease in input prices for the year ended March 2010. 

Meat & Wool New Zealand's Economic Service today released its Movements in Sheep and Beef Farm Input Prices 2009-10 report. The report shows the 3.5 per cent decrease in on-farm inflation was driven by a significant drop in the price of fertiliser, plus the impact of lower interest rates.  Compared with 12 months earlier, the on-ground price of fertiliser fell 16.1 per cent, while the rate of change in interest rates fell 11.8 per cent. 

Economic Service Executive Director, Rob Davison said, calculated over a five-year period, on-farm inflation increased 22.5 per cent, while the Consumer Price Index rose only 15.1 per cent over the same period.  "The stronger rate of increase for sheep and beef farmers over the past five years reflects the increase in fertiliser, fuel and energy prices over that time," Mr Davison says.

However, the recent decline in the price of fertiliser reflects lower international prices, with fertiliser largely imported or manufactured using imported rock.  New Zealand's stronger exchange rate than for the previous 12 months meant fertiliser prices provided one of the few exchange rate benefits to the farm sector.  Fuel accounted for the largest price increase during the 12 months to March 2010 – up 9.6 per cent – while local government rates increased 6.2 per cent. Feed and grazing prices rose 5.7 per cent.