Feds ask that the rabbit be classified as a pest of national importance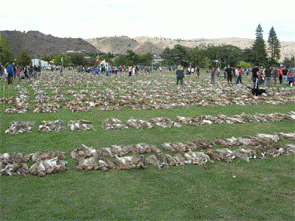 The introduced rabbit is a major pest in drier areas of NZ and the cost to control it is significant to farmers and the environment.
It is pleasing to see the Biosecurity Minister David Carter recognising the Crowns responsibilities for pest control.
With large areas of the high country being retired and transferred to Dept of Conservation under tenure review, the responsibility of pest  and noxious weed control accompanies this ownership.
Time will tell whether they have the money, will, and resources, to handle these problems. 
"The Minister has announced that Crown land will be required to meet 'good neighbour' obligations' and that's been a major policy objective of the Federation for a long time," says Donald Aubrey, Federated Farmers game and pest spokesperson. "When a regional council tells farmers to control pests such as rabbits for example, we go out and do that at our expense.  Yet there's been no obligation on the Crown for it to do likewise.

"Although Crown agencies, such as the Department of Conservation (DOC) currently spend around $75 million on pest control, our experience as farmer-neighbours indicates it has been insufficient. "Crown responsibilities for pest control needs to be taken into account when the Crown purchases private land.  This has been evident in the expensive St James Station purchase by the previous Government, where the budget for pest control was inadequate.

Farmers may ask the Government to reclassify rabbits as a pest of national importance, with estimates the soaring population could result in a loss of production worth $27 million in five years reports The ODT. Speaking at a recent Federated Farmers High Country conference at Mt Cook, Rabbit Co-ordination Group  chair Jim Ward  estimated 13,000ha of Marlborough exceeded council rabbit density limits, 25,000ha of Canterbury and 80,000ha of Otago.

The Otago Regional Council-owned Regional Services estimates it will do control work on between 8000ha and 10,000ha this winter. Any hope the Government would once again contribute funds to control the pest were dashed at a recent meeting with ministers, but now attention was focused on making better use of existing control methods and co-ordinating future management through the Rabbit Co-ordination Group.