UK-Looking at NZ sheep farms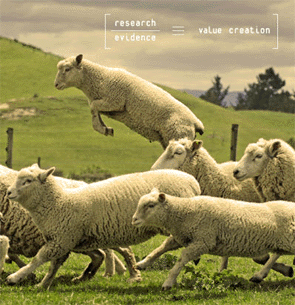 At least the English like our sheep.
The gobal market is small, as this story in MeatTrade Daily about an English farmer using NZ sheep genes and farm mangement techniques to improve his profits.
While many are gloomy about prospects for sheep in NZ, we need to continually push the boundaries, as this sheep breeder does and align those breeding goals with the market.
Many in NZ's sheep industry worry too much about the breed, when they should concentrate more on the genes needed to make more profits. Have you got the correct genes in your flock to improve your profits?
When Stuart Stark decided to go into sheep in a big way, he did a lot of research and a lot of sums and chose Highlanders siring breeding ewes and Primeras for production of butchers' lambs. Both are NZ composite breeds, mixed together largely from old English exports, and brought to this country by NZ stock supplier Rissington Breedline.
 
 It became a close collaborator in Mr Stark's drive for a reliably profitable flock and has a representative there when he takes a party of professional visitors around his operation on Fridlington Farms, based near Sutton in the Forest, between York and the Howardian Hills.Kiwi sheep are apparently great according to measures such as lamb weight versus ewe weight – or money earned versus food consumed.
 
 However, being derived from wool breeds, and selected for easy birthing, they tend to be narrow-shouldered and do not easily hit the top grade on the standard European conformation chart. In New Zealand, they have already moved on to X-ray machines for yield estimation and reckon the European charts are a poor reflection of the value of an animal in butchered meat – and, incidentally, the Yorkshire farmers on this tour all agree.
 
Rissington is test-butchering thousands of UK versions of Kiwi crosses to prove to buyers like Marks & Spencer that they are undervalued. Already, thanks to the Highlander influence, all his animals live and lamb outside and he is running 4,000 ewes with two shepherds – plus, he guesses, about half a man from his arable team, in terms of time spent on grass maintenance and fodder growing. The aim is for all ewes to be at least 75 per cent Highlander.

The NZ way is to get as much as possible off grass and Mr Stark and his head shepherd, Ian Murdoch, are working hard on that. They are experimenting with pasture mixes and check what the sheep are getting out of them by using exclusion cages.Winter feeding is the key to making a profit and for Fridlington Farms, beet seems to be the solution. A thousand sheep will feed for two days on five rows of it, 400 metres long, rooting it out of the ground themselves – even during this last winter.