MP's hear One Plan dairy worries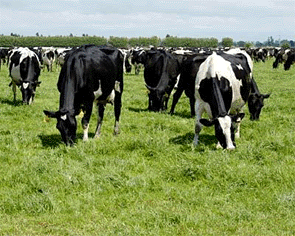 Manawatu farmer Grant Barber believes the media has a lot to answer for in the public attitude to dairy farming.
He believed for publicity was needed explaining what progress dairy farmers were making to minimise the environmental footprint.
The visit with MPs on his farm was organised by Federated Farmers, to highlight concerns that the Horizons One Plan, which will force drastic stock reductions to meet  new regulations.
 The costs and speed of implementation of the scheme are also being questioned. To illustrate how far apart the two parties are, it was estimated that the stocking rate would need to be reduced by 40% to meet the conditions of the farm.
Manawatu dairy farmer Grant Barber  and wife Katrina hosted MPs from most political parties at their dairy farm near Himatangi late last week."We realise there is a perception out there that dairy farming is dirty for the environment. Mr Barber said that if the media went out and presented the positive face of dairying and what people are doing to mitigate their environmental footprint, then there could be a change in public opinion reports The Manawatu Standard.

Mr Barber said dairy farmers had to achieve a better environmental response in order to meet the politicians' and public's expectations."We're achieving really good results for our outputs, but whether that is acceptable to the public is a discussion that has to be had."

Labour MP Damien O'Connor said it was great to get out, boots and all, on a working dairy farm. Federated Farmers, which organised the meeting with MPs and its policy people, used the visit to get its concerns across on Horizons' Proposed One Plan. They are worried it will be restrictive on many farmers, forcing them to reduce stock to meet regulations.

Mr O'Connor talked about the image of dairying. "There has been huge expansion in dairying. Yes, the processes that dairy farmers have now are much better than they were in the past. But there is a level of intensification and that means there is a greater focus on what happens on the dairy farm."Mr Barber said if the One Plan went through as proposed, it would mean they could not meet it unless cow numbers were reduced by about 40 per cent.