The way forward all about to change in meat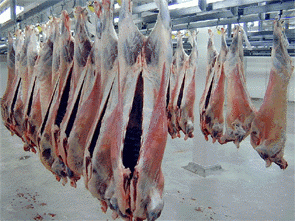 This article on the demise of the Meat processing industry, looks for new ideas and solutions. They stress there is no silver bullet.
There seems general agreement that amalgamations alone will not bring the long term solutions, the industry craves reports The ODT.
Solving the lack of profitability of the wool sector will go a long way into restoring sheep profits. But based on the history of previous failed attempts, how likely is this? Wool Partners International's attempt to raise more capital out of sheep farmers for wool marketing, would seem a long shot based on MAF's prediction of sheep farmers profits. There just isn't any money left in the coffers!!
Farmers are being asked to commit to one company with their stock for a minimum of a year, so processors can plan and sell the product with more surety.
They are also being asked, to supply more out of season product, but at this stage better profits for alternative land uses (like deer finishing and cow wintering) make this unlikely, based on the returns offered.
The challenge will be, solutions found will have a medium term return, but can many sheep farmers wait that long?
Ten steps to prosperity

1. Farmers realise they control the industry's future and commit to supply stock to processors and marketers that will make a difference to the industry's future. Shed the victim mentality.

2. Fix the wool industry - meat cannot be left to determine farmer profits alone.

3. Processors be more consumer focused and innovative. This is more than the current lip service attention it gets now.

4. Farmers improve on-farm productivity so they start supplying product wanted by consumers when they want it, even if it does not fit the pasture growth curve.

5. Companies financially recognise this commitment. We are not talking procurement premiums.

6. Exporters to brand meat and wool products - after all we are told it is the world's best.

7. Meat exporters to reduce reliance on European markets - the 227,000-tonne sheep meat quota has not made us rich yet.

8. Reduce the number of meat exporters - farmers can do this at no cost to them.

9. Meat and wool processors to start thinking and acting for the wider industry good and grab the Government's offer to help industry consolidation. This is too good to refuse.

10. Find an industry leader to drive change. A difficult, thankless task that could make or break a career.