A proud heartland of dairy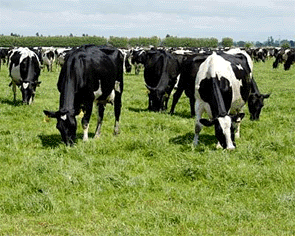 Andrew Ferrier, the CEO of Fonterra, visited heartland dairy country in Taranaki last week, and gave an optimistic summary of the issues facing dairying.
Among all the debate about overseas ownership in NZ farms, it's interesting to see that Fonterra predicts only half its milk supply will come from NZ farms in 10 years.
He reiterated that NZ's production growth will only be about 1-2% per year in the future, and most will occur with irrigation expansion.
Enviromental sustainability was also discussed and he stressed the company's commitment to effluent audits, "every farm every year".
He also discussed the size of the 'take' of milk by rivals under the Dairy Industry Restructuring Act, and is lobbying to have this 'take' reduced.
Share trading among farmers will give the company capital security, allowing development both here and overseas, he said.
Andrew Ferrier who took up his position seven years ago said Fonterra was in "a pretty good space".

The dynamics of the precipitous international dairy commodity pricing of two years ago were no longer so apparent.  While the volatility was not easy to deal with, it was absorbed better by NZ farmers whose pastoral farming system gave them a competitive advantage over those who had to buy grain.

Under the Dairy Industry Restructuring Act (DIRA), the company's rivals could fill their processing plants with Fonterra's milk at those times of the year when milk supply was low.

"At certain times of the year, more than half the milk collected by us in South Canterbury goes to our competitors who are denying us that milk."

Expecting a growth in milk supply in NZ of only 1-2%, he said more and more of Fonterra's milk supply would in future come from other countries.

While 80% of Fonterra's milk supply currently came from NZ, he predicted the proportion in 10 years would fall to just 50%. The majority of Fonterra's growth would occur in the South Island and irrigation offered opportunities for sustainable development in Canterbury.

He said this month's rollout of the company's "every farm every year" programme to check farm effluent would help farmers comply with regional council dairy effluent rules. Fonterra wanted to be environmentally responsible and to continue to move the dairy industry ahead of the regulators.

Although Fonterra was already recognised by the world's largest users of dairy products as the pre- eminent global supplier, the company was focused on becoming the "essential" partner that its customers could not do without.

Mr Ferrier said one-third of the company's revenue came from consumer products sold under brands like Tip-Top, Mainland, Anchor and Anlene, while two- thirds was from ingredients manufactured in four main groups - milk proteins, cheese ingredients, milk powders and cream products.

Trading Among Farmers, adopted by shareholders in June, would give the company security to invest in more capital development in New Zealand and overseas. Once implemented, Trading Among Farmers would mean the company would have permanent equity.