Exploring farm debt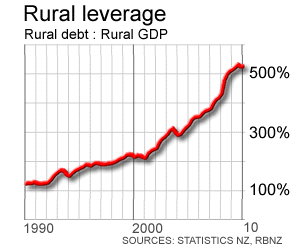 The financial rules have changed in today's economic environment.
In the past farmers borrowed on their equity, and the ability to repay debt was often a low priority.
The huge sums borrowed for dairy conversions have been on the promise of large lifts in production earnings, but often at the expense of big increases in costs.
Risk factors in a now failing land market are being exposed. Farm income historically has been cyclical and volatile in values, and better financial planning is needed for when prices fall.
Successful operators in the future may well fall into only two categories; very conservative, or top financial managers with flexibility to follow a consumer focus.
Farm debt was the central theme at one of the many recent Beef & Lamb NZ seminars being run throughout the country reports Rural News.

Rob Macnab of Rural Business Solutions presented some sobering figures for those thinking about taking the plunge and converting to dairying.

Macnab outlined data showing farm borrowing rising from around $13 billion in 2001 to $47 billion in January this year, much of it attributable to dairy conversions.

"Do you as sheep and beef farmers realise that your debt has increased by 46% per farm between 2004 and 2008? Farm debt currently exceeds 400% of total agricultural GDP, with 20% of sheep and beef farmers responsible for 64% of your share."

For those considering dairy conversions, Reserve Bank data shows dairy borrowings, based on a payout of $5.50/kgMS, in some cases had reached a cost of over $100/kgMS.

Macnab detailed the new debt servicing environment in today's volatile economic climate – it needs to be based on a realistic operating budget, principal and interest payments have returned, and a factor called 'interest cover' now prevails.

This term is defined as the ratio of profits before tax and interest to interest payments. Macnab's data demonstrates that agriculture's interest cover has – over the last decade – never risen above a ratio of 2, compared with say wholesale and construction which has reached ratios of 11 and 13.

While rising product prices could help farm finances, farmers should remember that input costs would rise alongside these as always, banks would place heavier emphasis on risk margins, and interest rates would rise accordingly.