Seafood is our fifth largest export, from the world's fourth largest fishery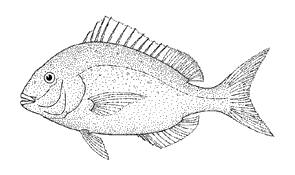 by Steve Edwards
Global seafood prices have started to recover some of the ground they lost following the global recession.
Reduced fuel costs have been a consolation for fishermen, but a stubbornly high NZ dollar is proving to be a drag on the industry. Nevertheless, the industry is poised to benefit from an anticipated lift in worldwide demand for seafood, particularly aquaculture.
Ocean catch
When New Zealand declared a 200 nautical mile Exclusive Economic Zone (EEZ) in 1978, it took control of the 4.2 million square kilometres of ocean around its islands.
The area covered by the EEZ represents the fourth largest fishing zone in the world.
There are 130 species of fish that are commercially fished off our waters, but only 10 species make up 80% of all our seafood exports. In the past 12 months, $1.3 billion of fish and shellfish was exported, making the seafood industry the country's fifth largest merchandise export earner.
Since 1986, New Zealand's fishery stock has been governed by the Quota Management System, which is today acknowledged as one of the best fishery management regimes in the world. Under the quota system a sustainable total catch, or harvest, of fish is set – with individuals or companies having been allocated the right to catch certain quantities of particular species. Previously sea fish could be caught by anyone who had a licence and complied with other regulations.
Aquaculture
New Zealand's aquaculture sector (farming of fish and shellfish) is the country's fastest growing seafood sector. Aquaculture accounts for nearly 25% of New Zealand's seafood exports by revenue, and is spread across the cultivation of mussels, salmon, Pacific oysters and paua.
The United Nation's Food and Agriculture Organisation (FAO) predicts that the world's seafood consumption will rise 35% within 10 years, with aquaculture production increasingly used to meet this surge in demand.
Currently, NZ's contribution to global aquaculture is only about 0.02% of sales by weight, thus providing NZ with a huge opportunity to tap into this anticipated increase in worldwide demand. T
he FAO forecast that by 2030 aquaculture will match the wild fisheries catch.
Likewise, the NZ Aquaculture Council projects our waters could be producing over $1 billion worth of aquaculture products annually by 2025.
The recent lift in the worldwide price of NZ's seafood exports have recovered just over half of the level that was wiped out following of the global recession in 2009.
Returns for our local fishermen have been rather more volatile, reflecting the swings in the kiwi dollar, as well as increased fuel costs.
Markets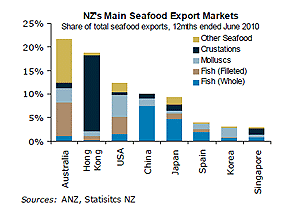 At 22%, Australia is our largest market for seafood exports, followed by Hong Kong, on 19%.
The next largest markets are the USA, China and Japan, respectively taking 12, 10 and 9% of the value of our seafood exports.
Australia and Hong Kong being the top two seafood export markets is a relatively recent phenomenon. Prior to 2003, the largest seafood export markets were Japan and USA.
In terms of the value of NZ's seafood exported, around half are whole and filleted fish. Molluscs and crustations account for roughly 20% each and the remaining 10% is made up of miscellaneous fish products.
Mussels are generally exported in frozen half-shell form predominantly to the US and EU; hoki is sent as prime white fish portions and ready-to-cook battered and breaded fish meals, largely to Australia and Europe; and rock lobsters are primarily airfreighted live to Japan. 
------------------
Steve Edwards is an economist with ANZ National Bank Limited, and can be contacted at either phone: +64 4 802 2217 or email: Steve.Edwards@anz.com