Whither goes our weather today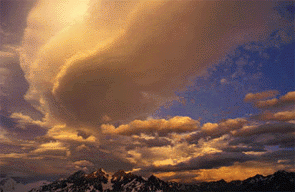 Weather predictions and forecasting is a difficult job in a narrow island like NZ, but it's importance is paramount for farmers managing their business.
Everyone has there own preferred system but because of regional differences, none can be guaranteed. Local knowledge understanding where the weather comes from is also valuable. Technology has also provided the ability to have your own weather station, that in time with records will also help in weather planning.
Certainly farmers are often cynical of the TV weather, that sometimes seems more keen to entertain than worry about accuracy.
Ken Rings predictions do have a following, but probably are used more in getting a feel for future trends than day to day reliability. Tell us if you are a "Moon man" fan, or what other systems do you rely on.
Farmers and fishers are dependent on the weather – more so than most reports The Manawatu Standard. City people complain about the weather, but it might simply mean they have to carry coats and umbrellas. It rarely affects their livelihood. But how accurate are weather predictions? The science comes from the National Institute of Water and Atmospheric Research (Niwa). The less scientific comes from a number of sources, including moon man Ken Ring.

NZ farmers stake their livelihoods on the weather. Farmers at the Feilding stock sale get their weather information from TV news, teletext and National Radio's five-day forecast. "I know a haymaking contractor, and aerial spray and topdressing businesses who phone the 0800 MetService number every morning. They trust it and it seems to work," said a Manawatu farmer.

And television weather forecasts? "These are designed to entertain and create drama and are rarely accurate," President of the Manawatu Astronomical Society Ian Cooper says he is not a Ken Ring believer. "If you study weather as a layperson or as a professional, you will find understanding the complexities of the weather to be one of life's most difficult tasks." He says there is no person or thing on this planet that can predict weather to any real accuracy beyond a week.

Ken Ring  believes the Moon is the major player when it comes to weather patterns, just as for tidal patterns."We have an ocean of air above our heads that is gravitationally pulled around by lunar forces in the same way and at the same rate as the ocean of water."Ken Ring says that so far, he believes his predictions for 2010 in the Predict Weather Almanac for NZ have been satisfactory."I said we would get a late summer, a late autumn and a winter that would bring early cold, and late season precipitation."That has all happened. August was always going to be the wettest month for many, especially in the North Island."