Beef and Lamb NZ's new season outlook for sheep and beef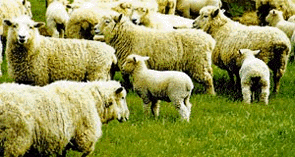 Beef and Lamb NZ's new season outlook gives farmers a feel of how the new year may look. The overseas markets and prices are viewed optimistically for 2010/11.
However because of the sensitivity to our predominantly exported products to the fluctuating exchange rates, profits could vary dramatically.
Profits are predicted between $34000-$54000 when a US$68c or US$72c  currency rate is used. But with drawings, tax, debt repayments and capital expenditure to be taken from this amount, it will again be a lean year.
The model used is a 4000su farm carrying 2815 sheep and 265 cattle and a hat full of deer on 650ha, but only finishing a % of the stock.
The core issue reinforced again ,is even when income is strong ,farm profits are not robust enough to sustain the level of debt some of these farm are carrying.
Beef + Lamb NZ's New Season Outlook is predicting that the good demand for NZ lamb and beef will continue.  This outlook is underpinned by the continuing tight global supplies, particularly for lamb.

It sees beef and lamb export receipts totalling $4.7 billion, 1.6 per cent less than last year,  reflecting a fall in production volumes. Rob Davison says "In terms of lamb production, the breeding ewe flock has more or less stabilised (‑0.6%) for this spring, and scanning results suggest a 2.5% fall in lamb drop."The expectation is that fewer replacement lambs will be kept following a high retention last year to leave export lamb shipments down 1.7 per cent on last year."

Beef cattle numbers at 3.92 million this June were 1.3 per cent down on the previous year.  Expectations are that beef production shipped this year will decline 5 per cent from a lower cull cow slaughter as new dairy herds consolidate. Steer and heifer production reflects the decline in beef cow numbers in recent years though bull beef lifts (+0.9%) because of a slight increase in bull beef calves in recent years.

The New Zealand exchange rate continues to loosely follow Australian and Canadian currency trends that are weighted towards oil and mineral commodities."Based on a more optimistic exchange rate assumption than today of a 68 cents/US$ exchange rate and its associated cross rates, all classes average sheep and beef farm profitability before tax is estimated to average $54,000 per farm for 2010-11, down 5 per cent on 2009-10.

The steep fall in profitability from a less export favourable strong exchange rate links in the short term to farm expenditure remaining largely fixed and Gross Farm Revenue falling from lower per head export prices received at the farm gate.