Foreign backing for Mataura plant?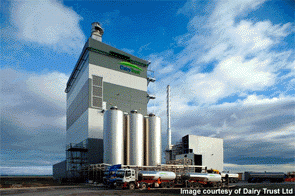 NZ's shortage of capital to process the increasing production of milk is being exposed, and foreign companies are taking advantage. Five out of the nine operating or proposed dairy processing plants will be foreign-owned or have significant foreign ownership.
It is allowing the opportunity for dairy expansion to proceed, which without foreign capital may not happen.
Although some of this expansion is taking market share from Fonterra through milk supplied under the Dairy Restructuring Act.
At what level are the competition conditions being met, and when will the Government decree to let the market decide who processes milk in NZ?
A $100 million milk-processing factory planned near Gore should be operating for the 2012-13 dairy season, but a shortage of local equity could force it to look overseas for financial backing. If that happens, five of the country's nine operating or proposed dairy processing plants will be foreign-owned or have significant foreign ownership reports The ODT.

Mataura Valley Milk director Ian Tulloch said the company is seeking a cornerstone partner to contribute 50% to 60% of the required funds, but the key was to find a compatible partner. In July, China-based Bright Dairy paid $82 million for a 51% stake in Canterbury's privately owned Synlait Milk, and this week Vietnam Dairy Products bought a 19.3% share in Miraka Ltd, which is building a $121 million processing plant near Taupo.

Open Country Dairy has Singapore's Olam International as its second largest shareholder while Nutritek Overseas, also from Singapore but with links to Russia, recently took over New Zealand Dairies based at Studholme in South Canterbury. There have been reports Nutritek wants to sell its plant and that New Zealand-owned Oceania Dairy Group, which has resource consent to build a factory in nearby Glenavy, was investigating buying the plant.

NZ Venture Capital Association chairman Kerry McIntosh said foreign investors could offer more than cash, such as distribution channels, branding and technical expertise. Fonterra still processes about 90% of New Zealand milk, but its market share has declined from about 96% when it was established in 2001, even though the volume of milk is growing. This year, Fonterra is required to supply 583 million litres of milk to 25 various companies, for which it receives the current milk price plus 10c a litre.