Cadmium in soils to be actively managed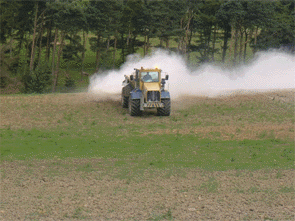 Unwanted chemical residues in food are a constant challenge to processors, and ensuring what we produce is clean and green is a responsibility of all farmers.
The risk and economic costs associated with a "food scare" for NZ, are potentially major, and everyone in the food chain must take good care not to contaminate the soil or plants.
Cadium, this naturally occurring element, has the potential to build up in heavily phosphate fertilised soils, and the management strategy to minimise it getting into the food chain should be read and understood by all who spread fertiliser.
Our reliance on phosphate fertiliser to stimulate clover growth is the basis of our pastoral systems, so do we need to ask our scientists, is there other ways to maintain our low cost farming system?
The Ministry of Agriculture and Forestry (MAF) yesterday announced a proactive strategy to manage the gradual cadmium build-up in NZ's agricultural soils. MAF's Director of Natural Resources Policy, Mike Jebson says cadmium is a naturally occurring element, present in phosphate rock from which phosphate fertiliser is made. It tends to accumulate slowly in soils where there is regular use of this fertiliser.

"Excessive levels of cadmium in soils can restrict land use flexibility and increases the risks from cadmium entering the food chain, which can have implications for human health. The Cadmium Management Strategy is a best practice approach to ensure that cadmium in rural soils remains a minimal risk to health, trade, land use flexibility and the environment over the next 100 years, while supporting the ongoing economic contribution of the primary sector.

"MAF's food safety experts have estimated that the amount of cadmium in the diet of the average New Zealander is at a level far below that which would cause adverse health effects. "The strategy recommends that farmers and growers work closely with their fertiliser representatives to determine the most cost effective, efficient and appropriate fertiliser application and land management options," he says.

The CWG identified the need for a measured and strategic approach to prevent cadmium accumulation in soil becoming a future hazard and have produced three reports to date, including the management strategy which outlines a combination of governance, research, monitoring and management activity for food, soils and fertiliser.