Demand spurs sales of more parts of carcass.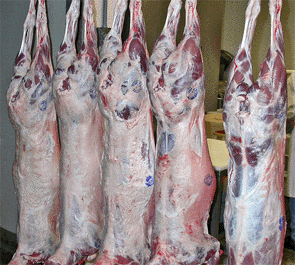 Just where all that extra value from our lamb is coming from compared to last year , has been partly answered by this article. Selling more parts of the animal has helped increase the return for the overall product.Pieces that were once considered commercially unviable to harvest, are now adding value to farmer returns.
This increasing utilisation of all parts of the animal is not new, with processed venison harvesting profitably a large spectrum of body parts to mainly Asia customers for many years now. And with more of our sheep products being marketed  in that area of the world, it is good to see these opportunities being grasped.
And the farmers view point is also an important consideration, with eliminating of tailing stress helping to improve growth rates, and enabling animals to be finished earlier."Working smarter not harder" will be a philosophy that many farmers will be keen to follow, as they strive to improve the efficency of their farming operations, and with the tailing issue, may avoid a animal welfare conflict that may turn to bite in the future.
More parts from sheep and beef cattle are ending up on the export line rather than down the rendering chute, as Alliance Group looks to take advantage of the the insatiable global demand for protein reports The Southland Times. There is strong demand for animal parts that many westerners might not usually consider eating – tails, testicles, pizzles (penis), tendons, aortas, heads, hocks, and various stomach parts. Alliance Group marketing general manager Murray Brown said usually it was not commercially viable for the company to consider saving additional parts, but in the past six months there had been significant price growth that allowed it to explore alternative options.

Blue Sky Meats general manager Ricky Larsen said the Morton Mains-based company had been exporting various animal parts, including tripe, pizzles and tail stubs for several years. One of those hoping to see greater returns for the extra protein earnings is Dipton farmer John Lindsay, who has been leaving tails on up to 5500 lambs for several seasons. He began leaving them on about eight years ago because his lambing was being staggered for easier management, but it became difficult to tail them when they got bigger.

That had been successful, so it had been gradually extended. He believes it was worth an extra 10 days' growth. Not tailing, along with changes to grass and genetics, and good management had helped move the average kill date from early March to late December. "There's no science behind this and we have changed other things but we have noticed a big change. "There's less stress that goes on them," he said.

There were usually no problems with dags – lambs wool was short and they did not have enough time to develop issues. While there was no extra return at present, he saved money on tailing and got stock away when the schedule was higher. "If we can provide one more product, potentially tails or testicles as well, there is a few more byproducts that can all add to the value."