Colin and Dale Armer, 16.66% Dairy Holdings shareholders, file court claim effectively alleging blackmail against SCF receiver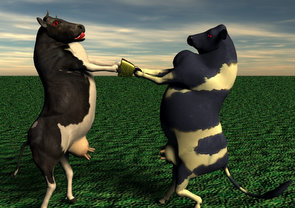 By Gareth Vaughan
Dairy Holdings shareholder and director Colin Armer and his wife Dale have filed a High Court claim against their fellow shareholders, including South Canterbury Finance (SCF) receivers and government representatives Kerryn Downey and William Black of McGrathNicol, alleging the receivers efforts to sell the company breach a shareholders' agreement and that attempts to force the Armers out have effectively stooped to blackmail.
The shock legal action could throw a roadblock in the path of the Government's attempts to recover cash from the collapse of SCF and reveals a major dispute between the shareholders of Fonterra's biggest supplier with a Fonterra director as the major protagonist.
The Armers' statement of claim, filed in the High Court at Auckland on May 25 - the day before a key Dairy Holdings shareholder vote - names all the company's other shareholders plus Dairy Holdings itself as defendants. They include Downey and Black  who control a 33.6% stake, Dairy Holdings director Alan Pye who holds 20.83%, Christchurch businessman Humphrey Rolleston's company Jagewi Ltd which holds a 3.91% stake, and US investors NZ Cow Company, Pals Plus and Little Cow Company who each hold 8.33% stakes.
All the shareholders, excluding the Armers, have combined forces to sell their 83.3% of Dairy Holdings in the wake of SCF's receivership last year. Overseas parties including Harvard University's endowment fund and British private equity group Terra Firma are understood to be interested in Dairy Holdings, which is Fonterra's biggest supplier.
However, a series of startling allegations from the Armers, who allege breach of contract and oppressive conduct under the Companies Act, include:
* The other shareholders are trying to nullify a shareholders' agreement dating from 2001 and change the company's constitution to enable them to sell Dairy Holdings' assets rather than its shares in a move the Armers claim is effectively a liquidation;
* That a Downey and Black representative threatened to refer a NZ$14.5 million loan taken out from SCF by Colin Armer - who is also a Fonterra director - and on lent to Dairy Holdings to the Serious Fraud Office (SFO), but wouldn't if the Armers were prepared to waive their pre-emptive rights to shares offered for sale by other shareholders, sign the proposed new shareholders' agreement and agree to a new constitution;
* And that the Armers are interested in taking up their pre-emptive right to increase their combined 16.66% stake in Dairy Holdings.
Downey, McGrathNicol's managing partner, has previously told interest.co.nz  that Dairy Holdings' shareholders do have, enshrined in the company's constitution, standard company pre-emptive rights to buy when others decide to sell.  For the 2010/11 dairy season, Dairy Holdings operated 72 dairy farms on 14,201 effective hectares, milking 43,439 cows producing about 15.1 million kilograms of milk solids.
'Advanced stage' sales process still going ahead, says Downey
A spokeswoman for Downey said today it wasn't appropriate for the receivers to comment on the issue.
 "The Dairy Holdings Limited sale process is at an advanced stage and is continuing, with discussions ongoing with a number of interested parties,' she said. "It is a shareholder-led process in which the receivers of SCF have agreed to participate. The sale process is led by First NZ Capital and Murray & Company. The shareholders group comprises 83.3% of the shares in Dairy Holdings. The SCF receiver has control of 33.6% of shares in Dairy Holdings."
A spokesman for Finance Minister Bill English said nor would English comment as the dispute was before the courts.
'Shareholders agreement, or binding contract, dates from 2001'
The Armers say all Dairy Holdings' shareholders, plus Allan Hubbard, his wife Jean and their company Mataura Farm Holdings, entered into a binding contract described as a "shareholders agreement" dated October 17, 2001. Hubbard's stake was sold to SCF in early 2009. The shareholders' agreement meant they agreed to deal with each other in good faith and that pre-emptive rights were set out in Dairy Holdings' constitution should one of the shareholders wish to sell.
In May 2009 Colin Armer borrowed NZ$14.5 million from SCF and on-loaned this to Dairy Holdings. The Armer's statement of claim says he did so at the request of Dairy Holdings' board in the interests of Dairy Holdings because it was the only basis on which SCF was prepared to lend much needed funding. Armer gave security over his personal assets and the loan has since been repaid.
Then on about March 15 this year the Armers say they met with Tim Robinson, of Tim Robinson Ltd, who was acting as an agent for Downey and Black. Robinson provided them with a proposed new shareholders' agreement for the Armers and an acquirer of all of the shares in Dairy Holdings other than theirs. This proposed agreement would have significantly curtailed their rights under the existing shareholders' agreement, the Armers argue, because it didn't contain obligations to act justly and in good faith. Furthermore, a 75% majority would be sufficient to approve major transactions and liquidations, with the acquirer of the 83.3% stake having more than the 75% threshold from the outset.
SFO fears raised
On top of this the Armers allege Robinson tried to frighten them into selling by raising the spectre of an SFO investigation into Colin Armer's SCF loan.
"On behalf of the sixth defendants (Downey and Black) Mr Robinson told the plaintiffs (the Armers) that the matter of the first named plaintiff's (Colin Armer's) back-to-back loan from SCF and to the seventh defendant (Dairy Holdings) could be referred to the Serious Fraud Office for investigation," the statement of claim says.
"But that if the plaintiffs were prepared to waive their pre-emptive rights, sign the proposed new shareholders' agreement and agree to the proposed new constitution, Mr Robinson and the receivers' team had the power to call off a Serious Fraud Office investigation. Mr Robinson made it clear to the plaintiffs that if they did not cooperate the sixth defendants would encourage and assist the Serious Fraud Office investigation."
Armer also alleges that in the same meeting Robinson told the Armers that the seller shareholders would say the shareholders' agreement dating from October 17, 2001 didn't exist or was ineffective. Furthermore, they would  impose a new constitution and shareholders' agreement on the Armers that would remove their pre-emptive rights, end guarantee fees paid to Armer for raising the SCF loan, and seek to "stack" the board (currently consisting of Colin Armer, William Baylis, John Parker and Alan Pye) with parties friendly to the sellers' interests.
The Armers responded by telling their fellow shareholders they didn't want to sell and in fact they wanted to increase their shareholding through their pre-emptive rights under the shareholders' agreement and constitution, which they considered valid and binding. The statement of claim says the Armers understand the three American shareholders and Pye are now denying the 2001 shareholders' agreement is binding.
'Will sell the assets not the shares'
Then, on April 28, the Armers say Robinson told their representative, Michael Blennerhassett, that Dairy Holdings was now looking to arrange a sale of its direct and indirect subsidiaries instead of a sale of its shares. This change was said to be in response to requests for potential buyers to avoid Dairy Holdings' liabilities, which include about NZ$350 million of bank debt, but was, the Armers allege, actually "calculated to bypass the plaintiffs' rights under the shareholders' agreement and constitution."
The selling shareholders, being advised by Murray & Company (where Rolleston is chairman) and First NZ Capital, then said on May 5 they had invited interested parties to submit bids for Dairy Holdings' assets rather than its shares.
The Armers filed their statement on claim on May 25, the day before a shareholder vote was scheduled, where among other things, shareholders' were to consider selling the assets held by Dairy Holdings' subsidiaries, and if a sale of the complete business and assets of the Dairy Holdings group proved unachievable, an alternative asset sale strategy to maximise sale proceeds would be worked on.
"If passed and implemented the proposed resolution could result in  Dairy Holdings' liquidation," the Armers say.
Interest.co.nz understands the May 26 shareholder vote took place with all shareholders bar the Armers voting in favour of the key resolution.
Injunctions sought
In their statement of claim the Armers are seeking an injunction stopping the three American shareholders and Pye from voting for the resolution, or if it's passed, preventing them from taking any steps authorising or permitting the implementation of the resolution. If the resolution passed, the Armers said they wanted damages in an amount to be determined on inquiry and costs.
They're also seeking a second injunction stopping all the other shareholders from voting for the resolution, or if it's passed from making any moves to authorise or permit implementation of it. And if passed, they want an injunction preventing Dairy Holdings from implementing the resolution or transactions outlined by it. The Armers also seek compensation, other relief the court deems fit and costs for this second cause of action.
In Reserve Bank correspondence on SCF released last November it emerged that the central bank believed the NZ$75.7 million price SCF paid for its Dairy Holdings stake from its majority owner Hubbard was almost twice as much as it was worth, and should have actually been just NZ$42 million.
According to a September 2009 email in the Reserve Bank's correspondence Dairy Holdings had NZ$340 million of bank debt from "three majors" and Rabobank. The email also refers to a NZ$100 million standby facility provided by BNZ and (ASB's parent) Commonwealth Bank of Australia that has already "effectively been withdrawn" after a technical breach of the covenants.
SCF collapsed into receivership on August 31 last year triggering a NZ$1.6 billion taxpayer funded payout to 35,000 of the company's investors under the Crown retail deposit guarantee scheme. The SFO revealed in October it was investigating five SCF related party loans made between 2005 and 2009 for potential false statements or other fraudulent conduct. The Crown also loaned SCF NZ$175 million to pay preferential creditors, including the Pyne Gould Corporation subsidiary Torchlight. This has been repaid with NZ$4.1 million of interest.
The Government recently raised its expected losses to the taxpayer from the Crown retail deposit guarantee scheme by NZ$331 million to about NZ$1.2 billion. About NZ$300 million worth of the increase was attributed to about 30 SCF related party loans, notably involving SCF's parent companies, and fellow former Hubbard controlled entities, Southbury Corporation and Southbury Group.
McGrathNicol's latest receiver's report on SCF says it collected NZ$238.7 million worth of loan book repayments, and received NZ$59 million in inter-company loan repayments, in the six months from their appointment to February 28.
McGrathNicol has reached a conditional deal to sell the 100% SCF owned Helicopters NZ to Canadian Helicopters for about NZ$160 million, has sold about NZ$100 million of commercial loans from SCF subsidiary and specialist plant and equipment lender Face Finance to GE Capital, and SCF's 79.7% stake in horticultural and primary sector processor Scales Corporation is being sold to private equity group Direct Capital for NZ$44 million.
(Update adds comments from SCF receiver Kerryn Downey and Finance Minister Bill English).
This article was first published in our email for paid subscribers. See here for more details and to subscribe.