It's wrong to use the SFO as leverage in a commercial dispute as alleged in Dairy Holdings bust up, says SFO boss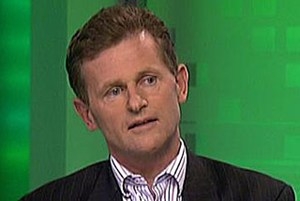 By Gareth Vaughan
Serious Fraud Office (SFO) CEO Adam Feeley says it would be wrong for one party to attempt to use the SFO as leverage in a commercial dispute with another, as is alleged in a legal dispute between shareholders in Dairy Holdings, Fonterra's biggest supplier.
Feeley told interest.co.z that the SFO was aware of the Dairy Holdings allegations, hasn't received a complaint from anyone about them, has looked at the issues underlying the dispute, but wasn't in a position to comment on whether it was probing any Dairy Holdings links as part of an investigation into South Canterbury Finance (SCF) related party loans.
His comments come after interest.co.nz revealed on Wednesday that Dairy Holdings 16.66% shareholders Colin and Dale Armer have filed a High Court claim against their fellow shareholders in the company, which include SCF receivers and government representatives Kerryn Downey and William Black of McGrathNicol who control a 33.6% stake.
The Armers, who don't want to sell their shares and maintain a shareholders' agreement and the company's constitution give them pre-emptive rights to stakes put on the block by fellow Dairy Holdings shareholders, allege among other things  that a Downey and Black representative threatened to refer a NZ$14.5 million loan taken out from SCF by Colin Armer and on lent to Dairy Holdings to the SFO, but wouldn't if the Armers were prepared to waive their pre-emptive rights.
In response, a spokeswoman for Downey has so far only said it wasn't appropriate for the receivers to comment on the issue other than to say the Dairy Holdings sale process was at an advanced stage and was continuing, with discussions ongoing with a number of interested parties. An 83.3% stake in the company is on the block.
Feeley said: "The suggestion that one party, not my words other people's words, may be blackmailing another and trying to use the SFO as leverage is just wrong. You can't say 'I will get the SFO to do something' because the SFO does whatever it thinks it needs to do based on information in front of it. The second point is we have not received a complaint or anything else from those parties involved."

"We are obviously aware of this dispute and we are aware of the transactions, but I don't think we are at a point where we can appropriately comment on them in any way including whether we're looking at them," Feeley added.
"Given the allegations flying around we just don't want to get drawn on that, but we're aware of the issues."
SFO probing 'very small number of SCF loans'
The SFO launched an investigation into SCF related party loans last October, following the Allan Hubbard-controlled finance company's collapse into receivership on August 31 last year, triggering a NZ$1.6 billion payout under the Crown retail deposit guarantee scheme to SCF investors.  The SFO said at the time it was probing about five related party loans made by SCF between 2005 and 2009 for potential false statements or other fraudulent conduct.
Feeley said good progress has been made on the investigation.
"We are going to narrow it ( the investigation) down to a very small number of loans," said Feeley.
Although the SFO had started out looking at five or six loans "of particular interest", it had looked at others since. However, Feeley said the "the very small number" now in the SFO's sights was "fewer" than five or six. The SFO looked to conclude all its investigations within a year and was in "good shape" to do so with the SCF related party loan probe. This was also a reflection on how the SFO was approaching finance company investigations in particular.
"In order to make relatively speedy decisions increasingly we're saying 'how big is this beast, how many things can we realistically look at, and which transactions on the face of it appear to be of most concern?' If when we do that we find there are transactions involving broadly the same parties with broadly the same MO, then we take a view that it makes sense to focus on only a small number of them," Feeley said.
The SFO was prepared to narrow the focus to a small number of transactions because if those three or four issues highlight criminality then it could charge based on them, had a pattern of conduct to charge "and throwing in another half dozen, dozen or two dozen actually won't materially change the case. It won't change the fundamental nature of the allegation and is unlikely to make any difference in outcome in terms of penalty if there's a conviction."
'Clarity' emerges

In its SCF investigation, the SFO now had that sort of clarity around the case, meaning it knew what to look at and the people most likely to be of interest. The pattern of transactions under the spotlight appeared to involve largely the same people, Feeley added, so the investigation would be narrowed down to what - on the face of it - were the most obvious transactions of concern and come to a conclusion based on them.
The sale of SCF's 33.6% Dairy Holdings stake is one of several asset sales McGrathNicol has embarked on as SCF receiver. It has reached a deal conditional on Overseas Investment Office approval to sell Helicopters NZ to Canadian Helicopters for about NZ$160 million, has sold about NZ$100 million worth of commercial loans from SCF subsidiary Face Finance to GE Capital, and SCF's 79.7% stake in horticultural and primary sector processor Scales Corporation to local private equity firm Direct Capital for NZ$44 million.
McGrathNicol is being advised by First NZ Capital on the Dairy Holdings sale after the receiver decided to team up with three US shareholders - NZ Cow Company, Pals Plus and Little Cow Company who each hold 8.33% stakes, and Christchurch businessman Humphrey Rolleston who holds a 3.91% stake, who had already decided to sell their holdings. They're being advised by Christchurch-based firm Murray & Company which Rolleston chairs and in which First NZ Capital owns an almost 25% stake. Alan Pye, who like Colin Armer is a Dairy Holdings director, has also agreed to sell his 20.83% Dairy Holdings stake.
McGrathNicol was advised by Goldman Sachs on the Helicopters NZ and Scales sales and by Deutsche Bank on the Face Finance sale.
This article was first published in our email for paid subscribers this morning. See here for more details and to subscribe.