Confidence lifts on rural upswing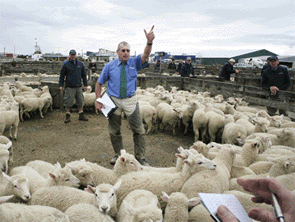 PGGW's back to the basics approach and the focusing on its core asset, it's staff, is a strategy many in the agricultural industry said should have happened years ago.
The direction  the previous management had taken the company saw major damage to the once strong PGGW brand, and indirectly to its low share price.
It appears the new owners are giving this company some time to sort its act out, but this will not last forever, and it is no secret that the controlling shareholder interests are more in the seeds area, than other parts of the business.
Farmers however have long memories and the growth of smaller more service focused  livestock agencies shows where they have taken their business. Whether they have enough time to turn this company around will make interesting analysis in the next year or so.
While still battling a low share price, PGG Wrightson managing director George Gould says he sees indications of renewed confidence in the the rural services firm. Gould was appointed managing director earlier this year after the sudden departure of Tim Miles in October reports Business Day.He said he put his hand up, suggesting improvements that could be made, particularly more of a management focus on staff and client relationships rather than transactions aimed at "breaking the business up".

Last month's announcement that the firm was taking back control of its wool-broking division rather than selling it to farmers was a sign the firmly Christchurch-headquartered company was returning to core values. Gould said that the board and its 50.01 per cent shareholder, China-based Agria, were agreed on that strategy, reflecting an ongoing period of "consolidating earnings" over the next couple of years.

"The big barometer is whether we're attracting good people; that's the key [now] and we were actually losing good reps ... now we're actually recruiting good people ..."If we get our staff right – get our staff believing that management know what they are doing, then they'll look after clients well and then there'll be some profit to shareholders hopefully."

The group would continue to operate the NZ-centric AgriServices division, including more than 90 rural supplies and fruitfed stores, as well as livestock, irrigation and pumping, finance, real estate, insurance and wool (which was to soon have Williams & Kettle wool executive Cedric Bayly join the team). The AgriTech division, with 400 staff, would continue to be based around seeds, grain and nutrition businesses in New Zealand, Australia and South America. Agria would open doors for that division but so far PGG Wrightson was not doing much business into China other than live export of dairy cattle from Uruguay.

Gould said Agria would "inevitably" seek extra board representation, with possible board changes at the 2011 annual meeting. "Agria are a very supportive shareholder and they share a common objective with the rest of the shareholders in that they want to see a return to sustainable operating earnings and an end to a lot of the problems of the past that have dogged us, such as the Silver Ferns fiasco, the Wool Partners fiasco."

The company's real estate unit, under general manager Stuart Cooper, was rebounding and accounted for 40 per cent of all rural sales, and more than 50 per cent of economic farm (not including lifestyle block) sales.