South Canterbury Finance receiver falls silent on Dairy Holdings sales process and Armer court action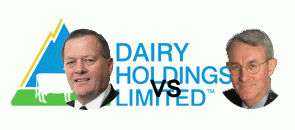 By Gareth Vaughan
South Canterbury Finance's receivers, who a month ago said their planned sale of a 33.6% Dairy Holdings stake was at an advanced stage with a number of parties involved, are now keeping mum as legal action, questions about the value of bids and concerns among bidders about obtaining Overseas Investment Office (OIO) approval swirl.
Receivers Kerryn Downey and William Black of McGrathNicol, combined with other shareholders, have an 83.3% stake in Fonterra's biggest supplier Diary Holdings on the block.  However as revealed by interest.co.nz last month, Colin Armer and his wife Dale, who between them have a 16.66% stake in Dairy Holdings, have filed a High Court claim against their fellow shareholders effectively attempting to stop any sale.
Colin Armer is also a director of both Dairy Holdings and Fonterra and alleges breach of contract and oppressive conduct under the Companies Act. The Armers say they are interested in taking up pre-emptive rights, they believe they have as existing Dairy Holdings shareholders when fellow shareholders want to sell, to increase their stake.
Meanwhile, market sources suggest the would-be sellers, being advised by First NZ Capital and its nearly 25% owned Murray & Company, are striving to get bidders to increase their offers whilst overseas bidders eagerly await news from the OIO on the application by China's Pengxin International Group for clearance to buy the much smaller and simpler Crafar farms group.
Keeping mum
Asked yesterday for comment on where the sales process was at, a spokeswoman for Downey and Black said there was nothing to say at the moment. That contrasts with their comments a month ago, after interest.co.nz revealed the Armer legal action, when they said the sales process was at an advanced stage and continuing, with discussions ongoing with a number of interested parties.
And asked for comment on the court case with the Armers, she said the receivers were unable to comment on any matter that's the subject of litigation.
However, interest.co.nz understands some of the Dairy Holdings shareholders targeted in the Armer claims have filed statements of defence denying the allegations. No court date has yet been set. The Armers claims are against all their fellow Dairy Holdings shareholders - McGrathNicol on behalf of the government/taxpayer, Dairy Holdings director Alan Pye, Christchurch businessman and Murray & Co chairman Humphrey Rolleston's company Jagewi Ltd, plus US investors NZ Cow Company, Pals Plus and Little Cow Company.
British private equity fund Terra Firma and Harvard University's investment fund are understood to be among the bidders for the controlling stake in Dairy Holdings with the New Zealand Superannuation Fund, which is seen as potentially helpful to an overseas entity seeking OIO approval and has hundreds of millions of dollars earmarked for investment through its rural land strategy, viewed as a potential partner.
Deliberation on Pengxin's Crafar bid drags on
Overseas parties interested in Dairy Holdings are eagerly awaiting news out of the OIO on Pengxin's bid to buy 16 central North Island Crafar dairy farms from receiver KordaMentha. Lodged on April 14,  Pengxin says it plans to spend more than NZ$200 million to buy and upgrade the farms and  then invest a further NZ$100 million on marketing cheeses, ice creams and baby formula for the Chinese market.
The OIO says it aims to make decisions on "high quality, straightforward applications" within 50 working days of the date of registration, but there is no statutory timeframe within which an application for consent must be decided. OIO manager Annelies McClure told NZHerald.co.nz's Susie Nordqvist on June 16 that the OIO was continuing to assess the application, and the sheer number of properties involved in the transaction meant a decision could be some time away.
Yesterday an OIO spokesman said the application was still being considered with no recommendation yet made to government ministers. And Pengxin spokesman Cedric Allan said he was waiting like everyone else for the OIO decision.
Meanwhile, a spokeswoman for Maurice Williamson, the Minister for Land Information, declined to comment on when a ruling on the Crafar bid might be made public or on whether it could be pushed out beyond the November 26 election.
What does slow deliberation on Crafar bid mean for timeframe for any Dairy Holdings decision?
The amount of time the OIO is spending assessing the Crafar application and McClure's comment that the Crafar operations are viewed as large, suggests any OIO consideration of a Dairy Holdings bid could be a lengthy process given it's a significantly bigger entity than the Crafar farms.
Dairy Holdings' operations are run by about 300 staff through four autonomous wholly owned subsidiary groups, Dairy Farm Holdings Ltd, Clumber Farms Ltd, Livestock Holdings Ltd and West Coast (Dairy) Ltd. For the 2010/11 dairy season, the four operated 58 dairy units on 14,201 effective hectares, milking 43,439 cows producing about 15.1 million kilograms of milk solids.
And Dairy Holdings also has significant bank debt held by several banks. According to correspondence released by the Reserve Bank on South Canterbury Finance last November, as of September 2009 Dairy Holdings had NZ$340 million of bank debt with Rabobank and the "three majors.". 
The correspondence also showed the central bank believed the NZ$75.7 million SCF paid for its Dairy Holdings stake from its majority owner Allan Hubbard in 2009 was almost twice as much as it was really worth. This was based on a Reserve Bank valuation of Dairy Holdings of NZ$125 million as opposed to the NZ$225 million the Hubbard-South Canterbury Finance deal valued the business at.
This article was first published in our email for paid subscribers this morning. See here for more details and to subscribe.