Processors cool on contract backlash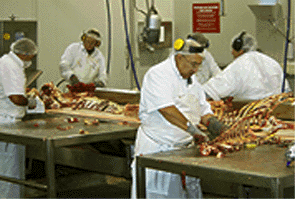 Contracts or spot market have been marketing choices farmers have had to make when selling livestock for many years now. In all fixed price contracts there is always winners and losers associated with the open market, but other factors often rule the decision making process rather than price alone.
Certainty of killing space is important for some, especially in the autumn when killing space is often at a premium and destocking at optimal times can return plenty with feed management for the remaining breeding stock and performance in the oncoming year.
Certainty of cashflow and budgeted income is becoming more important in the worlds new financial rules and those indebted or under pressure with overdraft limits will favour a guaranteed price.
However the reality is, in a volatile feed and price market, a contract enforces that guarantee to supply, and most farmers will do a mixture of both to ensure they can perform on that part they legally commit to.
However a key requirement in the decision making process is good up to date market information so farmers can make an informed choice and that is what this site endeavours to provide. The fact that some meat processors refuse to publish transparent meat market information has created this mistrust that Fed Farmers Jeanette Maxwell talks about.
Why is it that generally North Island processors operate in a closed spot price market, while in the south contracts are more commonly used and open market pricing is more transparent? Your views.
Meat processors say it's business as usual with lamb contracts on offer this season, despite the prospect of a backlash following this winter's soaring free market schedules reports

Rural News

. Silver Fern Farms CEO Keith Cooper says contracts are good business but that sheep farmers don't always see that. "They tend to run the gauntlet and I suppose they've seen prices rise and they probably have a view they're going to continue to rise," Cooper says.

 

" Many who've signed them, they would argue, are worse off compared to the spot market." But Cooper argues farmers are missing the point if they think contracts are only about out-doing the free market."We're saying it's not about beating the spot market, it's giving you certainty of margin on your business. If we've got a contract and you've got costs and you can make $25 a lamb – or a 15% yield – in most other business environments you'd lock into that because it gives you certainty and you know you've got income. Whereas farmers in the sheep sector for some reason think 'oh well, it wasn't as good as the spot market'."
Fed Farmers Meat and Fibre chair Jeanette Maxwell says on average over the past few years, 65% of lambs were supplied on contract but that many farmers don't trust meat companies. "I know meat companies like to blame farmers and farmers like to blame companies but it's a bit of a two-way street in my opinion," Maxwell says. "If you don't have a good relationship and you haven't built trust or reliability either way, then you get what you sow. "There's been a lot of mistrust in the past and there's been a lot of abuse of the relationship both ways."

Southland processor Blue Sky Meats will offer contracts for heavy lambs again this season, says chairman Graham Cooney. Blue Sky has had contracts for 24 years and Cooney says close to 95% of stock the company buys is under contract. Feedback from farmers is they want the heavy lamb contracts to continue and "interestingly" they support penalties if either they or the company don't meet all the terms, he says.