National would phase in ETS obligations for transport, electricity, industrial sectors; Will review Agriculture in 2014, will only put it in if technology to help is there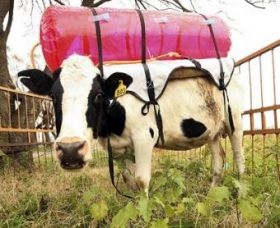 National has announced it will now phase in implementation of the Emissions Trading Scheme for the transport, electricity and industrial sectors between 2013-15, and that it will review placing agriculture in the scheme in 2014, only doing so if new technologies were available to help that sector reduce its carbon emissions.
Environment Minister Nick Smith made the announcement with Prime Minister John Key in Nelson today, saying the government needed to balance the cost impacts of the ETS on households and businesses in difficult economic times.
"The scheme currently steps up on 1 January 2013 to a full obligation for the transport, electricity and industrial sectors. National's intention is to phase this in three equal steps on 1 January 2013, 1 January 2014 and 1 January 2015 as recommended by the ETS Review Panel," Smith said in a statement.
"This approach slows the cost impacts on households and businesses but continues the progress needed to drive investment in renewable energy, clean technologies and forestry. This timing also enables Trans-Tasman linkages from 2015," Smith said.
"National's policy also includes introducing offsetting from 1 January 2013. This will enable pre-1990 forest owners to change land use providing they plant an equivalent area of new forest elsewhere. We will also be reviewing the second tranche of pre-1990 forest allocations taking into account the benefit that offsetting provides," he said.
"It is not in New Zealand's interests to include agricultural emissions in the ETS yet. The lack of any practical and real technologies to reduce agricultural emissions means it would only impose a cost or tax on our most important export industry. It would also have New Zealand too far ahead of our trading partners on climate change mitigation measures. National will review the position in 2014 and only include agriculture if new technologies are available and more progress is made internationally on reducing greenhouse gas emissions," Nick Smith said.
"National would introduce legislation in 2012 to amend the ETS. The overall change package would be fiscally neutral. Our objective is to reduce our greenhouse gas emissions at the least cost possible and for New Zealand to do its fair share on the global issue of climate change," he said.
Compare National's new policy with Labour's, which would put Agriculture in the scheme from 2013, in our party policy section here.
Reaction
Here's the reaction to the announcement from the ACT Party:
National's announcement that it will effectively exempt agriculture from liability for biological emissions under the Emissions Trading Scheme appears to be a step in the right direction, but it is also an admission that the ETS was an expensive mistake, ACT Primary Industry Spokesman Don Nicolson said today, adding that it's a promise that risks being scuttled unless ACT plays a significant role in the next Government.

"ACT has fought tooth and nail against the folly of the ETS.  We opposed the scheme being implemented, saying it was going to cost farmers, businesses, and consumers alike, for no environmental gain.  Today's U-turn from National proves that ACT was right," Mr Nicolson said.

"New Zealand is the only country to have an all gases, all sectors ETS – it is a poorly-conceived blanket tax.  By forcing New Zealand to rush ahead of our major trading partners with a flawed system, National has damaged New Zealand's fragile economic recovery while doing nothing for the environment.

"By stating that the ETS will not impose a liability for biological emissions on agriculture unless there are 'practical technologies to reduce our emissions' and unless our trading partners 'have made further progress with their climate change policies to reduce emissions', National is hopefully exempting agriculture from the scheme indefinitely.

"However it is extremely unlikely that any of National's other potential support partners will vote to exempt agricultural emissions from the ETS.  Unless ACT plays a strong role supporting a John Key-led Government, National could very well be forced by either the Maori Party, or the Greens, to include agriculture in the ETS, causing huge damage to New Zealand agriculture," Mr Nicolson said.
Here's the reaction from the Green Party:
National's environment policy lets down the New Zealand public, who in a recent poll, ranked the environment as the number one issue for this election, said the Green Party today.

"National won't make a real commitment to protect our environment and isn't prepared to make the hard calls to secure a clean, green future," said Green Party Co-leader Dr Russel Norman.

Dr Norman was responding to the National Party's launch of their environment policy in Nelson today.

"National has already watered down our Emissions Trading Scheme so much it will have virtually no impact on greenhouse emissions, and now National is further delaying its phased implementation," said Dr Norman.

"These delays mean that the taxpayer will pay more and polluters will pay less.

"Under National, we will miss the smart green economic wave, and the benefits that will come from being a leader on a low carbon economy."

Dr Norman welcomed the adoption of the Green Party suggestion to have independent national environmental reporting, which they have been calling for since 2008, but expressed concern over several other environmental policies announced today.

"National's environment policy is an ambulance at the bottom of the cliff," said Dr Norman.

"National is happy to provide some money for river and lake clean-ups, but they lack the courage to prevent agribusiness and industry from polluting our rivers in the first place.

"They are instituting a TV recycling programme, but not mandatory product stewardship schemes, and incentivising electric cars rather than public transport which is environmentally friendly and solves traffic congestion problems.

"The EEZ legislation they have introduced is a pathway to risky ocean development, such as deep sea oil drilling, rather than ocean protection.

"If the Green Party has the ability to influence these policies after the election, we would toughen them up and put a backbone into them in order to better protect our environment from the causes of pollution.

"For example, the Green Party has a plan to make our rivers and lakes clean enough to swim in again. We will introduce standards for clean water that deal with the causes of pollution, as well as a charge for irrigation water that will fund water clean-up initiatives."

Dr Norman said cleaning up New Zealand's rivers and lakes was one of the Green Party's top three election priorities. The others were bringing 100,000 kids out of poverty, and creating 100,000 new clean, green jobs.
Here's the reaction from Labour:
National's ETS policy, announced today will cost approximately half a billion dollars over four years which they have not accounted for, Labour Economic Development spokesperson David Parker says.

"National's policy would deepen the billion dollar hole it has dug in its budget with lost dividends from asset sales," David Parker said.

"Once again National has tried to pull the wool over the eyes of New Zealanders. It has cynically announced this policy after the Prefu has been published, in which National banked the revenue from these sectors (page 97). That amounts a fiscal hole of $500 million, according to the Caygill ETS review.

"It's not the first time National has cooked the books. Today's, tax revenue  loss is in addition to the hole caused in the last Budget when National banked the proceeds of  its asset sales programme without accounting for the hundreds of millions loss in dividend streams every year.

"John Key needs to come clean and explain to taxpayers how this balances the books," David Parker said.

"New Zealanders have already started paying for their electricity and transport emissions. Farmers can already pick-up carbon credits for their forests.  Now John Key is saying the agriculture should not have to pay for increasing agricultural emissions.

"The lack of any meaningful analysis of the effect on prices is also unwise. Electricity prices are theoretically driven by the long-term cost of new generation. Given that the most cost effective source of new generation is currently geothermal, the changes proposed may decrease revenue to the crown but have little if any impact on power prices.

"More importantly, National's policy is once again un-costed. The Caygill review estimated that the cost of the changes was $500 million over four years. If agricultural emissions are left out completely (which the Caygill review did not recommend) the costs will be higher.

"If agriculture doesn't get brought in at all, as National's announcement strongly implies, costs would be significantly higher still.

"Agricultural emissions are half of New Zealand's greenhouse gas emissions. They have increased by 5 million tonnes pa since 1990, and are currently going up by around 600,000 tonnes per annum. National is giving farming a free pass to pollute and is expecting the taxpayer and other sectors of the economy to cross-subsidise agriculture.

 "Some of the changes proposed changes to allow for off-set planting following deforestation may be sensible given the absence of a successor agreement to Kyoto, but the un-costed  exclusion of agriculture is economically and environmentally wrong.

 "John Key calls his policy 'moderate'. What he should call it is a large drain on the taxpayer," David Parker said.
(Updated with reaction from Greens, Labour, ACT)