Anger at loss of lamb weighing at saleyards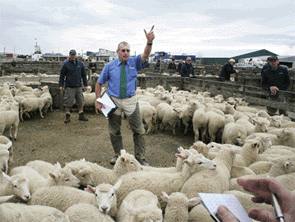 The basic goal of this website is to improve the quality of information flow to farmers and a recent story in The Gisborne Herald shows that some parts of the stock and station industry are still stuck in the past.
With the weather and market volatile, pastoral farmers need up to date information to make daily business decisions and by hiding it from their customers the agents risk creating a lack of trust with their customers.
This website has often come across these sort of barriers in the past but have argued a farmer client with good information is easier to deal with than one with none.
Huge variations in quality, breeds, and shifting ability, allow the agents marketing skills to be used to the best effect, and the growth of independents shows that farmers still value quality advice.
The use of scales is now common practice in farmers yards and now in most saleyards, so Matawheros slowness to adapt is surprising.
Farmers know that weight is only one factor in measuring the quality of stock, but it is an important benchmark to use as a judgement before purchase or sale.
Share with us your ideas on improvements you would like to see in livestock marketing in the future.
Gisborne farmers are appalled that livestock companies have revoked access to weighing lambs at Matawhero, Stortford Lodge and Feilding saleyards reports The Gisborne Herald.

PGG Wrightson and Elders have told iFarm that the lamb weights reported in Livestock Eye were playing a part in increased competition from paddock-based agents, by providing independent benchmark lamb pricing.

Since 2006, iFarm had a contract to weigh a sample of each pen of lambs sold at the yards. Subscribers to the livestock market information publication Livestock Eye are annoyed that weighing information will no longer be available.

They are angry at the decision because many farmers rely on the accuracy and timely information provided by Livestock Eye to make sale or purchase decisions.

Whangara Farms general manager Richard Scholefield said the removal of lamb-weighing was a terrible loss. "It was providing a pricing benchmark for famers and agents and it was not costing Wrightsons and Elders anything to do the weighing. "Matawhero is in the dark ages. It is one of the largest saleyards in the North Island but still not weighing sheep and cattle. A low-cost system could easily be installed.

Gisborne PGG Wrightson livestock manager Craig Morgan said the decision had been made at national level.

PGG Wrightsons North Island livestock manager Donald Baines could not be contacted for comment.

General manager of iFarm Jon Sherlock said "The decision ultimately penalises farmers by limiting the information available to them and will not fundamentally reduce the increasing level of competition these companies are facing."

"Weighing is available for cattle at Stortford Lodge and Feilding. They are sold on a live-weight basis, with the saleyard owners themselves providing weighing in the cattle rostrums at the time of sale."

"There is no reason why it should not also be available for lambs. Limiting information is a definite step back for the industry"