BusinessDesk: Fonterra first-half profit rises 18% on increased sales, fatter margins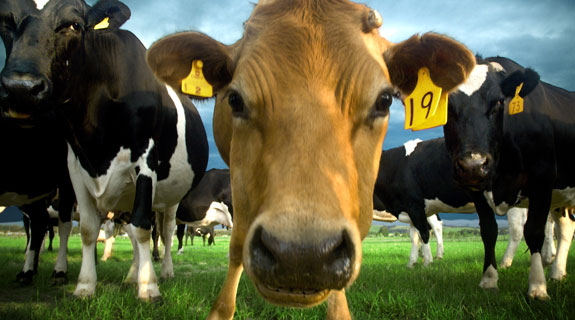 Fonterra posted an 18% gain in first-half profit on increased sales and higher prices from its ingredients business in a period when it collected record volumes of milk.
Profit rose to NZ$346 million in the six months ended Jan. 31, from NZ$293 million a year earlier, the Auckland-based company said in a statement today. Sales climbed 7.2% to NZ$10 billion.
Fonterra's farmers enjoyed favourable spring and early summer growing conditions, helping drive up milk collection by 10% to a record for the season to date, leading to record production from the cooperative's factories.
Global prices have eased from their highs and Fonterra faces the head winds of a stronger kiwi dollar and more production from Northern Hemisphere rivals, spurring a renewed focus on emerging markets which it says will drive sales growth in coming decades.
"International dairy prices softened after the highs of last year but remained relatively stable throughout the first half of the year," chairman Henry van der Heyden said. "These prices were supported by strong demand for quality dairy ingredients in emerging markets across a number of Asian economies, as well as Brazil and China, offsetting economic uncertainty in Europe."
Fonterra affirmed its guidance for its payout to farmers for the 2011/12 season, which it cut on March 12, citing a rising New Zealand dollar, declining global prices of commodities and increased production from Northern Hemisphere rivals. The forecast is for a farm gate milk price of NZ$6.35 a kilogramme and a so-called distributable profit of 40 cents to 50 cents a share, making a total of NZ$6.75 to NZ$6.85.
Normalised earnings before interest and tax (ebit) from Fonterra's Standard & Premium Ingredients soared 44% to NZ$273 million in the first half as sales rose 10% to NZ$8 billion. The volume of sales climbed 7% to 1.2 million metric tonnes in the first half, with average prices in US dollars rising 10%.
"Higher average price achievement helped improve gross margin and made a significant contribution to the growth in earnings," the company said.
In its Australia/New Zealand business, sales fell 4% to NZ$2 billion in what it called a "challenging retail environment" and competition that had driven down prices and squeezed suppliers' margins. Normalised EBIT fell 19% to NZ$124 million.
Asia/Africa and Middle East sales rose 7% to NZ$947 million as volumes increased 4%. Normalised EBIT fell 13% to NZ$84 million, which the company put down to a strong kiwi dollar against a basket of Asian currencies, disruptions to distribution from extreme weather and increased spending on marketing.
Latin America sales fell 5 percent to $385 million and normalised EBIT fell 3 percent to $62 million.
Fonterra will pay an interim dividend of 12 cents a share, up from, 8 cents a year earlier.
The company separately announced plans for what it calls Group Strategy Refresh, which focuses on sales in emerging markets.
Chief executive Theo Spierings said "strong economic and population growth" is expected to lift global demand for milk by 100 billion litres by 2020, with New Zealand likely to boost output by 5 billion in that period.
"With overall demand growing, we need to grow volumes to protect our position as the world's leading dairy exporter," he said.
As part of the strategy, Fonterra will increase overseas sources of milk as it makes a "strong push" into China, ASEAN and Latin America.
"We see the potential to significantly grow milk volumes outside of New Zealand by developing a high quality local milk supply and integrating it more closely with our business in China," he said. The company doesn't need to fully own overseas farms or plants, he said.
"With limited milk supply, we can't do it all," Spierings said. "We see much lower growth of dairy exports from New Zealand to the mature markets of Europe and North America so will need to refocus our operations there" with more use of local partners and value-added processing.