Mid term optimism for beef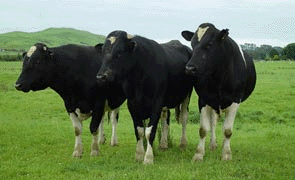 Here are three positive stories that have relevance for our style of farming in New Zealand and reinforce the mid term optimism for beef farmers.
Research in Britain has confirmed the advantages of grassland farming and its positive affect on the environment.
Feeding cattle on grass throughout their lifecycle is the most environmentally sustainable way to rear beef, according to new research for the National Trust in the UK reports The Beef site.

One of the biggest global challenges is how to increase food security whilst reducing the environmental impacts of food production.

Livestock - like cattle and sheep - produce high levels of methane as part of the process of digesting grass. This has led to suggestions that intensive production methods – where cattle are fed largely on cereals, producing less methane – should be preferred over more traditional grass fed livestock farming.

However, in this report, research at 10 Trust farms shows that while the carbon footprint of grass-fed and conventional farms were comparable, the carbon sequestration contribution of well-managed grass pasture on the less intensive systems reduced net emissions by up to 94 per cent, even resulting in a carbon 'net gain' in upland areas.

Rob Macklin, National Agriculture and Food Adviser at the National Trust, said: "We believe that optimised beef production – deliberately accommodating less than maximum output in order to secure stronger and broader ecosystem protection – is the best sustainable use for the grasslands in our care."

"The debate about climate change and food often calls for a reduction of meat consumption and a more plant based diet, but this often overlooks the fact that many grasslands are unsuitable for continuous arable cropping.

"Grasslands support a range of ecosystems services including water resources, biodiversity and carbon capture and storage. Grazing livestock not only contributes to their maintenance but also turns grass into human-edible food."Other recent research found that the health benefits of beef (and lamb) are greater when animals are fed totally on grass – their natural food. Omega 3 fatty acids – recognised as essential to good physical and mental health – are higher in meat from grass and the levels of saturated fat are a third of grain fed beef."

Patrick Begg, Rural Enterprises Director at the National Trust, said: " Policy makers across Europe and in the UK are having to tackle the issue of carbon- efficient food production right now. The debate is all about bringing broader public benefits to the fore alongside food production and this research demonstrates how extensive, grass-fed beef should be at the heart of discussions."
And on issues of factory farming and heavy antibiotic use the Mums of the US are taking a stance to the politicians in Washington as reported in The Beef site.
Mothers from Maine to Hawaii gathered in Washington, D.C. to press the Obama Administration and Congress to do more to rein in the overuse of antibiotics on America's industrial farms, a practice that breeds antibiotic-resistant bacteria. The visit is organized by the Pew Campaign on Human Health and Industrial Farming and the American Academy of Pediatrics, two organizations advocating for reductions in the use of antibiotics in meat and poultry production.

"For the health of our families and future generations, we cannot keep using antibiotics to compensate for overcrowding and unsanitary conditions in the livestock industry," said Cindy Madsen of Madsen Stock Farm. "We have been raising chickens without antibiotics for about 25 years and hogs for about 10 years.

"As a pediatrician, I've seen first-hand how a child's health depends on the availability of effective antibiotics," said Dr. Cecilia Di Pentima, a pediatric infectious diseases consultant at Monroe Carrel.  "Pediatricians are already limited in the number and types of antibiotics we can use to care for ill children, and we cannot effectively care for the most vulnerable children without efficient antibiotic treatments.  Our nation's leaders must help end the overuse of antibiotics on industrial farms and protect children's health."

About 80 per cent of US antibiotics are sold for use in food animal production. In 2010, officials from FDA, the US Department of Agriculture, and the Centers for Disease Control and Prevention testified before Congress that there was a definitive link between many of these practices and the crisis of antibiotic resistance in humans.
And reports from the USDA shows prices in our biggest beef market should hold firm for a while yet with the drought and feed costs preventing farmers re-entering the market and improving future supply.
Beef packers may have returned to profit, but feedlots remain in the red, and look likely to continue to post negative margins into 2013 thanks to high prices of feeder cattle, US farm officials warned in Agrimoney. The drop in US prices of fattened cattle, which have fallen more than 10% on Chicago's futures market from an early-March high, has helped packers return to profit earlier this month, the US Department of Agriculture said.

However, cattle feeders "continue to experience negative feeding margins" thanks to resilient costs of feed, with expectations of a bumper US corn crop still be realised in the silo, and resilient prices of feeder cattle – animals for fattening. Feeder cattle values have dipped by less than 6% from the early March high, supported by competition for supplies between feedlots and the ranchers rebuilding herds after liquidation during last year's drought in the southern Plains.

Indeed, feeder cattle prices look set to increase "over the remainder of 2012 and throughout 2013 in response to the tightest feeder cattle supplies in decades", USDA analyst Rachel Johnson said.Analysts have noted signs including a lower rate of placement of cows on feedlots, and a 13.5% dip in beef cow slaughter since March, as signs of the quest to rebuild herds.

The comments come ahead of USDA data on Friday expected to show placements on feedlots tumbling 11.6% last month from April 2011.  Feedlots are not the only cattle sector feeling the pinch, with many ranchers also suffering, the US Federal Reserve said on Wednesday."Many livestock operators that culled herds during the drought were not rebuilding cow inventories, partly due to high feed costs and limited grazing," the Fed's Kansas City bank said. However, ranchers, largely in more northern states, who managed to hold on to breeding cattle last year are faring well.