GE Capital calls time on rural deleveraging, looks to lend money to farmers for equipment like quad bikes; Also targeting govt vehicle fleet management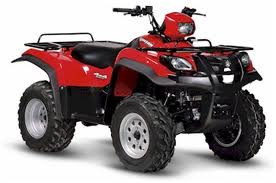 This article was first published in our email for paid subscribers this morning. See here for more details and to subscribe.
By Gareth Vaughan
GE Capital New Zealand has called time on rural deleveraging, seeing opportunities to lend farmers money for equipment such as quad bikes, as it also seeks to win government vehicle fleet management work.
Aaron Baxter, GE Capital's managing director, told interest.co.nz that having bought about NZ$100 million of commercial loans from South Canterbury Finance subsidiary and specialist plant and equipment lender Face Finance a year ago,  the group's asset finance business now holds about NZ$600 million of loans in the forestry, civil construction, transport, aviation and rural sectors. GE also has a distribution wholesale business in the agriculture sector with about NZ$60 million of assets.
Now, Baxter, says, GE Capital is stepping up its interest in the agricultural sector.
"We think it's probably the right cycle for (GE) Capital to start getting a whole lot deeper within the ag space. We've always played there but we're certainly going to throw resource and investment to get deeper there," said Baxter.
"And if you think of the typical farmer, I think they've done a really nice job over the last three years. They've delevered, paid off a whole lot of debt. They've been prudent in terms of how they've positioned themselves going forward."
Baxter said farmers were now starting to replace equipment and GE Capital, a subsidiary of US conglomerate General Electric, was seeing the benefits of that.
"We're also seeing some of that discretionary spending in the ag space starting to emerge as well, particularly around the Christchurch region. Quad bikes for example, they disappeared for a while. We think there's going to be significant growth on the back of that type of purchase."
GE Capital's targeting of the rural sector comes at a time where Fonterra has cut its payout forecast for the current 2011/12 season by 30 cents to NZ$6.45-6.55 per kg of milksolids. Meanwhile, the latest Reserve Bank sector credit data shows agriculture debt up 2.1% year-on-year at the end of April at NZ$47.539 billion. However, month-on-month it was down NZ$20 million from NZ$47.559 billion at the end of March. That's only slightly lower than a peak of NZ$47.789 billion in September 2010, although annual growth rates are well down on the likes of the 22.7% recorded in January 2009 and 25% in May 2002.
'They're coming out of the cycle'
Baxter acknowledged the world was volatile. But he said there were opportunities for GE Capital in both agricultural asset financing and wholesale distribution within agricultural dealerships.
"The quad bikes, the four by fours, as they (farmers) start emerging out of that cycle and start looking at that discretionary purchase," says Baxter.
"The world's volatile, it's very volatile. (But) as a general rule I think the farmers have done a terrific job to delever and they've given themselves every chance to grow. And part of that growth equation is upgrading of equipment and I feel it's probably the right time to start looking at that because I do think they're coming out of the cycle."
Baxter's comments came as GE Capital released selected annual financial information for the 2011 calendar year. Incorporating GE Finance & Insurance (GE Money), Custom Fleet, GE Commercial Finance NZ and GE Commercial Finance (USD) New Zealand, this showed core profit up NZ$34 million, or 30%, to NZ$149 million from NZ$115 million in 2010.
Impairments on loans fell 58% to NZ$33 million from NZ$78 million, with 30 day past due loans down to 5.7% from 5.8%. The group's cost-to-income ratio rose to 56% from 55%. The net interest margin - measuring total revenue less interest cost as a percentage of average lending receivables - rose to 17.7% from 17.6% in 2010. See GE Capital NZ's full presentation here.
Aiming to replicate police deal with other government departments
Meanwhile, GE Capital is also targeting growth through its vehicle fleet management business, Custom Fleet. Baxter says Custom Fleet, which manages around 30,000 vehicles including about 2,500 for the New Zealand Police, is looking to win business from other government departments.
"We're seeing government emerging as a clear opportunity for us from a business perspective," says Baxter.
"We've got a really great, deep relationship with New Zealand Police where they outsource their fleet for us to manage."
"If you think about what the Government's trying to do, they're publicly out there saying 'I want to take NZ$1 billion of cost out of our balance sheet.' We think if we can replicate that (police) model across other government departments, that's going to be very, very powerful."
He says GE Capital is talking with "a whole lot" of government departments about the possibility of managing vehicle fleets but declined to name any.
Meanwhile, Baxter says the credit card GE Capital launched last July, "Gem Visa" now has 80,000 cardholders.
"We feel good about the scale that has generated pretty quick," says Baxter. "If you think about the proposition, for every purchase over NZ$250, it doesn't matter where you are in the world or what you purchase, that'll generate six months interest free. Compare that to the normal credit card space (where) the general rule of thumb is 55 days interest free. That's why we've been able to generate serious scale very, very quickly."
The card has a standard interest rate on the outstanding balance at the end of any interest free start up period of 24.95%.