Bernard Hickey live-blogs from Fonterra's Trading Among Farmer vote in Hamilton. Your view?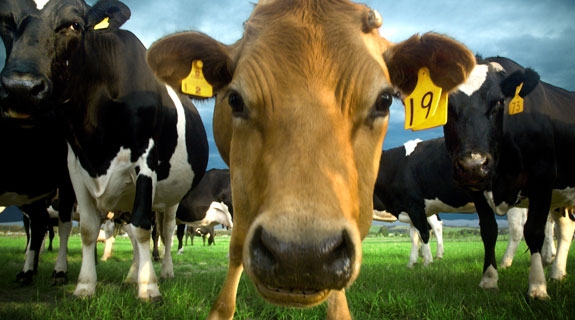 By Bernard Hickey
I am in Hamilton today for Fonterra's Trading Among Farmers (TAF) proposal to open up Fonterra's capital base to outside investors without handing over voting control to non-farmers.
The results came out just before 4pm. Fonterra said 66.45% of shares voted for the first resolution for the Trading Among Farmers proposal, which was above the required 50% threshold. But farmers only voted 72.8% in favour of rules to tighten ownership, which was supposed to go with the TAF plan. This resolution required 75% support. However, Fonterra's board said it had decided to go ahead with the plan anyway.
The board will put the resolution for tightened ownership rules back to shareholders to vote on at Fonterra's annual meeting in November. Meanwhile, it is proceeding with its TAF plan, with the aim of launching it in November "dependent on market conditions."
Fonterra Chairman Henry van der Heyden said at a news conference afterwards he had hoped to get over the 75% threshold for the constitutional changes, but the 66.45% was a clear mandate to go ahead with TAF. He was confident it would pass in November.
"It's not the first time I've had to take ths same resolution back to farmers," he said.
See the full Fonterra statement below.
See my preview of the debate and the vote from Friday, which includes interviews with Fonterra's Chairman Henry van der Heyden, who is arguing for TAF, and Lachlan McKenzie, who is arguing against TAF.
11.20 am - The meeting is underway at the Claudelands Events Centre. It's packed and the car parks are full. It's a full basketball court sized event centre dominated by three screens. About 300 farmer shareholders are here.
A Fonterra spokesman said 87% of Fonterra's shares had already been voted in postal and internet ballots. A full result is expected after 4 pm today.
Fonterra Chairman Henry van der Heyden spoke first in favour of TAF.
"We are here to deal with redemption risk, to protect  our Co-op and to strengthen our capital base," van der Heyden said. He spoke closely to his script. He was very deliberate.
Then Chief Executive Theo Speirings spoke via a video link up from Holland. He is there because his elderly in-laws are not well. He spoke off the cuff to a series of slides and emphasised his history with cooperatives in Holland and the need for Fonterra to better connect with its grass roots, including the rest of the community in New Zealand.
"The next 10 years is all about making this the greatest Co-op in the world," he said.
11.30 am - Then John Wilson, the Chairman of the Capital Structure Committee of Fonterra's board, spoke to the meeting in favour of TAF.
"On Friday when I was speaking at the New Zealand Cooperatives Conference, I observed that from the outside looking in, the Franz Joself Glacier apears to move ten times faster than Fonterra, when it comes to dealing with our cooperative challenges," he said.
He made the point that TAF was reversible if farmers don't like it after it has been launched.
11.40 am - Then John Waller, the chairman of the Trading Among Farmers Due Diligence Committee, spoke in favour of the proposal and explained how the Due Diligence report was produced.
There's a slight feeling of de ja vu about Waller's speech to this meeting. I remember Waller speaking in favour of Hanover Finance's proposal to be taken over by Allied Farmers to a similar sized meeting of Hanover Finance investors in Auckland a few years ago. That passed by a whisker. Investors may wish it hadn't passed.
"Due diligence will continue up until the successful launch of TAF," he concluded.
Here's a link to that Due Diligence report on Fonterra's website.
11.45 am - Henry van der Heyden then moved Resolution 1.
John Wilson summarised the resolution before discussion and a vote. He has now formally moved the motion,
Colin Armer has seconded the motion via a video conference from a meeting of Farmers in Rotorua.
11.50 am - Questions then started from the floor start.
A farmer who did not name himself then stood up to ask the first question in Hamilton. He had a big bushy beard.
He said he hadn't seen any good reasons to vote against TAF. He pointed out one million kgs of Fonterra supply has moved to Open Country Cheese that might not have moved with TAF. "Rabobank forced them to," he said.
He urged farmers to vote for TAF. "If you don't,  you risk selling us down the river," he said.
11.50 am - TAF opponent Lindsay Blake then asked a question.
She said TAF would demutualise Fonterra and argued that outside investors were likely to drive up the unit price, which would encourage farmers to sell out.
"What have you put in place Henry to protect us from unit holders driving up the share price and incentivising us to leave," Blake said.
Van der Heyden responded. He argued that outside investors were no different from farmers in that they would do the research and not over-pay.
Van der Heyden was applauded.
11.57 am - TAF opponent Lachlan McKenzie then spoke. He argued the proposal would shift risk from Fonterra down to Farmers and pitted the interests of shareholders who were not suppliers and those who were suppliers and shareholders. He said it was in the interest of shareholders to drive the milk price down.
John Wilson responded, saying the risk had always been with suppliers if shares were redeemed, given the cost of a weak capital base would ultimately be born by all suppliers in the form of a lower payout and dividends in future years. He also said the milk price was transparent now and would be in the future.
12.05 am - Another elderly farmer, Eric Reay made some comments about Fonterra I didn't understand, in which he accused quite a few people of lying. Fonterra's board did not respond.
Then Don Harvey in Hamilton said farmers were not the same as outside investors.
"You will never have unity when you have outside shareholders who want that share price as high as possible and farmers don't, given they want to increase production," he said.
John Wilson responded. "For every farmer who says the price is going to go through the roof, I have another farmer tells me it's going to go through the floor. That's great. We're going to have a market."
12.10 pm -  Greg in Palmerston North spoke in favour of TAF and said he wanted a clear mandate in favour of TAF.
Andy Russell said TAF was necessary to fix Fonterra's capital structure. He also thanked the opponents for strengthening the debate.
"It is a democracy in action within the Cooperative. It is still a cooperative. 100% farmer owned and controlled. I vote in favour of this resolution and I hope all other farmers do too."
Blake from Palmerston North asked if the name of the Market Maker had been revealed yet,.
John Waller said he did not know who that would be.
Blake: "We've heard a former director say on radio last week: You can't run a business with farmers treating Fonterra as a bank. What's your view Henry?" he said.
Henry van der Heyden acknowledged that some farmers would use TAF to ease their pressures from their banks or be forced to sell by their banks.
Blake responded that he was offended by the comments on radio: "In reality, it's probably the other way around. In reality Fonterra functions on the funds from its shareholders."
12.18 pm - TAF opponent Leonie Guiney asked: "My problem is TAF changes our focus from a cooperative share to one where the market needs to discover the price of that share," she said.
"What farmers must consider is that the risk comes not from investors but from farmers themselves. We are putting the focus on shares that investors will make more volatile. I fail to see how that scenario does not create a bigger redemption risk than the TAF scenariom," Guiney said.
Guerney said the current structure with increased retentions was sufficient to deal with current redemption risk.
12.25 pm - Irish-born farmer Thomas Clinton spoke from Invercargill - "I totally agree with Theo that Fonterra is the envy of every dairy farmer in the world that is not in Fonterra.  They want to make it like it Fonterra. Arla and Campina are based on the Fonterra model."
Clinton argued the current structure allowed the 10 largest shareholders to sell their shareholding and he spoke out in favour of TAF.
Danny Simms in Northland spoke against TAF, saying outside investors wanted to get their hands on Fonterra, which "they said was too valuable to leave in the hands of 10,000 farmers."
"In the absence of the fund, I would support TAF.  By establishing the fund you're asking someone else to take the redemption risk and you have give them something else for it."
12.30 pm - An elderly farmer in Nelson, Fergus, argued against the "financial jiggery pokery" that would open Fonterra's capital base up. He questioned why Fonterra needed to keep the government happy.
Henry van der Heyden responded: "A vote for TAF keeps us in control of our own destiny."
"As long we keep making the right decisions for us as a cooperative, then government is unlikely to interfere."
12.40 pm - Richard Myers spoke from Hamilton:
"I think we need to look at the glass as it's half full and we have to look forward and in the eyes of the customer. TAF is the way to move forward and look to the future. Theo has said he needs TAF to execute his strategy. There's support for the strategy isn't there? There was no dissenting voice in the discussion that folloowed. I think we need to support Theo by supporting TAF," Myers said.
"Hasn't Theo bought a new enthusiastic approach to the company? Is he a key person in Fonterra? Are we relying on him for the future. I think we need to give him our support," he said.
"External investors will not own shares in Fonterra if TAF goes ahead. But I see TAF as an opportunity for some investors to have an interest in our business. This helps facilitate what we want to achieve. On our farms in succession I think TAF helps in our succession planning. I've got a son on the farm and daughter in Fontera in Princes St. What better way to motivate them than with TAF? TAF has been given a thrashing. I think some of us have created unjustified fears. Unity is powerful if it can be achieved. Whatever happens today, part of us have to give way and say the majority rules."
He is applauded.
He then went on to compare the TAF vote and the need for unity with the unity of the All Blacks before the World Cup final. He also suggested Federated Farmers Chairman Willy Leferink should resign after his comments on TAF.
12.45 pm - Jim van der Poel in Palmerston North moves Resolution 2 which changes the constitution and needs 75% support.
Stewart Gow spoke in favour of Resolution 2.
There are no more questions and Henry van der Heyden has now called for farmers to vote in resolutions 1 and 2.
My reading of the comments and applause from the floor is that Fonterra's farmer shareholders here support TAF.
12.53 pm - Questions start again from the floor on other resolutions.
A farmer in Nelson, Murray Beach, has proposed that TAF be wiped.
Beach argued against letting in outside investors to 'clip the ticket' on the milk price. He also questioned the performance of Fonterra's assets bought overseas and the performance of the board on the issue of resolving redemption risk.
A Fonterra board member Ian Farrelly spoke in favour of TAF.
12.55 pm -  Lindsay Blake spoke in favour of Beach's resolution:
"Redemption risk is overstated. We could have done better with what we had. We have reversed decisions on peak notes and contract supply."
"It's all forgiveable Henry, but those outside investors aren't so forgiveable. They're short term thinkers. We're long term thinkers.
She is applauded
Beach finished his argument, saying redemption risk could be dealth with if there were B class share for all new milk supply at NZ$1.50/kg to cut out redemption risk.
"The reason they have redemption is because they kept pushing the share price higher and higher. "
1.00 pm  - Resolution 4 is put by Alistair Upson that the TAF vote received 75% support rather than the 50% it currently needs.
A Fonterra board member Malcolm Bailey spoke from Ashburton against the resolution.
Lachlan McKenzie supported the resolution, saying farmers had not seen the full due diligence report or seen the final version of legislation to change Fonterra's structure,.
"This is a significant change to our structure and I believe we should not make this change until we have all the information and full disclosure," McKenzie said.
A farmer from Nelson, Lachlan, spoke in favour of the resolution, asking what the board's sub-committee of the board's liability is to Fonterra on its due diligence report.
1.05 pm - Alistair Upson was then given the floor to make the final comments.
"50% is not unity. 75% is generally seen as unifying," he said.
1.10 pm - Henry van der Heyden then finished the discussion on Resolutions 3 and 4. Farmers were then asked to vote on those resolutions.
Henry van der Heyden says he had convened a meeting of the Fonterra board this afternoon to discuss the results and make a decision, which he said would be announced via email to farmer shareholders shortly before a news conference around 4 pm.
General business
He then opened up the meeting for general discussion. Initially, there are no questions from the floor.
"Everybody is TAFfed out by the sounds of things," van der Heyden joked.
Capital retention policy
John O'Brian in Nelson then asked about Fonterra's retention policy of keeping aside 25-35% of operating profit to boost capital, rather than boost the milk payout. He pointed out that this year's increase in production meant Fonterra's capital base would increase by around NZ$500 million, given farmers have to buy shares to match their production increase.
He suggested it was time Fonterra reduced that retention policy to increase payouts to farmers "With half a billion coming in this year in new share capital, when will we see less reliance on retentions," he said.
Henry van der Heyden responded: "This is all about redemption risk. I don't think we're going to have another dream year like we've had," he said. But he pointed out production had risen around 3% a year for the last 10 years and Fonterra had to keep investing in stainless steel and other assets to process that milk, which meant putting aside capital regularly.
He pointed out that Fonterra's management had been reluctant to invest heavily in downstream production and marketing overseas when the redemption risk issue hung over Fonterra.
Milk in schools
Farmer Malcolm Guy asked about Fonterra's trial in Northland of free milk in schools.
Theo Speirings spoke by video from Holland about Fonterra's need to make milk affordable and available for people in the world's biggest milk exporter.
"Our youngest were shifting to fizzy drinks and Coke," he said, adding that the trial in Northland was going well and was likely to be rolled out across the country to between 240,000 to 250,000 kids.
"That's bringing milk out to the younger generations," he said.
He said Fonterra had also moved over the last year to make milk more affordable, working to create new brands and working with supermarkets to lower prices.
Fonterra's local fresh milk sales had moved from falling 2% per year to growing 5% per year. "That ends up with more New Zealand dollars in income," Speirings said.
Fonterra's Takanini fresh milk processing plant was now producing an extra 35,000 litres a day because of the moves to make milk more affordable and to supply milk for the Northland school trials.
Federated Farmers' Dairy Section Head Willy Leferink than spoke from Ashburton. He thanked Fonterra for agreeing to Federated Farmers' request for a second vote on TAF.
He also suggested Richard Myers, who had called for his resignation, challenge him in the next Federated Farmers vote.
Farms in China
Farmer Peter Maire (sp?) then spoke from the Invercargill meeting.
He asked if Fonterra's two farms in China were profitable and about the strategy behind Fonterra's plans for more farms.
He said he had been to Hong Kong and seen the enthusiasm by Fonterra to get into the market, but was sceptical about the Chinese interest.
"I looked at the Chinese faces there and the looks on their faces said the opportunity was for them, not for me."
Speirings said 20% of Fonterra's milk was now being exported to China and Fonterra wanted to get access inside China to the full supply chain. Fonterra's existing farms were forecast to be cash flow positive two to three years after being built.
Currently the milk from the farms was being sold to Fonterra's competitors, but Fonterra's aim was to be linked into an integrated supply chain that would generate profits for Fonterra's shareholders.
Fonterra aimed to be selling 5 billion litres of milk to Chinese consumers by 2020, with 1 billion being supplied from within China.
That is it from the meeting. We expect the results of the vote around 4pm.
Here is the full Fonterra statement after the vote:
Fonterra shareholders have voted in favour of implementing Trading Among Farmers.

The resolution for Trading Among Farmers received a 66.45% vote in support at Fonterra's Special Meeting today, with two out of every three votes in favour.

Fonterra Chairman Sir Henry van der Heyden said the final vote on the share trading scheme attracted a record voter turnout.

"Our farmers have voted in big numbers, representing 85% of the Co-op's milksolids. It is great to see so many taking part and having their say.

"Now we can move forward with this important evolution in our capital structure," he said.

"We've spent six years talking about capital structure and it has been a rigorous debate and process. Our farmer shareholders have made a great contribution and the final version of Trading Among Farmers is all the richer because of that input."

Sir Henry said TAF ensures a stable, permanent capital base for the Co-op and secures its future.

"We broke new ground with the formation of Fonterra and now we have the support from our farmer shareholders to refine that model and to break new ground again.

"As in the past, our farmer shareholders will now get behind the Co-op as we move forward. That's what we all want, a united Fonterra.

"Over recent months we have used some of the best legal minds and co-operative specialists to stress test the concept and proposed trading system as part of the Due Diligence process. This final vote shows the majority agree that TAF is a fundamental pillar for the Co-op and the Board is absolutely unanimous in the belief that this is a lasting solution."

Sir Henry said the Board listened to farmer shareholders' concerns on preserving 100% farmer control and ownership and the integrity of the Farmgate Milk Price.

"We asked our farmers to vote on constitutional changes which would tighten limits on the size of the Fonterra Shareholders' Fund, which is fundamental to 100% farmer control and ownership, and preserve the integrity of the Farmgate Milk Price. This resolution required a 75% vote and received 72.8% support."

The Board will take this resolution back to the next annual meeting in November and will seek Shareholders' Council support for this. In the interim, further planning on Trading Among Farmers will proceed within the parameters outlined in Resolution 2. Sir Henry said the Board believed this was in the best interests of the Co-op.

Fonterra Chief Executive Theo Spierings said the vote for TAF means Fonterra can be in charge of its own destiny.

"TAF will stop money washing in and out and give the Co-op a stable, permanent capital base to deliver on its Strategy Refresh.

"There is no co-operative anywhere around the world that is the same as Fonterra. TAF is completely unique as is the solution to eliminating redemption risk.

"We will now be able to implement our strategy and remain a relevant player in the global dairy industry. With overall demand for dairy growing, TAF will ensure that we are well placed to grow volumes and protect our position as the world's leading dairy exporter."

Sir Henry said the Board is still working towards a November launch for TAF but this will be dependent on market conditions. The pre-conditions in the Constitution still need to be finally satisfied, including the support of the Shareholders' Council. The Board is confident that the necessary changes to the Dairy Industry Restructuring Act and the waivers are on track for this to happen. The Board will determine an exact launch date closer to the time.

The result of the vote is as follows:

• Resolution 1: Trading Among Farmers 66.45%
• Resolution 2: Constitutional Changes for Trading Among Farmers 72.8%
• Resolution 3: M. Beach Proposal 20.2%
• Resolution 4: Upson Downs Limited Proposal 23.26%