Bruce Wills finds the urban criticism of rural CO2 emissions misunderstands how efficient it is to start with, and how stark the comparison is with city consumers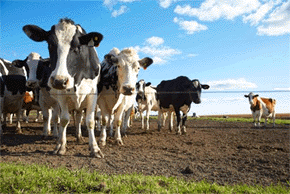 By Bruce Wills*
That agricultural biological emissions will not enter the Emissions Trading Scheme until 2015, at the earliest, has generated a predictable set of responses.
At least one newspaper editor described it as 'timid'.
On social media we were asked what Federated Farmers was doing to reduce CO2 'except in poor countries'. You could cynically reply, 'hold your breath then'.
Opposition politicians weighed in with well-worn talking points that seem more like going through the motions.
If the world's gaze is habitually on our every single move, as some politicians believe, how come Greenpeace protestors aren't camping at the Canadian High Commission?
Canada's withdrawal from Kyoto didn't cause a ripple let alone a single Facebook protest against maple syrup.
A few years back Otago University conducted research among first time arrivals at Auckland International Airport. It showed even toxic issues didn't shake positive views most hold of our country.
Perhaps the most revealing comment on our place in the world came from Newstalk ZB's, Mike Hosking. Retelling a conversation with an American, Hosking was asked 'what language do you speak in Noo Zealland?'
I don't want this to give the impression I want farmers to flick one finger at our carbon footprint. Quite the opposite.
Farmers may not unanimously agree as to 'why' but Federated Farmers genuinely believes in efficient resource use.
Research into reducing emissions in our farm system means more milk, more meat and more fibre.
It myth-busts the picture often painted of us but helps that we have been walking the talk.
This is where we can make a true global difference.
In 1990, our agricultural exports were worth around $6.8 bln but today they've grown to nearly $32 bln. Despite this almost five-fold increase in value, agricultural emissions grew by a circumspect 9.4 percent over this time.
For this success we never get a 'well done' despite cutting the carbon in each item of product produced; averaging reductions of 1.3 percent each year, for the past 20 years.
By contrast, emissions from electricity jumped 59 percent and those from transport are up 60 percent.
The usual response we get is to have our share of New Zealand's emissions profile kicked back in our face.
Another is that media myth farms are either exempted or somehow get a rebate for our ETS costs.
Farmers rightfully take issue with a belief we are not paying a cent in the ETS when it adds at least $106 million each year to dairy, horticulture, sheep, beef and deer farming.
It ranges from an extra $2,000 each year for sheep, deer and beef farms to around $3,700 for a dairy farm.
The costs on horticulture and arable farms run much, much higher.
The average household meanwhile chips in $133 each year for a policy, which seems to be more about having the policy.
Another way to look at things is that New Zealand agriculture generates 100 percent of the food we eat and 68.1 percent of our merchandise exports.
The trade off being 47 percent of the emissions New Zealand produces.
Though according to Waikato University's Professor Jacqueline Rowarth, New Zealand produces enough food to feed 24 million people; effectively ourselves and Sri Lanka too. Shouldn't this global view be a better yardstick to judge our footprint?
This latest announcement means the Government is drawing a line in the sand. They will not force Kiwi farmers to pay for biological emissions when there is no viable solution or a competitor doing the same to their farmers.
Right now I can promise you Kiwi farmers are working out how to become even more carbon efficient.
-------------------------------------------------------------
Bruce Wills is the President of Federated Farmers. You can contact him here »