Fonterra Shareholder's Fund units debut at NZ$6.66, up 21% from NZ$5.50 float price on strong demand; close up 25% at NZ$6.85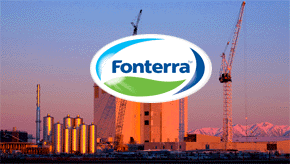 By Bernard Hickey
Units in Fonterra's Shareholder Fund started trading on the NZX at midday at NZ$6.66, up 21% from the NZ$5.50 float price.
Demand for the NZ$525 million of units in the fund was strong. Over 2,500 farmers and Fonterra shareholders were allocated units in the fund, while a further 7,000 institutional and retail investors were allocated units, although many were scaled back.
Fonterra said 58% of the units were allocated to New Zealand funds and investors. Bankers had said the retail offer for the units had been over-subscribed.
By mid-afternoon the units had risen to NZ$6.80 and were the most traded share on the NZX with NZ$146 million worth of units changing hands. The units closed up 25% at NZ$6.85 with NZ$166 million of shares trading on the first day.
Investors saw paper gains of more than $100 mln. These prices implied a value for Fonterra as a whole of some NZ$10 bln, about NZ$2 bln more than at the price the shares were offered at to investors.
The units do not have any voting rights and simply funnel dividends attached to the underlying shares and any gains or falls in the underlying share price to the owner of the unit. 
Only 260 farmers offered to sell the economic rights to 5.5 million shares in the intial public offering, which meant Fonterra issued fresh shares to make up the remainder of the backing shares needed to back the units. The equity raised in this issue would be retained and the shares held by the Fonterra Farmer Custodian.
Fonterra said it would not permanently retain the equity and would eventually be returned to farmers as they increased production.
Darfield plant opened
Fonterra's units started trading as it formally opened the NZ$550 million Darfield milk processing plant in mid-Canterbury. The plant is Fonterra's first brand new site since its formation 11 years ago and the first by the cooperative and its predecessors in 14 years.
Fonterra CEO Theo Spierings told farmers, workers and media in a marquee on the site that it would have the capacity to produce 45 metric tonnes of milk powder each hour from the milk from 12 tanker deliveries an hour.
The plant, which already has one drier and have a second drier from August next year, can process the milk from 1,000 cows in 10 minutes, Spierings said.
It processes the milk from 50 farmers in central Canterbury. The building of the plant allows Fonterra to reduce the amount of travel by tankers, which had previously to drive to Clandeboye in South Canterbury. Fonterra said this would save 20,000 kilometres of tanker driving each day.
The plant produces bags of milk powder, which are then packed into containers and shipped to China, Southeast Asia and the Middle East in containers.