The Weekly Livestock Report: Early sire stag sales show deer farmers investing for the future.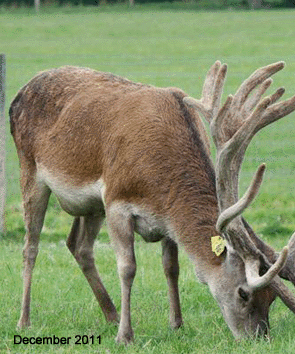 DEER
The feeling is we are getting close to the summer bottom of venison schedules but cautious sales conditions in Europe makes nervous times. At these levels hind kills are still ahead of stabilising numbers and this is needed if this small industry is to survive.
Results from North Island  and early southern sire stag sales have produced good clearances where top prices are generally down but average prices mostly stable.  Based on lower venison prices received, this is seen as a good result and shows confidence by buyers to invest for the future in improving genetics within their herds. Another positive trend from these sales is the demand by breeders for animals with industry proven venison breeding values, which shows support for the sectors goals to produce harvestable animals heavier and sooner to meet chilled market demand.
DAIRY
The start of the new year has been mixed with thunder showers and fine weather, after a drier than normal December, but NIWA's seasonal outlook predicts near normal summer conditions. Farmers need only to look across the Tasman to appreciate our temperate climate and our ability to grow summer grass often with the help of plentiful water for irrigation.
Production in the powerhouse areas of dairying Waikato, Canterbury and Southland are all enjoying harvesting volumes of milk ahead of last years season, and early national totals suggest increases ahead by 6%. In many areas the bulls have now been removed and pregnancy testing will soon reveal the success of mating and set the scene for the next milking season.
Dairy commodity prices  are predicted for the first half of 2013 to increase on the back of the after affects of the US drought and increased grain prices affecting supply.  The Fonterra Shareholders units continue to be traded at a premium and My Farms executives predict increased investment interest in farming syndications for the new year.
A trend in dairy farm labour is the increasing use of skilled migrant personel which has now grown to 20% of the work force and the rural community is adjusting to this multicultural change.
LAMB
The year has started like it left with more schedule falls and now levels are back to the lows of 2010 and this will do little to discourage the flight from sheep especially if the weather limits production potentials.
Contracts offered for ewes by one processor in the February March period set a bottom to the market and will help give some stability for that product. Early processing figures show north island farmers reacted quickly to the dry, and lamb and ewe harvests are well ahead of last year.
The prices at January south island onfarm sales of store lambs will be heavily influenced by feed and summer rains, as little optimism can be gleaned from the overseas market conditions. The first of the two tooth ewe fairs was held in the Hawkes Bay and at $119 per head average would have returned nothing for these growers for their years endeavours.
Proposals to combine the two producer merchandising co-operatives of Farmlands and CRT are seen positively by farmers as they battle the ever increasing rises in farm costs.
WOOL
The first sale for the new year saw the market maintained even with the large volumes offered which was pleasing for vendors. China led the buying interest that was pressured by urgent shipments due, and a realisation that industry volumes have lightened.
The price indicators moved little however and still remain at levels that fail to impress on sheep farmers budgets, although the sale did clear 90% of what was offered.
BEEF
Small lifts in prime schedules but easing in bull prices greeted the new year. Big bullocks and 15 month sales in the central north island attracted good prices and fueled beliefs of lifts in schedule pricing in the future. However with schedule pricing between $75-125 per head back on last year for finished steers this is just another income drop for the embattled sheep and beef farmer.
Analysts still predict a good future for beef sales but it needs to happen sooner rather than later to help profits in this sector.
China is now becoming a growth market for NZ, and is creating more competition in the traditional markets for our beef product, mainly at the expense of the Korean market which is flat.