The Sheep, Deer and Cattle report: Crossbred wool and lamb lifts but upturn for beef later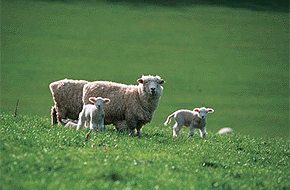 LAMB
October has seen schedules lift as new season optimism for lamb abounds, with a reduction in supply and low stocks rekindling interest and all product forms apart from middles are in demand.
Alliance reports good market opportunities in emerging countries of Brazil, Russia, India and China as they look to diversify away from the financially stressed European economies.
Tailing is in full swing in many areas and results are variable and reflective of autumn feed conditions, although abscence on any significant storm has allowed good survivability from the drop.
Feed conditions are ahead of average and many northern flocks will have an early advantage of lower stocking rates to drive growth rates that will only last as long as the feed quality.
Beef and Lamb NZ look to concentrate on genetics for ewe and cow performance in hill country environments, to improve the profits for this breeding base and make this sector sustainable again.
Silver Fern Farms have offered new and existing shareholders fixed term contracts first, as an incentive to invest in the company and interest free loans to fund these new shares.
Mutton schedules have reached yearly highs as demand from China and supply shortages have rekindled interest.
Niwa's climate outlook through to December looks reasonable for grass growth over that time, and with most of the country in ideal growing conditions at present the season looks promising for good production levels.
 WOOL
The latest North Island auction saw crossbred indicators rise again to yearly highs and NZ merino wool prices improve in Melbourne.
A pattern of sales volumes that are well under rostered amounts is helping drive demand and encouraging purchasers to buy further out to secure future product.
Wools of NZ chair Mark Shadbolt urges farmers to be patient as they develop contracts at price levels that are more stable and sustainable to allow growers a better return for their quality wools.
With some contracts now avaliable for early loyal shareholders of  $6/kg for lambs wool the challenge now is to grow that business to cover all qualifying shareholders product.
BEEF
Low volumes out of NZ and a US currency insecure under its lockdown stress, has seen further falls in beef schedules, although processors are still talking up prospects.
In the US, lower corn prices, tight supplies of finishing cattle and low feedlot inventories show the turnaround is due and NZ beef producers should be able to cash in when that country looks to expansion.
Prices are still well ahead of last year and bull sales reflect that positive outlook.
With favourable feed conditions cattle numbers are increasing at saleyards and prime steers values have eased in both islands following local trade pricing drops.
Another dung beetle release has been enacted this time in the NI in the Wairarapa, as scientists look to utilise this resource with a biological helper that should enrich the soil without any environmental side affects.
The appointment of a new director general of the Ministry of Primary Industries Martyn Dunne has been well recieved in agricultural circles, as this government department looks to put its past problems behind it and reinforce it's role in food security and market assurance.
-------------------------------------------------------------------------------------------------------------------------------------------
Farms For Sale: the most up-to-date and comprehensive listing of working farms in New Zealand, here »
-------------------------------------------------------------------------------------------------------------------------------------------
DEER
Venison schedules were stable again this week but realisation from farmers that prices look to have peaked will be very disappointing for an industry desperate to maintain its stock numbers after years of high female kills.
Some exporters report Europe is in a very poor state economically, and are nervous of orders for the incoming frozen venison market.
Some smaller exporters that have diversified into the US have found demand steady for their chilled programs but volumes of frozen product must compete with "game meats" in Europe's traditional markets and price rules in the economic recession.
Genetic gains and feeding regimes will improve profits on farms who follow the ideas of the farm focus programs and "the passion for profit" iniatives.
Velvet prospects look to be similar to last year, as low stocks and falling production from other countries leaves NZ in the box seat to fill the Chinese and Korean markets.
The velvet contract offered is expected to be at a similar rate as last year, as the Chinese are starting to broaden the grades they buy, but with little premium for quality.
Farmers have made excellent gains with new velvet genes, and specialist velvet producers are making good profits at these price levels.