The Sheep Deer and Cattle Report: Feed and lack of supply is driving livestock prices at present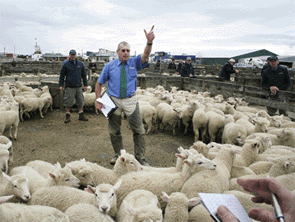 LAMB
Lamb schedules continue to fall and prices for early drafted lambs disappoint as it takes a very good draft to average $100 a head.
The lamb crop is predicted to be down 4.7% which Beef and Lamb NZ report will be the second smallest crop in 60 years and sheep tallies have now fallen to 31 million.
All three MIE candidates have been voted onto the boards of the meat Co-Ops and the resolution to encourage the election of an independent director who sympathizes with the meat reformers cause, was also passed.
From the responses of both chairman of these companies post election, it seems Silver Fern Farms is more interested in amalgamation than Alliance.
While the voting numbers were well ahead of the last election with a turn out of well under 50% there is still a question of farmer commitment to the cause.
More store lambs are now being seen in saleyards in both islands with prices stronger in the north, and store mixed aged ewes at NI saleyards have averaged $110-$129.
Feed and lack of rain are holding back the market for store lambs in the south, while lack of supply and improving feed conditions have attracted a more bouyant market up north.
WOOL
The last NI wool auction saw prices plummet as the gap widens for quality and over a third of the sale was passed.
Coarse crossbred price indicators fell to 479c/kg clean, the first time below $5 for nearly 4 months and will disappoint those engaged in main shearing.
A new 5 stand lamb shearing record was broken and the tally now stands at 2638 as farmers marvel how this tough job can be achieved with such skill and efficiency.
BEEF
Beef schedules are easing in value as in the US, domestic 90CL prices fell and traders were wary of chasing increased volumes of NZ product entering the market.
However US slaughter figures are down as the beef herd rebuilds and increasing milk production occurs, encouraged by the dairy prices and cheap grain, and processors predict a similar NZ beef outlook for next year as the last.
Good feed conditions in the north have seen farmers keeping cattle longer and processing margins are reported to be thin.
The Red Meat Profit Partnership has been heralded by the MPI as set to boost farmer profits and productivity as the $64 million investment looks to revitalize this sector.
DEER
Venison schedule falls continue and processors report slow frozen sales although chilled product is moving better.
The NZ velvet competition attracted strong competition and a visiting Chinese Professor of Medicinal materials said their country could handle easily any increase in volume and was also excited about the potential of NZ venison in the Chinese market.
The sire stag market is set to start  and prices will be an indicator of this sectors optimism as deer farmers invest in improving velvet and venison genes.