The Sheep Deer and Cattle Report: Early ewe breeding sales disappoint, shows confidence lacking to reinvest in sheep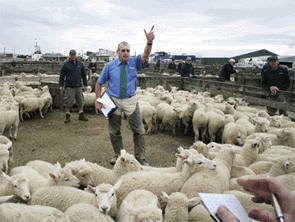 LAMB
More quiet easing of lamb schedules as the main harvest of animals starts, but processors report a firm market tone, a stronger frozen trade than last year, and the average value of NZ lamb exports to China have reached a new high as this important market takes more higher value cuts.
Silver Fern Farms launches an online branded retail range of lamb into the Shanghai market, as it strives to expand its sales of more expensive cuts.
There is strong demand for mutton products from Chinese buyers that has forced the traditional markets to pay more to ensure supply, from a reducing NZ sheep flock.
However this market optimism has yet to be followed by farmers, as early breeding ewe sales in the Hawkes Bay saw nearly half the offering passed in and those sold only at average prices.
And store lamb sales in most areas are keeping in line with present schedule prices, with processors especially under bank scrutiny to ensure there are no repeats of last years losses.
Commentators blamed lack of confidence in sheep and little leadership to drive the much needed meat reforms as the cause, and many are aghast at the lack of urgency as sheep numbers plummet.
WOOL
The second auction sale of 2014 was firm on the last week, even in the face of a stronger currency, as limited wool offerings has seen stronger demand especially by those wanting to fill scouring orders.
Crossbred wool indicators are between 60-120c/kg clean ahead of last year, lamb prices have started at a similar level, but mid micron wools languish 150c/kg behind.
BEEF
Beef schedules remain steady as the US domestic lean beef market continues to strengthen with the highest ever level for January achieved.
Little movement as yet in imported prices and with NZ bull processing at its seasonal high our producers may be unable to capitalize fully especially as the currency continues it's climb against the US$
More talk about global giant JBS entering the NZ meat processing industry which should up the urgency to rationalize our fragmented structure.
Rustling cost NZ farmers $120 mill a year says Federated Farmers so operators are warned to keep vigalant, communicate with neighbours and keep accurate tallys of livestock in vunerable areas.
A successful biological control method to eridicate broom in the form of the broom gall mite has been released in Southland, which has the potential to kill this plant in 3 years is an exciting development as a low cost weed control.
-------------------------------------------------------------------------------------------------------------------------------------------
Farms For Sale: the most up-to-date and comprehensive listing of working farms in New Zealand, here »
-------------------------------------------------------------------------------------------------------------------------------------------
DEER
Inventories of frozen product and slow sales sees venison schedules ease again, as all producers look for the bottom and a return to the premiums this fine product deserves.
The sire stag sales have concluded  with good clearances and reasonable prices considering venison's lack luster season.
Second growth velvet will be being harvested now and if done properly has the potential to add valuable dollars from the velvet herd.